Kemp begins transition to become 83rd governor
After highly-contested vote counting in the week following election night, one of the nation's most highly followed contests came to an end as Democrat Stacey Abrams conceded her bid to become the nation's first African-American female governor on Nov. 17.
Both Abrams and Republican Brian Kemp sought to replace Gov. Nathan Deal in January after his two terms in office. The election was heavily contested from the beginning, with accusations of voter suppression as Kemp was the acting Secretary of State and, therefore, controlled the state's elections.
Under Georgia law, a person's signature has to exactly match their voter identification; if it does not, they will not be allowed to vote. If this is the case, a person must cast a provisional ballot that then must be confirmed to be counted. The Abrams camp attacked this law known as Exact Match, calling it voter suppression.
"Various places seemed to be having voter suppression, specifically with students ages 18-21 and the elderly," Grady senior Taylor Jackson said. "Even my uncle was actually turned down from voting, even though he was definitely signed up to vote and had all the right identification."
Following deep-set political trends, the City of Atlanta voted overwhelmingly for Stacey Abrams, and Grady was no exception to that. In a survey conducted by the Southerner of 100 students, 12 percent thought that the new governor would have a positive impact on their lives as a Grady student.
One possible reason for disapproval of Brian Kemp would be his political tactics, calling himself a politically-incorrect candidate and suggesting that he would round up illegal immigrants in his own pickup truck.
"Now that Kemp is governor, his views will continue to divide not only the state of Georgia, but also our schools," sophomore Zola Sullivan said. "People will begin to think that it is O.K. to believe in inequality and injustice, especially students, as our brains are more easily influenced."
As some at Grady worry about divisiveness in school, others worry that the increasingly liberal city of Atlanta will prevent those from other political ideologies from speaking up.
"I think we have a lot of angry students, but I also think that some of the Kemp supporters who go to Grady will feel like their voice doesn't matter among the growing opposition," Jackson said. "It shouldn't matter who you voted for, but it does at Grady."
It may seem that Georgia and the nation continue to become more extreme in the political spectrum, yet some hope that the 40 seat gain made by the Democrats in the House of Representatives will force the country to work together again. Democrats now have a 54 percent majority in the House after their largest gain since 2006.
"When you have this opposition like we are about to have with Democrats taking the House and Republicans in the Senate, then you have a situation where you either have to learn to get along or nothing gets done," AP U.S. History teacher Lee Pope said.
Leave a Comment
About the Contributor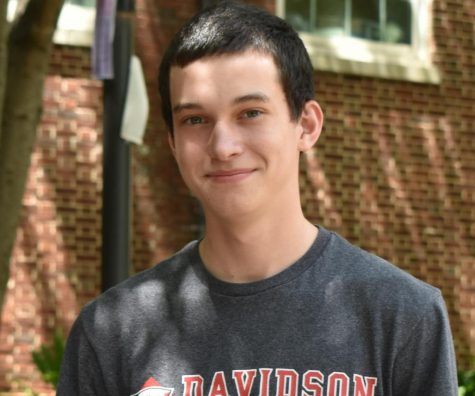 George Lefkowicz, News Managing Editor
George is in his fourth year of the journalism pathway and has been a Southerner editor for three years now. Along with spending long hours at late nights,...