Walden Sports Complex unveiled
Astroturf fields, metal stands, concessions, locker rooms and scoreboards all stamped with a big, cardinal colored 'G' has made the dream of uniquely Grady fields a reality.
Atlanta Public Schools held its annual State of the District Address Friday, Sept. 5 to publicly report an update on the district's goals, future plans and to celebrate the opening of Grady High School's newly renovated Walden Sports Complex, located at 320 Irwin St.
The new complex was an $8 million project, transforming the former Walden Middle School lot into state of the art facilities, with a parking lot, field house, a convertible synthetic turf field and a baseball/softball natural turf field.
From the moment Dr. Carstarphen began as superintendent in July of 2014, she was informed of the lack of Grady field space and immediately made Walden a priority of hers for Grady athletes. Due to her efforts, time and attention to the matter, Walden is now a reality.
Grady sports teams are relieved to have field space to call their own in upcoming seasons to practice, train and compete at each week. Grady's Ultimate, Lacrosse, Soccer and Baseball teams will interchangeably share the fields.
"The whole thing was quite the experience," said Adam Miller, senior and ultimate frisbee captain. "Dr. Carstarphen was playing up this superstar, rocker persona with a goofy leather jacket. But, most importantly, the field was really nice and I can't wait to play on it."
The event was more celebratory than professional with guest star performances from different schools. Superintendent Dr. Meria Carstarphen embodied the spirit with a full outfit and temporary tattoo as she screamed "APS Rocks!" for the crowd to repeat.
While Grady has primary ownership of the field, other Atlanta Public Schools can also utilize them if need be, including South Atlanta and North Atlanta. Dr. Carstarphen thanked district and board members. She also expressed sincere apologies to parents, specifically Grady parents, for the lingering problem of limited practice space for sports teams.
Besides a batting cage installed last year, baseball and softball have never had a field at Grady. The field they used in the past was Crim High School, which is 4.9 miles from Grady, taking around 20 minutes on days with no traffic but oftentimes up to 30 minutes or more in commute time.
"This is a great opportunity for Grady baseball to be able to have a home field where we can develop our skills and practice daily," Senior baseball player Ben Lepik said. "I'm extremely grateful for the amazing facilities and truly excited to finish my high school career at Walden."
Senior and boys varsity soccer captain, Nicho Cucchi shed light on the impact he thinks the new complex will have on Grady sports as a whole.
"I think that Walden is great for all Grady Sports and will allow our teams to flourish with more practice space and will eventually lead to rings and trophies," Cucchi said.
Lacrosse, which used to have to practice at 5:30, after varsity soccer, can now practice at a more desired time after school. Grady lacrosse used to all climb through a hole in the fence at Howard in order to practice there.
"I am incredibly excited to have the opportunity to play my Senior season on the Walden fields," said Nell Kropp, captain of girls lacrosse. "The fields will not only benefit Grady Lady Lax but also all other Grady sports. The fields provide excellent facilities for practice and games. Grady's growing sports programs are going to majorly benefit from new practice facilities and game spaces."
There was some lack of communication as the construction and opening unfolded. "Koach" Weeden, teacher sponsor for ultimate team, felt disconnected at times and still has unanswered questions.
"Walden field is a great facility," said Weeden. "My only wish is if they would have gotten input from those who will be actually using the fields. I do not know if Ultimate will be able to use the fields for practice with so many teams using it. Our only availability to practice would be after 7:30 pm more than likely."
Coach Jones, teacher sponsor for the lacrosse team, has high hopes for her team this year and predicts a winning season with more productive practice time. Her one worry is car traffic and foot traffic in the area.
"We can now practice on the whole field and for the full time," said Coach Jones. "We will be better prepared and we'll be able to practice like we're supposed to practice. The difficult part will be the bus, there will be a lot of traffic at that time. That will be different. The only thing I'm worried about is the foot traffic over there, a lot of students brought their cars in the past and there's been break ins. It's really nice over there though and I'm really excited about it."
Dr. Carstarphen, city council member Matt Westmoreland, community members, newscasters, Grady athletes, and families were all present at this momentous occasion and event. The ribbon was cut and the Walden Complex is officially open for use.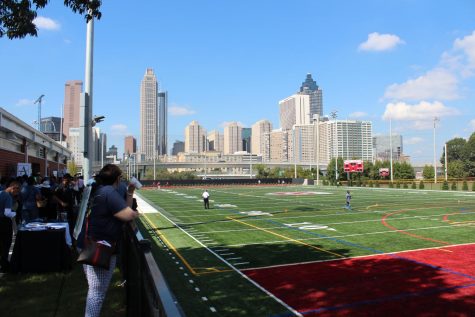 Leave a Comment
About the Contributors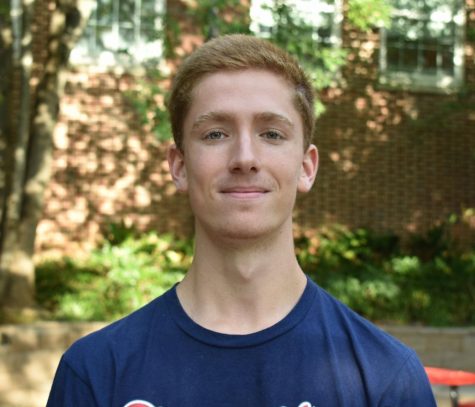 Elias Podber, Sports Managing Editor
Elias Podber is a senior this year and is excited to co-lead the sports section of the paper to new heights. He is captain of the cross country team and...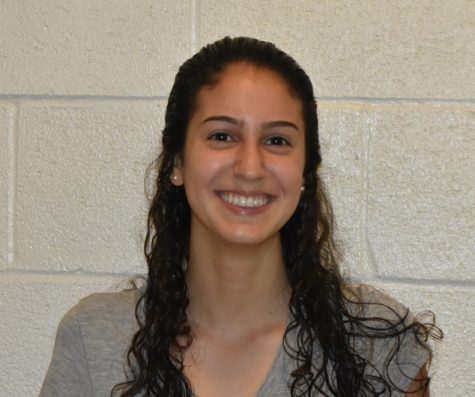 Selena Kleber, News Managing Editor
Selena Kleber is a senior this year. She has worked on the Southerner for three years and took a short hiatus from the paper her sophomore year. She thoroughly...