Say cheese: quest yields wide variety of cheese dips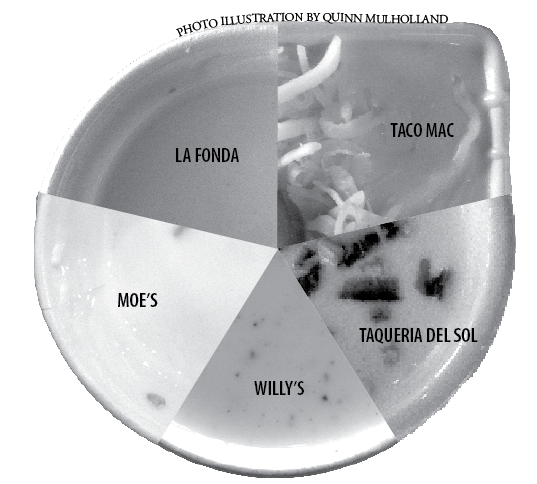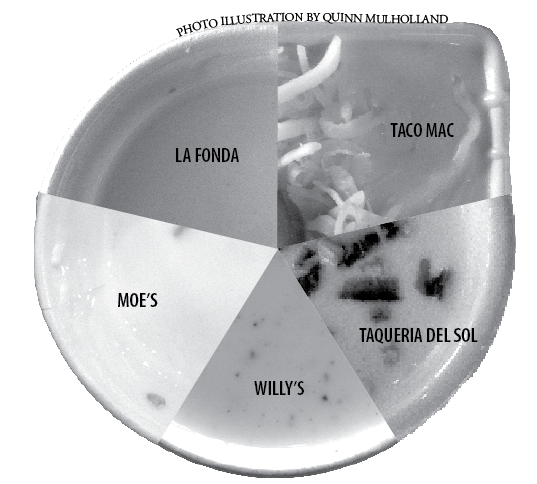 Spring Break is just around the corner, and what better way to spend yours than lounging poolside, getting your tan on and eating chips and queso? With that in mind, we decided to scour Atlanta for its best queso, inspecting some of Grady students' usual haunts and some locations whose queso is not as well known.
Our journey began at our local Moe's Southwest Grill (1544 Piedmont Ave. NE and 863 Ponce De Leon Ave. NE). There, $2.75 gets you six ounces of cheese dip, plenty to split between even the most enthusiastic queso fans. Though its appearance and consistency don't do much to separate it from the others, Moe's queso packs a bit of a punch and was one of the spiciest we tried. Despite the zesty flavor of Moe's queso, the chips that came with it left a little to be desired. They were not very salty and tasted a little like cardboard. Even so, the added bonus of Moe's free (albeit mediocre) salsa led us to the conclusion that the restaurant's cheese dip is a great deal, and we would definitely recommend it to Grady's more frugal population.
No conversation about Mexican food that includes Moe's is complete without its main Atlantan rival: Willy's Mexicana Grill (650 Ponce De Leon Ave. NE and 1071 Piedmont Ave. NE). A regular size costs about the same as Moe's at $2.95 for six ounces. Willy's queso was just as thin and smooth as Moe's, but its spices set it apart as one of the best cheese dips we tasted that day. It was tangy, yet not too spicy, which made it addictive and appetizing. Willy's chips were quite thin, but well-flavored and certainly better than Moe's. Overall, Willy's queso is pretty good deal, and certainly better than what Moe's offers (if you can spare the extra 20 cents).
Our next stop was Taco Mac Sports Grill (1006 North Highland Ave. NE and 933 Peachtree St. NE). Taco Mac may not be a restaurant that immediately comes to mind when it comes to queso, but the restaurant's menu boasts of its "famous spicy cheese dip." And though Taco Mac's queso was certainly cheesy, it was nothing close to spicy. It also was much more expensive than Willy's and Moe's: $5.95 for a "regular" cup of queso, chips, steamed flour tortillas and salsa. The queso itself was incredibly thick, creamy, cheesy and filling. It was served with fresh shredded cheese and a jalapeño on top. Though these added ingredients decreased the Velveeta quotient of Taco Mac's dip, they also made the queso quite lumpy after few chip scoops. Despite its unpleasant texture, the Taco Mac queso still stacked up as better queso than Willy's and Moe's. Its chips were also average—neither bad nor exceptional. Though Taco Mac cost more than expected, its richness and extras made it a pretty good deal when split between two people.
We then ventured to La Fonda Latina (923 Ponce De Leon Ave. NE and 1639 McLendon Ave. NE), where a cup of queso is a moderate $3.25. Chips, however, cost an extra $2.50, bringing the price up to roughly that of Taco Mac. After a few scoops, it quickly became evident that the quality of the queso justified the price. The consistency was excellent, and the mildly spicy, moderately salty Jack cheese flavor separated it from the rest of the pack. In addition to the queso, the chips were the best we tried, with just the right amount of salt, and the fresh salsa that came with them was outstanding, with the perfect ratio of tomatoes, onions and cilantro.
The final location we checked out was Taqueria del Sol (359 W. Ponce De Leon Ave. NE and 2165 Cheshire Bridge Road NE). At $3.99 for a relatively small cup of queso, its cost is approximately equivalent to that of Taco Mac and La Fonda per cubic inch of queso. Its taste, however, elevated it above its competition. It was served with jalapeños on top, making it spicier than the other cheese dips. The consistency was perfect, not as thick as Taco Mac's but not as thin as Willy's, and the chips were similarly exquisite, with just the right crunch and not too much salt. Furthermore, the service at Taqueria del Sol was almost as quick as that at the fast-food establishments, Moe's and Willy's, and the staff was very friendly (oh, and the guacamole is to die for).
Moral of the story: you get what you pay for. Though La Fonda, Taco Mac and Taqueria del Sol all cost considerably more that Willy's and Moe's, they also tasted so much better and made for a much better queso quest. In the end, we crowned Taqueria del Sol the queso champion. In the best queso scenario, the cheese dip there has the perfect flavor and consistency. In queso you're low on cash, however, and just want the most food for the least amount of money, Willy's is the place for you.