Hattie B's Hot Chicken is Worth the Wait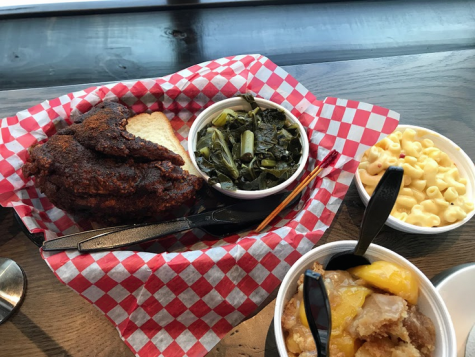 Since 2013, residents of Little Five Points and Candler Park had been waiting. After a laundromat sold its property, promises have been made for a Chick-fil-A and a Chipotle to occupy the space. Those promises had just as soundly been taken away, and the lot remained empty for five long years. This July, however, 299 Moreland Avenue was given new life, in the form of hot fried chicken.
The first thing that you notice when going to Hattie B's is the line to get in. It isn't a joke. Do not go to Hattie B's without good friends to make conversation with or a patient mood. I was fortunate to have both during my 39 minute wait, and soon enough I was in the building and ordering my food.
The atmosphere in Hattie B's is a friendly one. Peppy music plays while (mostly) smiling employees clad in black and red t-shirts bring trays of chicken and sides to hungry customers. This color scheme continues with massive red and white designs of chicken heads challenging the darkness of the black walls and ceiling.
Wanting to try a little bit of everything, we ordered three small plates ($8-8.50) with three different spice-levels of chicken: Mild, Hot, and "Shut the Cluck Up!!!," the last of which caused the man taking our order to be literally taken aback in shock.
 "You like spicy food?… Alright."
Each plate came with two sides. We ordered potato salad, fries, baked beans, collard greens, black-eyed peas, and pimento mac & cheese. For dessert, we went with banana pudding ($3) and peach cobbler ($2.75).
We sat and waited in anticipation, and after having our hopes rise and fall again upon realizing that bountiful tray after tray was meant for our neighbors, our order arrived. The waiter placed a beautiful tray of golden chicken in front of my hungry self, and I paused. After waiting for over an hour for my chicken, I was hesitant to dig in. Could it possibly live up to the hype? Will it be worth the wait? Can one restaurant's chicken really be that much better than what I'm used to?
Yes. Sweet Jesus yes. The light breading gave a whisper of a crunch as I chomped into the dark meat, and I tasted the juiciest chicken I have ever had in my life. The mild spice was flavorful but completely unthreatening, a tingle of spice dancing on my tongue. The chicken was absolutely the highlight of the meal, but the overflowing plate of sides made the experience complete.
In between bites of juicy dark meat, I gorged on Hattie B's baked beans and potato salad. The beans were warm and savory, with perfectly sized ham cubes, large enough to add the hearty flavor, but not enough so to change the creamy consistency. The cold potato salad offered an exciting contrast to the warmth and smoothness of the beans. The cool medley of potato, onion, and celery was much more textured; my mouth was far more involved in the experience of the potato salad. The large chunks of potato required attention by my jaw; I couldn't just slurp it up like I could for the beans.
The only flaw in my 90-minute dining experience was the peach cobbler. While the portions were hefty and the peaches tasted fresh, there was way more breading than peach, and after eating four or five peaches, I was left with a bowl of spiced bread.
Overall, Hattie B's defined the experience of "Good things come to those who wait." After years of waiting for a space to fill the lot at 299 Moreland Ave and hours of waiting for chicken and sides to fill my belly, the juiciest, most flavorful chicken in Atlanta made it all worth it.
View Comments(1)