Java Jive nourishes community
When you step into Java Jive, it's like coming home.
Owners Steven Horwitz and Shira Levetan first opened the diner more than 25 years ago as a nexus of their love of everything vintage and breakfast food. It soon became a fan favorite for its warm hospitality and delicious dishes, amassing many regular customers.
Levetan said that one of her favorite parts of operating Java Jive is forming friendships with customers and watching families grow up.
"When we first started, people had little babies in high chairs, and they're out of college now," Levetan said. "A lot of times, people will move away, but when they come back to visit Atlanta, they come back to see us. I like that a lot."
Many customers feel a strong connection to Java Jive, partly because of the uniquely delicious food. Levetan's background in baking combined with Horwitz's family traditions has led to the creation of many culinary masterpieces.
"I've always done a lot of baking, and before I did Java Jive, I also did and still for many years did wedding cakes and birthday cakes and things like that, so I just kind of came up with [recipes]," Levetan said. "And Steven, when he was a kid, cooked breakfast, and so there are things that he made from when he was a kid like the PB&J. We just kind of brought those things together."
Other menu items had more unexpected origins.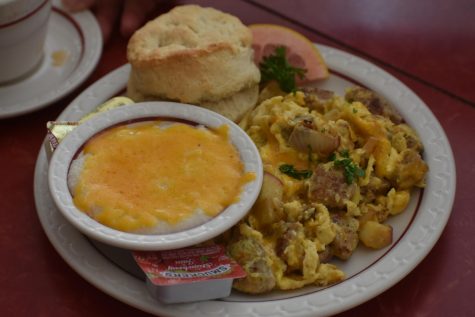 "A lot of times we would just think of an ingredient that was kind of different, like the sausage apple scramble," Horwitz said. "We were serving the sausage and I thought well, could we incorporate that into some sort of breakfast dish. We would take that one ingredient and just think well, what works with this and just try and kick things around that way. They all kind of come to us pretty quickly."
Another thing that customers appreciate about Java Jive is the retro aesthetic. The restaurant is filled with vintage table sets and decorated with antique advertisements, pots, stoves and many other timeless treasures. Music from the 1950s and 1960s plays throughout the diner to add to the guests' experience.
"Certainly there's so much conversation that goes on in here about [the decorations] and it's interesting because people of all ages, for different reasons, react to it," Horwitz said. "For a lot, it's nostalgia or memory lane. Their grandma had a table like that. For other people, they just think it's neat, and it's different."
The couple started their antique collection before they even thought of opening Java Jive. Levetan's glad that she scooped up all of her finds back then.
"A long time ago, before we opened, and it's been 26 years ago, almost 27 years now, we would just go to estate sales and yard sales, and there was this place called Lakewood which was a vintage market and it was really a lot of fun," Levetan said. "These things were more readily available then, of course it was a quarter of a century ago, so people had these things in their basements and attics, so they were a little easier to find."
Like many small businesses, the coronavirus pandemic has forced Horwitz and Levetan to pivot their business strategy. They now sell pies and quiches in addition to both in-house and to-go offerings, available Tuesday through Sunday.
"Just those pies and quiches and baked goods kept us afloat for a long time, so that was really great," Levetan said. "We also did so many more to-go orders than we ever ever did. Breakfast isn't the easiest food to travel, but changing totally to to-go and doing those pies and quiches have really helped."
Many regular customers are continuing to support Java Jive during this tough time. Rocky Atkins has been dining at Java Jive for more than 25 years, and according to him, it's the "best breakfast place in the city". During the COVID-19 pandemic, he dines in house twice a week, picks up to-go on the weekend and orders a pie once a week. He finds it important to do his part to keep Java Jive afloat.
"It's food that makes us feel good during the pandemic," Atkins said. "Plus, the owners are people we care about and want to support because we've known them for a very long time."
Levetan and Horwitz are proud of the atmosphere they've created at Java Jive.
"We are a real mom and pop [shop] and that's something that's not very common anymore," Levetan said. "We're the ones that are here, and we're doing all the cooking and the baking and, when the doors are open, we're here. It's always us, and that brings a real consistency to the food. We're just a small neighborhood place, and it's cozy and it's comforting, and a lot of people like that because it is a little bit different."