Sean's Harvest Market Selling stellar smoothies and shakes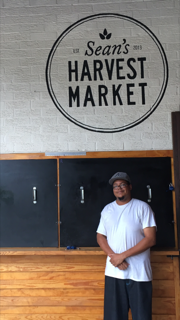 Harry Suazo
August 25, 2016
Selling sandwiches and smoothies, Sean's Harvest Market was established as Atlanta's Premier sandwich bar by Sean and Amber Germain on July 15, 2012 and since then has become a favorite spot for locals.
"It's cool to see a place like Sean's where you can get quick healthy items," said Adam Goodhue, who comes to Sean's after he visits the nearby ATL Drum Collective to pick up instruments. Although it's right next to Piedmont Park, the Harvest Market can be hard to find if you're not looking for it. Jason Johnson is a trainer at Urban Life Fitness just down the block from the market. He frequently  comes to Sean's in between clients.
"It's only a short walk down the road, and a good, quick way to refresh myself after a workout," Johnson said. Sean's is located in a niche next to Simply Sun Tanning on Amsterdam walk. This location is both accessible and surrounded with a friendly atmosphere. The kitchen itself is very open
and is small but clean and organized. The menu is colorfully painted on a black door leading to a storage room. Next to it is a small patio with a cornhole game which is frequented by patrons of all ages. In addition to their famous sandwiches, Sean's sells smoothies and is visited regularly by athletes after working out in Piedmont Park. It's a great place to come with your friends on a hot summer day and have a healthy refreshing smoothie from scratch.
The employees who work the Thursday afternoon shift are Sam and Marcus, who can greet most of their regular customers by name. Sam met the owner, Sean Germain when they were both on staff at Cafe Diem, and they remained good friends since.
"It's nice working with friends in such a relaxed environment,"  Sam said. "Everything we do here is kind of out of the box, so what we do is we take traditional recipe ideas and put our own twist on them, which is fun because it gives us a lot of creative leeway." Working at Sean's also has other benefits. "Another thing that makes working here so fun is that here, were basically working outside, which for most of the year is really nice," he said. Sam has been cooking his whole life, and he has worked every job in a restaurant. He describes working at the Harvest Market as being a breath of fresh air where he is free to create his own recipes. One of his creations includes the Harvest Market's stellar pulled pork. Sean's Harvest Market is an urban restaurant where you can eat healthy food and enjoy the weather with friendly people who care about you just as much as they care about the food they're serving you. It's the perfect example of a small restaurant that can make a big impact.