JV volleyball team defeats North Atlanta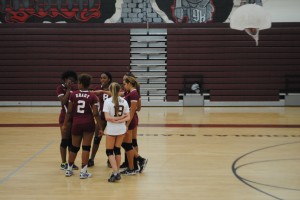 The Grady High School JV volleyball team took on the North Atlanta Warriors on Tuesday, Sept. 8. The Lady Knights gained another win, ending the match with a score of 2-0.
In the first set, the Knights came out on top with a score of 25-20. The girls came back for the second set and kept the Warriors from catching up to them, ending with a score of 25-12 and eliminating the need for a third set.
The Varsity girls were scheduled to take on North Atlanta, however the Warriors forfeited before the start of the game.
In its next match, the Varsity volleyball team will once again take on Therrell, as well as Coretta Scott King, on Thursday, Sept. 10 at 5:30 in C.S. King's gym.