Varsity volleyball girls defeat Therrell, Carver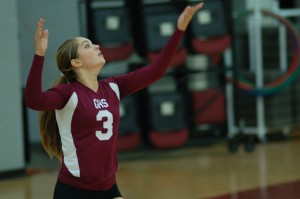 The Grady Knights varsity volleyball team took on both Therrell and Carver on Tuesday, Aug. 25. The team defeated both schools 2-0, giving them their third and fourth successive victories of the season.
The Lady Knights opened the match against Therrell with a score of 25-12 in the first set. They then secured the win by ending the second and final set with a score of 25-10.
Despite the victory, the varsity girls feel that they could have improved their game.
"It was a really slow game, so we're hoping to pick up the pace in future matches," varsity player Cara Oliver said. "But other than that, it was a pretty good game. We had really good coverages and hits."
In their second match against Carver, the team began the match with an overwhelming upper-hand, and ended the first set with a score of 25-2. In the second set, Carver slightly stepped up their game, but the Knights still came out on top with a score of 25-10, ending the match 2-0.
Coach Austin was pleased with the way the girls played against Carver.
"In the second game, we minimized our errors [that were made in the first game], and our pace on the ball improved greatly," Austin said.
Austin said that in terms of the rest of the season, the varsity girls are hoping to succeed in the state tournament.
The varsity game against Lithia Springs on Thursday, Aug. 27 has been cancelled. Their next game will be at home on Thursday, Sept. 3, where both JV and varsity will take on Paideia and North Atlanta at home.