Varsity volleyball sees 'spike' in victories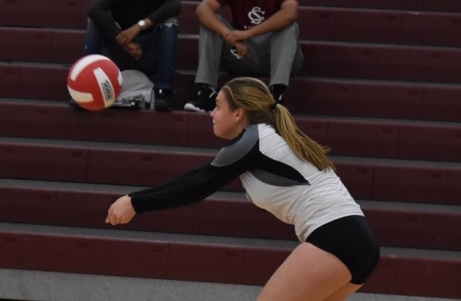 Long summer practices, team bonding trips, strenuous conditioning and respect for a determined coach propelled the volleyball team to a 18-2 start. The Lady Knights are beating the odds as other fall sports teams struggle with slow starts.
They defeated Carver in two sets on Aug. 17. They won the Tri-Cities High School Tournament on Aug. 18 and 19, beating Washington, KIPP Atlanta Collegiate, Tri-Cities, Drew, and Douglass. Adding to this successful start, the team defeated North Atlanta on Aug. 21 and KIPP the day after. This undefeated streak of 12 matches came to a halt with a narrow loss against North Atlanta on Aug. 31.
Not discouraged by the loss, Grady beat Maynard Jackson 25-13 and 25-16 a week later. After the two wins, the Lady Knights defeated Lithia Springs 25-8 and 25-11.
Coach Ella Cleveland, who declined comment for this article, and players have high aspirations this year, aiming to become the school's first volleyball team to win the state championship. Region rivals Decatur and Riverwood lie in the path to a Class 5A state title. North Atlanta is a city rival but not a region foe.
Second-year coach Cleveland held preseason voluntary practices for two weeks,during the summer for prospective players. Putting in the extra work, rather than vacationing, is paying off with more wins.
"I think this season is different from previous years because we got to practice over the summer," captain Katie Wood, a junior, said. "We've had a lot more intense conditioning and preseason stuff which has helped us to get ready before the season started instead of getting ready during the season like we did last year."
The team also participated in other bonding activities in order to strengthen communication on the court.
"We started off with summer practices, but none of us were really that close," Wood said. "We went, and we did beach volleyball at John Howell Park, and that's when all of us started to kind of become friends and then we all went to the lake together. I think it really helped our team feel more comfortable around each other on the court."
Cleveland has prepared the team physically and mentally, through motivation, dieting and extensive drills and workouts, players said.
"She's one of those coaches that pushes you super hard past your limit, but she's just trying to make you better," said sophomore Lucy Bertsch. "Also she's super competitive, and she wants to win as much as us."
In season, Cleveland holds practices Monday through Saturday. The team is small with only eight varsity players, which allows for more one-on-one attention and focused practices.
"It would always be nice to have more players," junior Sam Cook said. "I think because there's a lack of players, we all put in more effort and dedicate more time"
Players think the strong start to the season is just the beginning of things to come.
"I think we are going to have a very successful season," Wood said. "Probably more successful than any season I have had since I've been at Grady. I think we will make it past the first round of the state playoffs, and I don't think a volleyball team at Grady has done that so far."