Bartaco sets a high bar for tacos but flops over everything else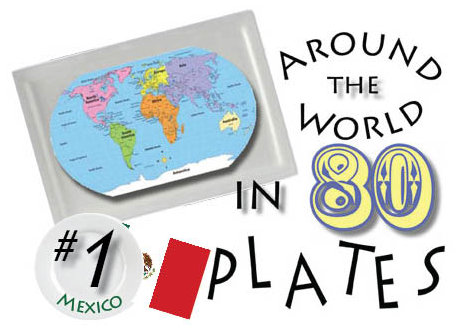 Who wants to eat burgers, fries or onion rings soaked in grease? Not me. Oftentimes, American cuisine is limiting and uninspiring– so I decided to scour Atlanta for the best international cuisine. I plan to sample 80 different Atlanta restaurants to find the best foreign grub and travel around the world on 80 plates.
The first stop on my journey was Bartaco, the Westside's newest taco restaurant. My expectations were sky high—I had only heard praise for Bartaco's food, and I was starving.
Upon entering, I nearly forgot my hunger. Such an interesting assortment of photographs covered Bartaco's walls that I wanted to examine each and every one.
Eventually, I managed to tear myself away and walk to my table. A waiter took my order of guacamole and chips, and the heaping basket landed on my table before I could even place my napkin in my lap.
This guacamole deserves a paragraph of its own. Each toasty, perfectly salted chip was about the size of my face. Though the gigantine chips certainly caused me enough excitement for one evening, the guacamole itself was superb. I like a hint of lime in my guacamole, and Bartaco certainly performed.
I marked my meal choices on small piece of cards tock while I crunched my chips. Almost immediately after I finished, a waiter picked it up and took it off to the kitchens.
Bartaco serves small, tapas-style plates meant for sharing. Each plate arrived when it was ready, and because I had ordered so many different things, more often than not I had no idea what I was eating. If you don't plan on sharing your meal, then Bartaco is not the restaurant for you. By the time all of the dishes were placed on the table, I had forgotten what I had ordered and therefore ate from the plates that were closest to me.
The first to arrive was a small plate with four gorditas, which are Mexican dumplings with cheese and meat filling. Unfortunately, they failed to impress. The accompanying sauce was gloppy and bland, and the gorditas themselves lacked flavor and were dry. They tasted like insipid sponge cakes.
I was quite excited when my grilled corn with lime, cayenne and cotija cheese arrived, but yet again, I was sorely disappointed. The corn was covered in a ricotta-like cheese and a spicy sauce, but it was still on the cob. It would have been impossible to eat with utensils, but was also impossible to eat without them–unless, of course, you don't mind having sticky sauce-coated hands. For such messy corn, I expected impeccable taste, but it unfortunately lacked depth of flavor. The corn was sweet, the cayenne was spicy, and that was about it. The cayenne so overloaded my taste buds that I couldn't taste much else. I ended up leaving one of the two pieces of corn untouched, and I never waste food.
The next to arrive on my table were a mushroom mole tamale and a small plate of plantains. Both were tasty but not particularly memorable. Though the tamale's filling wasn't as flavorful as I had hoped it would be, I wasn't too disappointed. The masa surrounding the filling was too thick, and so I tasted more mushy dough than I did mole. The plantains were passable but a little dry.
Finally, a plate loaded with tacos arrived. Each taco was only about 3 inches in diameter, so it would take quite a few to make a full meal.
The tacos weren't as amazing as my guacamole, but they were still delicious.
Because all seven of my table's tacos were crammed onto a single platter, it was impossible to distinguish them.
I could, however, identify the pork belly taco, which was by far the best. It was a perfect mix of smoky and savory, and even managed to compensate for the awful grilled corn.
To end my meal, I sampled the spiced chocolate pudding. It had a delectably crunchy topping and offered the perfect understated, yet still spicy, kick of cayenne. Though at first glance the pudding seemed to be in quite a small jar, it was so rich that I would recommend sharing it between two people.
My meal was not very consistent. Certain elements were outstanding, but others were wholly disappointing. Maybe the best course of action is to order typical Mexican food, such as tacos and chips, and not the more experimental gorditas or grilled corn. Bartaco's classics were scrumptious, but its menu's more original elements were not top rate.
Bartaco is located at 969 Marietta St. NW.