Taste of Italy alive in fierce, flavorful chicken dishes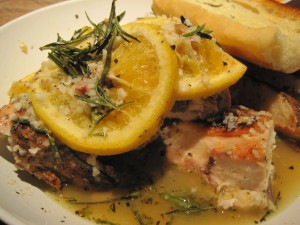 I've never eaten so much chicken in my life. I'm not talking about deep-fried, grease-coated, artery-clogging poultry, but instead, broth-soaked, artfully-seasoned nibbles of heaven.
Gio's Chicken Amalfitano is an authentic Italian restaurant located on Hemphill Avenue in the Westside. Upon entering, I first noticed communal tables surrounded by people smiling, laughing and yes,  eating chicken.
Gio's isn't the "typical" Italian restaurant; there's no pizza on the menu at all. Though the chef's main focus is certainly chicken, Gio's also offers several promising pasta options.
I ordered the Arancia Di Capri and was not disappointed– even the complimentary salad that came before my meal was spectacular. At first glance, it just looked like a bowl of lettuce with shaved parmesan on top, but then I took a bite. It was lightly dressed with a peppery vinaigrette that made my tastebuds sing.
I had barely started to eat my salad, however, when a glorious bowl of chicken arrived.
It's important to note that this chicken is not for the faint of heart. Each order comes with half of a chicken: breast, wings and all, and it's still on the bone. Gio makes the customers work a little–after my meal I felt like a fully qualified butcher–but it was certainly worth it.
I was skeptical at first. My chicken dinner cost a pricey $15, and it wasn't even off the bone. By the end of my meal I understood.
My meal was certainly enough for two people, and it came with both fingerling potatoes and crispy garlic bread to dunk in the wonderful broth. Had etiquette allowed, I probably would have drunk what remained straight from the bowl. It was artfully flavored with orange, rosemary and garlic that complemented the chicken beautifully. The chicken was perfectly cooked, and I was left with enough leftovers for another meal.
I also tasted the Spaghetti & Polpette, a more authentic name for spaghetti and meatballs, and was blown away by the quality of the food. Though it cost $14, there was definitely enough for two people. A generous dollop of thick cream, that tasted like ricotta mixed with herbs, topped the steaming bowl of pasta. I could have eaten a plateful of just the cream, but the rest of the dish was even better. This is spaghetti for two very hungry people. Two meatballs the size of my fist swam in extremely rich sauce, the noodles were perfectly al dente, and bread served on the side made the meal.
Caffé Gio's, a coffee, dessert and panini shop, connects to the middle dining room and patio out back. I couldn't resist trying the stracciatella gelato. I can still taste the rich, creamy vanilla and the bittersweet chunks of chocolate that was the perfect end to my meal.
Gio's is a part of the Westside district's Piazza San Gennaro, or "Little Italy-" a small group of authentic Italian restaurants all located on Hemphill Ave. Antico, a celebrated pizza restaurant, and Bottega Luisa, an artisan Italian grocery, are other destinations in the piazza.
Gio's superior chicken puts Zaxby's, Popeye's and Bantum and Biddy to shame. Don't let the high prices turn you away: the portions are huge, definitely large enough for two people to share.
If you don't eat anywhere else, eat at Gio's. The food is incredible, the atmosphere is inviting and the adjoining Caffé scoops up some of the most delicious gelato I've tasted.