First-day contrast creates confusion, clarifies corollary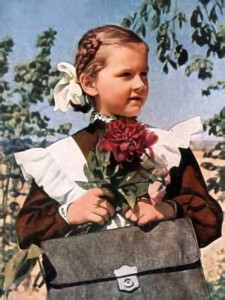 I was a bit frightened as I approached the entrance to Grady High School. While I anxiously made my way to my first class, a couple of guys, dressed in torn in the knees jeans, crop tops and short skirts, screamed loud greetings to each other. When I arrived, my classroom teacher announced, "You know what the beginning of the year means, folks, don't you? A lot of work!" Teenagers reacted with sour faces, looking at each other and then back to the teacher. My classmates sat gloomily; each engaged with their own thoughts and business. Lost and disappointed I silently asked myself, this is the first day of school?
It was Aug. 4; my first day at Grady and my first day at an American school. I had moved from Russia over the summer, and I was truly surprised and a little bit disheartened that school started so early. But I had reason for such optimistic expectations concerning late beginning of an academical year. For the past decade I have been studying in a wholly opposite school system. In Russia, the first day of school is much different and is much later.
For the last 10 years of my life the Sept. 1 has been a dreaded day both for me and for every Russian student because this day meant the beginning of the school year. This "holiday," also known as  of Knowledge Day, was founded in the USSR in 1984. Since then, Knowledge Day has celebrated each year by  school teachers and college professors, students and their parents.
The Knowledge Day celebration has long-established traditions. To begin with, all students of different educational institutions  join their classmates on the open space in front of school in  a ceremony which is called lineyka. It English, this translates to "school parade."All grades starting from first graders to 11th graders (or seniors) form lines on the basis of their grades. They listen to opening speeches about the beginning of academic year from the school principal and other guest officials.
Students bring their teachers flowers which exceed the capacity of all available vases.
Rooms are filled with the fresh flower aroma as classes pose for yearbook shots, which become the subject of everybody's jokes over time when rosy-cheeked kids become grown up ladies and gentlemen.
Considering the descriptions above, you may tend to think that the Knowledge Day is a tedious, inevitable obligation. What makes the day special is its unique atmosphere of anticipation that is mainly centers on the students' outfits. Most Russian schools typically require students to wear uniforms, but the Knowledge Day celebration assumes even more strict but festive clothing. Knowledge Day makes the school square look like a white and black sheet. Girls wear light-colored blouses and dark skirts or pants. Some  senior girls stand out by wearing an old-fashioned Soviet Union uniform.  Boys look like young businessmen in suits with white shirts, shining shoes and colorful ties. Many seniors carry bouquets of roses while first graders show off immense flower arrangements. After the celebrations, homerooms  are stuffed with various roses, carnations and dahlias.
I can sincerely admit that I miss Russian Knowledge Day; however, American  simplicity of the first day of school also has its appeal and advantages. After all, I am trying to look on the things positively: one summer day spent at school in August one less spring fay studying in classroom in May.