Burger joint a treat for tastebuds, wallets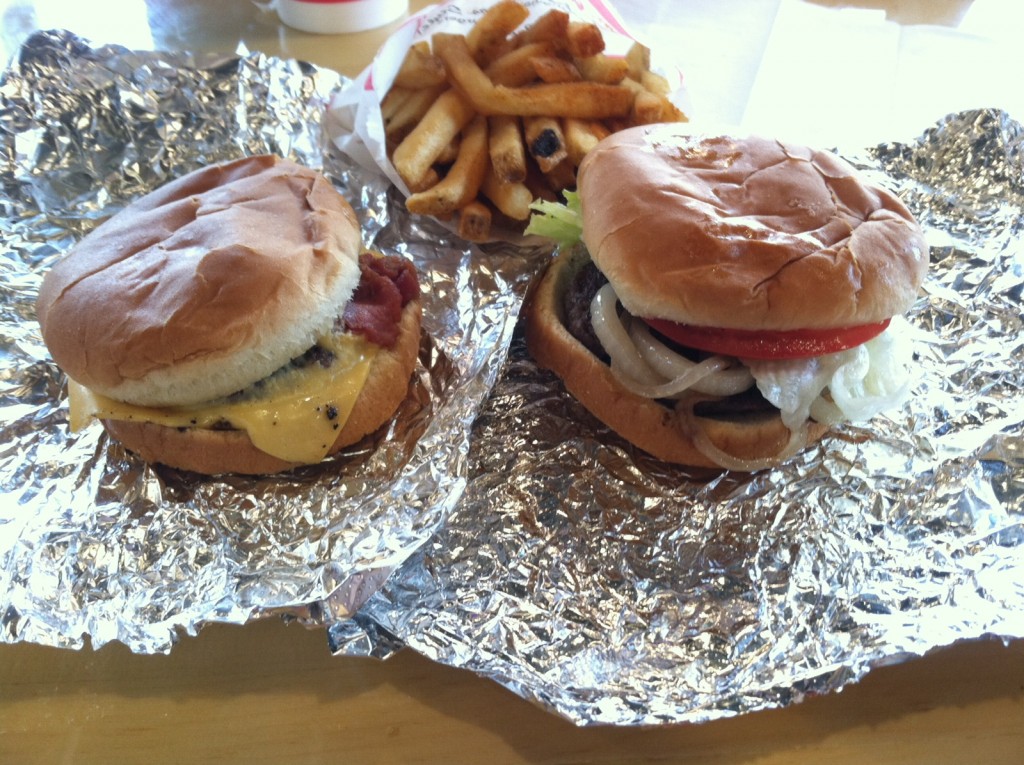 Hannah Martin
May 20, 2014
As I wove my way through the busy Edgewood parking lot on a Friday afternoon, a strong burger-scented breeze wafted into my nostrils. Despite waiting 10 minutes for a parking spot, I couldn't help but shiver with yummy anticipation as I got closer to the burgery bliss. Customers both young and old swarmed around the building. I made my way to the front of the building and saw that there was even a line to get inside. But I knew that it wouldn't matter once I got a hold of my cook-out style burgers and fries.
Let's backtrack a little bit. Right after school got out, I sped over to Cook-Out Burgers, a new restaurant on Moreland Avenue that opened in late April. I know it's kitschy to review a fast-food-esque restaurant, but I thought: what better place for a high school student to dine? With the fantastic food they have to offer, customers won't be easily disappointed; the chefs at Cook-Out burgers bring home-style cooking to the hands of those on the go.
Cook-Out sports a drive-thru, but I decided to familiarize myself with the interior in order to round out my experience. Walking in, I was confronted with lots of open, welcoming space for customers to sit down, which I didn't expect from such a small building. Dozens of people were seated, so I happily made my way to the last small booth near the window. I'd heard from a friend that this place would be busy, but I didn't really believe it until I had to compete with strangers for a spot in the order line. After a short wait, I finally got to the front of the line and ordered a "Steak Style" burger (A1 Sauce, Grilled Onions, Lettuce, Tomato, mayo), a "Cheddar Style" burger (cheddar cheese, bacon, grilled onions, mayo), and a medium-sized portion of french fries seasoned with specialty cajun spices. All this and a large soda was priced at only $11.43, which was perfect for my meager high school budget of $15. Because the place was hopping with people, it surprised me to find my order ready—and accurate—within 10 minutes.. Good service is always a check-plus.
I sat down at the small booth and bit into my hearty steak burger, anticipating nothing special, but I was surprised to find that the burger's extraordinary flavor surpassed my wildest dreams. Obviously, the burgers at Cook-Out were not only freshly grilled, but the patty was also thick! For the first time, I realized how small and bare the burgers from experiences pat had been. I would even venture to say that the burgers served at Cook-Out are superior to the burgers from Five Guys just based on my ration of burger meat.
Shockingly satisfied with my order so far, I went on to give the seasoned fries a test-drive on my tastebuds. I consider myself a french fry connoisseur, so I was nothing short of skeptical when I inserted the average-looking wedge of fried potato into my mouth. Once again, I was surprised with the superior quality of my food. My fries were heavily seasoned with a rich, spicy cajun flavor, and as I realized this, I didn't neglect to take a moment to reflect on my life. How many tasteless french fries had I eaten before I discovered the true french fry perfection at Cook-Out? How many moments had I wasted eating the mediocrity of McDonald's fries? My potato-ey portion embodied a flavor Heaven, and I honestly think I will have to keep myself in check for fear of a cajun french fry addiction.
Of course, all good things must have their faults, and so Cook-Out's faults lay in interior design.
The decor inside Cook-Out was absolutely tacky. I enjoyed the seating availability, especially given the small space, but the decor was reminiscent of a cheap Appalachian cabin whose owners yearned to live the lives of cowboys out West. The combination of wooden paneled walls and tiled floors and ceilings offended my aesthetic senses. The bullhorns and skulls hanging about were definitely not visually pleasing. I tried to conceal my disgust as I looked down at the table, but given the quality of the food, I soon forgot about the horrible interior design.
All in all, I would rate Cook-Out as a solid 10/10. The food was divine, especially given the prices, and the service was amazingly fat (and accurate) despite the busy atmosphere. Plus, the drive-thru is always an option, so I won't let my opinions on the interior decor sway my rating on the overall experience. Cook-Out is a great choice for every burger-loving Grady Knight, on the go or dining in.