City Councilman, Atlanta Public Schools graduate Dickens elected Atlanta's 61st mayor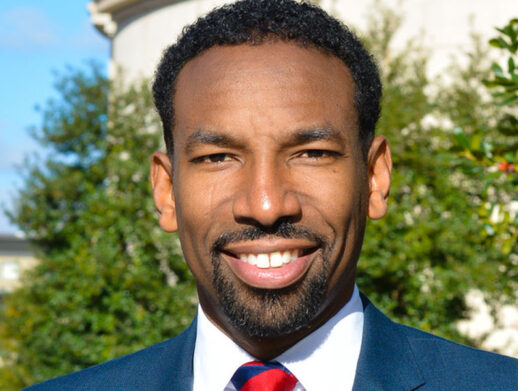 Atlanta voters elected City Councilman Andre Dickens as the city's 61st mayor in a November 30 runoff against Felicia Moore. Dickens will replace Keisha Lance Bottoms, who didn't run for a second term.
Dickens grew up in Atlanta, graduating from Mays in 1992, attending Georgia Tech and Georgie State. Dickens is also a father, nonprofit executive and businessman.
David Edwards worked with Dickens on the Atlanta City Council while Edwards ran Purpose Built Communities, a nonprofit which revitalizes distressed urban neighborhoods.
"He's one of these positive energy, can-do, enthusiastic kinds of people," Edwards said. "He's the kind of person you want in a leader; someone who's optimistic about the future and wants to get big things done."
Former Atlanta Mayor Shirley Franklin endorsed Dickens. She has known Dickens since he was a high school student and worked with him when he was running for city council.
"The reasons he will be an effective mayor is because he has broad experience; he has public-sector experience, private-sector experience and not-for-profit experience," Franklin said. "He brings his engineering background, small business background and his community and civic leadership backgrounds. In the last 20 years, he's worked in different sectors, but he has also worked at the grassroots level, as well as worked in the corporate environment. It's a combination of his experiences and his love of the city."
Dickens, who could not be reached for comment, has said publicly during his campaign that his priorities are public safety, transportation, workforce development, affordable housing, educational opportunities for Atlanta Public Schools' students, youth engagement and senior citizens programming.
"I anticipate that he's going to be accessible and hands-on in his approach to leadership," Franklin said. "He's a very compassionate person. He cares about the problems and aspirations of the people that he will now serve, but I also think he's going to be data-driven. He's going to want to know the facts, do research and find best practices."
In the initial Nov. 2 election, Moore received more votes than Dickens, but Dickens beat Moore in the runoffs with 50,071 votes (63.7 percent) to Moore's 28,572 (36.3 percent). The two candidates defeated former Mayor Kasim Reed on Nov. 2.
Social studies teacher Susan Salvesen was pleased with the election results but surprised by Dickens's margin of victory.
"His initiatives made a lot of sense to me," Salvesen said. "I liked his whole story, just being someone from the city who had to overcome challenges to become a success, to graduate from Georgia Tech with an engineering degree and to be a member of the city council and have success there. I thought he would understand a lot of the issues of the city and would lead the city in the right direction."
Although he isn't a resident of the City of Atlanta, social studies teacher Noel Erskine is also impressed with Dickens.
"I like Andre Dickens more than Felicia Moore," Erskine said. "He seems like he could relate to everybody, and I know Felicia Moore was talking about raising taxes, and that's never a good thing."
Dickens wasn't planning on running for mayor until Bottoms announced in early May she wouldn't be running for a second term. Dickens's campaign came as a surprise to Edwards.
"I think the expectation was that [Bottoms] was going to run for re-election and that she would likely win," Edwards said. "When she suddenly, very late in the game, decided to not run, that was a surprise for everybody. I think Andre had to figure out quickly whether he thought he might be able to win this, and I'm glad he decided he thought he could."
Among his other accomplishments, Dickens served as chairman of the Public Safety and Legal Administration Committee. In 2017, when he chaired the committee, the number of homicides was reduced by 33 percent while all violent crimes were lowered 12 percent. As mayor, Dickens has said he has plans for improving the city's public safety, housing, transportation and jobs.
"I think there'll be a new energy and a new optimism around the future of the city," Edwards said. "I think he's going to get big things done, and we desperately need them. [Atlanta] needs to invest in public infrastructure. So things like bridges and roads and parks; [Atlanta] really needs to address racial equity gaps and its neighborhoods and make sure that the city is a much more equitable place."
Among Dickens's most urgent priorities as mayor — which has said include reducing crime and reopening City Hall to the public — is keeping the Buckhead community within Atlanta.
"I would really like for Buckhead to remain with the City of Atlanta," Salvesen said. "I think that's one of the things that he should concentrate his efforts on."
Dickens's supporters are excited to see the ways he shapes Atlanta as the city's newest mayor.
"He's very excited and passionate about the city," Franklin said. "I think that passion combined with his experience will give him a solid start as mayor in January."
Additional reporting done by Marcus Johnson and Shea Edwards