Midtown students get involved with local elections
As Atlanta's local elections draw closer, many Midtown students have found ways to become  involved with the voting process. 
On Election day, Nov. 2, citizens will be able to vote for Mayoral candidates, Board of Education seats and City Council members. Students have gotten involved by working at polls, canvassing for certain candidates and participating in the Midtown Votes Club. 
"I have worked in the past as a poll worker, so I am doing that again this year," senior Nora Ball said. "I have done training as both a poll worker and a provisional manager and I just found out that I will be a provisional manager for a precinct this year."
Working as not only a poll worker but also a provisional manager, Ball is incharge of paper ballots as well. She cannot vote until the 2022 midterms, so working at the polls is her way of getting involved with the election process. 
"I can't vote yet because I'm not 18, but you can start working at the polls when you're 16," Ball said. "I decided to do that last year because it was a pretty big election, and I just felt I needed to do something on my part. Then they called me back for the Senate elections, and this election, I just felt I should do it."
Similar to Ball, junior Jonas Loesel, who has been canvassing for District 5 candidate Mandy Mahoney, cannot vote yet. However, he recognizes the importance of getting involved at the high school level. 
"I think that if you are interested in [elections] then you should get involved," Loesel said. "I think you should generally be involved in your local politics and know what's going on in your community. If that means getting into canvassing or supporting political candidates in high school, I think it's a great way to do it."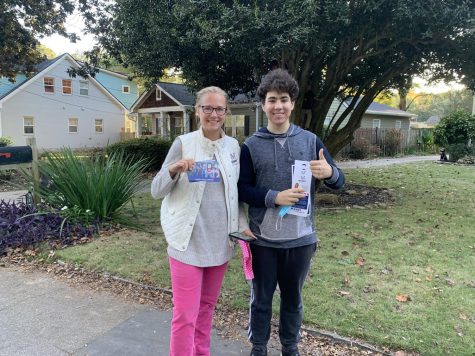 Loesel heard about canvassing from a friend. He's found some aspects of it to be challenging, but has had an overall good experience. 
"My friend told me she was doing canvassing  and that you get paid for it," Loesel said. "It's obviously hard to knock on people's doors and have them yell at you about how you should get away from their house sometimes, but when there are nice people who talk to you, it's really nice."
Midtown High Votes, a club new to the school this year, is aimed at bringing students together to encourage people to vote and be a part of the democratic process. 
"We plan out how to get more students voting," junior and member of the club, Sydney Trotter, said. "We haven't had a meeting in a while because of planning issues, but we're planning on getting more people registered and talking about voting issues in general." 
After moving from a smaller town in Indiana to Atlanta, Trotter's views on local elections have changed dramatically. 
"I moved to Atlanta in March, so, especially being in a city area with mayors and stuff like that, I've found out that local elections are very important," Trotter said. "I'm from Indiana where a lot of that does not really matter, so living in Atlanta has changed how I view politics, because every city is very different."
Loesel, Ball and Trotter all think that local elections need more community participation.
"We are in a feudalistic society and that means that we have lower and lower levels and the lower you get, that's closer to you," Ball said. "I think it is just as important as voting for president and for the Senate. It doesn't get as much press because you don't run for as long, we have a ton of candidates and it's harder to know about — even if it is more valuable."
Similar to Loesel, Ball thinks getting involved while in high school is important for the future when she can vote. She also places an emphasis on local elections, as they directly affect the community. 
"Personally, I have learned so much about the voting process now, that when I can vote, I will ensure my vote counts, just because I know how it works," Ball said. "I think it is also important because we live in a democracy and that's where your power comes from and where your voice is. Especially this election, where we are voting for the Board of Education, that influences us, as students, every single day."
While working as a poll worker, Ball found certain parts challenging, especially with new voter laws surrounding provisional ballots, which make it less accessible for people to vote out of precinct, during daylight hours. 
"This year, if you vote out of precinct between 7 a.m. and 5 p.m., it does not count," Ball said. "That is what happens most often, and it's the most common provisional ballot and a lot of times people don't have the time to go to their precinct. Telling people that they can vote provisionally, but that it's not going to count is an awful thing to do. People don't like hearing that, so that's extremely hard, especially since I'm working there so people can vote."
Though she cannot vote yet either, Trotter thinks that education and having an open mind when it comes time to vote is important.
"I think there is a Frederick Douglass quote like 'It's easier to build strong boys than it is to repair broken men,'" Trotter said. "When you are younger you can learn a lot more. When you're older, I feel like some people get in the mindset that things can't change, when indeed they can. [At Midtown] there is a very diverse group of people, and it is really cool to see that."