Elton John's "Farewell Yellow Brick Road Tour", Leaves Many Wanting More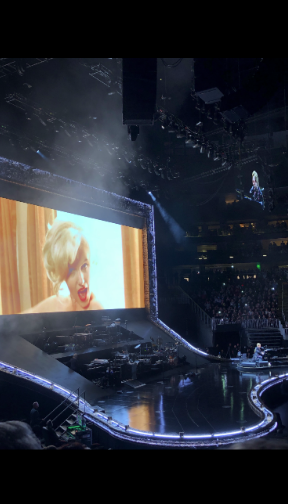 The stage goes dark.  All that can be heard is the sound of a Yamaha Disklavier piano.
   Music fills the State Farm Arena and the song is easily recognized.  Cheering begins to break out and all eyes are on the man playing the piano.  It's Elton John.   
   His fingers fly across the piano keys as he begins to sing. The spotlight shines on him brightly and the melody of "Bennie and the Jets" floats through the air. It is immediately followed up by "All the Girls Love Alice," a song not as popular as "Bennie and the Jets", but a great story regardless. This is the first of many beloved songs that he will play throughout the night.
     For three long hours, John played and sang. He incorporated songs from all over his career, starting with some songs from his very popular album "Goodbye Yellow Brick Road". He later went into songs like "I Guess That's Why They Call It the Blues," and "Border Songv".  Before playing "Border Song" he talked about how honored he was that Aretha Franklin, "The Queen of Soul," asked him if she could do a recording of it. After he finished talking, he started to play it and his band jammed out behind him. He then played songs "Tiny Dancer", "Philadelphia Freedom", and "Indian Sunset" which showcase the diversity of all of the songs he has recorded in his lifetime and was a good addition to his entertainment for the night.
   Elton then moved on to the song from which he garnered the nickname "Rocket Man".  After finishing "Rocket Man (I Think it's Gonna be a Long, Long, Time)", he performed the songs "Take Me to the Pilot", "Sorry Seems to be the Hardest Word", "Someone Saved My Life Tonight", and "Levon". 
   Once he was finished with those songs he played his tribute to Marilyn Monroe, "Candle in the Wind".  The backdrop was a two minute clip of Marilyn dancing and playing around which provided context about the song for those who did not know. The lyrics to the song told of how Elton wished he could have met her and how her legend lived on even after she had passed away.  He slowly transitioned into a purely instrumental piece of music, "Funeral for a Friend/ Love Lies Bleeding" where he showcased his piano skills. He lived up to every expectation that had been made in his favor.
  "Burn Down the Mission," and "Daniel" were played next.
   Shortly following those two songs Elton gave a speech about his AIDS organization "Elton John AIDS Organization" that he founded in Atlanta.  "Nobody should be dying from AIDS anywhere," he said. He also talked about the journey of AIDS and how it is no longer a death sentence but now merely a need of medication.  The only problem is the medication is very expensive and there is still a bad view of those with AIDS. Elton said that we should "Show compassion and love" to those who have AIDS and not shame them for it.  Love seemed to be a reoccuring theme in this concert, and that is what this speech is all about. "Love cures," Elton said. Those words were a perfect transition to his next song. He turned back to his piano and started to perform the song "Believe".   
   Having finished "Believe" Elton, in one of his three fabulous outfits, sang "Sad Songs (Say So Much)" and "Don't Let the Sun Go Down on Me".  The songs started to pick up tempo as he transitioned into "The Bitch Is Back", "I'm Still Standing Crocodile Rock", and "Saturday Night's Alright for Fighting," which left the fans raving.  
  Elton then went out to change, leaving the crowd in anticipation of what he was going to play next.
   Within the next minute Sir Elton was back on stage, this time wearing a long robe that went elegantly with the mood of the next two songs.  He sat down on the piano and performed the two songs in the encore "This is Your Song" and what we've all been waiting for– "Goodbye Yellow Brick Road".
    This song concluded what he says is his last tour ever, in Atlanta.  Elton has been touring around the world for more than fifty years and now he is finally ready to take a break and turn his attention to his family.  "I've had enough applause for a thousand years," he tells the crowd. By the end of the concert all you can seem to do is reminisce in the moments you witnessed what might be Elton John's last concert in Atlanta.