Foundation raises $100,000 for 'state-of-the-art' laptops
The Grady High School Foundation has raised about $100,000 in the last three months to improve access to technology for all students. This money will buy new sets of touchscreen Chromebook computers to meet a goal of supplying one laptop for every two students by the end of the school year. 
"We are close to getting there already because we've had such great success from the campaign," parent and foundation board member Rachel Spears said.
One cart of Chromebooks has already been purchased, and nine more will follow. The foundation hopes to raise $400,000 to meet its goal. With Grady's recent loss of Title I funds — about $280,000 a year — extra funding is especially desirable. An anonymous challenge grant contributed $20,000, but much of the fundraised money can be attributed to parents' donations.
"In fact, I was a skeptic about whether we could possibly undertake such a big fundraising campaign," parent and board president Elizabeth Rogan said. "I just thought that was beyond the means of what we could manage."
The largest project ever undertaken by the foundation, the Chromebook initiative was kickstarted by requests from teachers and Principal Dr. Betsy Bockman. Dr. Bockman said some potential teachers denying jobs because of Grady's limited technology, and teachers said that wider access to computers would broaden their teaching opportunities.
"Because not every student has one, it limits the ability for certain kinds of activities to happen," board member and AP Language and Composition teacher Lisa Willoughby said.
Willoughby said students would be able to make better use of websites such as NewsELA.com with widespread computer access. The school-wide use of Google Classroom makes Chromebooks useful as well.
Currently, Grady has limited computer access. Most classrooms have a handful of desktop computers, but teachers and students report they are insufficient. Nineteen Chromebook carts, which each hold 30 Lenovo N42 laptops, and a few MacBook Air carts, which hold older, but higher quality Apple laptops, circulate around the school. They are only enough to serve a fraction of classrooms.
"We talked about how it's kind of silly that so many other high schools [have a computer for each student], and we're in the middle of Midtown and it's not happening," GO Team chair and former foundation board member Mario Herrera said.
Inman Middle School recently bought enough computers for every student with funds raised by its foundation. The Grady Foundation worries that those students graduating from Inman will be accustomed to integrated technology, something they cannot expect when they enroll at Grady as freshmen.
"If we're preparing our students for college and career, that includes computers, and I don't know how we adequately prepare them if we give them no exposure to computers," Spears said.
The Foundation website calls the laptops "state-of-the-art." But parent and board member Scott Henley, who ordered the incoming carts, acknowledges their "simple interface."
"They're certainly less robust, but in some ways, that's good," Henley said. "It keeps them a little more focused."
Students are quick to criticize the current Chromebooks that are available, calling them "nasty" or "old," and complaining about their inconvenience, considering they are only connected to school Google accounts rather than personal ones.
"It's literally like a piece of cardboard with the minimal technology on it," senior Rachel Wilson said.
Others wondered if several hundred thousand dollars should be allocated in a different way, such as for "paper towels in the bathroom … like basic human needs," senior Michael Morey said.
Some schools, mostly private, are moving away from technology, returning back to pen and paper in rebellion of a society where screens dominate and distract students' lives.
"Ideally, [computers] should add to what's being taught," media specialist Brian Montero said. "It shouldn't be a replacement for actual teaching."
However, he observes that the Chromebooks are often used productively and may successfully lead students away from using their distracting phones in class. Willoughby thinks overwhelming screen use is a problem for teens but accepts their importance in today's society.  
"We embrace what [computers] can do and try to use them educationally instead of fighting it," Willoughby said.  
As for the argument that the Chromebooks are of too poor quality to be effective, Herrera says he doesn't buy it.
"This is something that I have learned from teenagers and people who use technology, that technology is only as good as the input," Herrera said.
The bigger picture, he says, is Grady is moving in the "right direction." Chromebooks may not seem like a perfect solution, but he says there is a "learning curve," and, over time, many teachers will learn to successfully integrate technology in their classrooms.
"It needs to be incorporated into the classroom," Herrera said. "Teachers are being buried in initiatives. Computers cannot be something extra. They need to be a tool help us reach students and to align with standards and to make things work the best that they can."
View Comments (2)
About the Contributor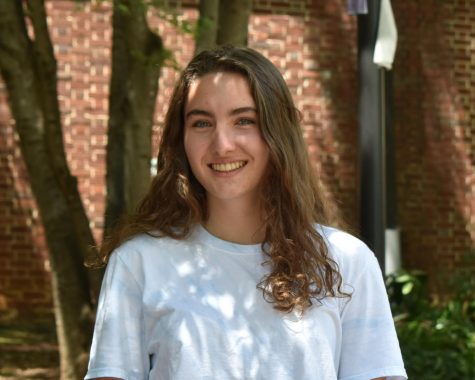 Katherine Esterl, Co-Editor in Chief
Katherine Esterl is a senior. She spends her time rehearsing plays, building houses and watching Frasier.



Contact

[email protected]