Popularity of class rings creates chaotic environment for students
Satire
An ocean of students flooded the E100 hallway outside the library. They buzzed with excitement as they waited in line to get sized. Students trying to go to the bathroom or enter the library could not get around the maze of students.
"I was trying to go to the library to print my homework, and I couldn't get in," sophomore Lucy Miller said. "I thought maybe there was a fight going on, but then I saw the big sign 'RINGS HERE,' and I understood."
November was a month of chaos at Grady High School. It marked the arrival of class ring season. Each year, the junior class goes crazy trying to decide what band, gem, size and engravings to put on their rings.
"I've been looking forward to this since freshman year," junior Maddie Clarke said. "It's such a big deal here; you get excited early on."
Many students have such a hard time picking which of their clubs and sports they want represented on their ring, so they buy multiple rings.
"I play soccer, run cross country, swim; I'm president of French club, and I'm an anchor on the school's news broadcast, GNN," junior Gary Fish said. "The different engravings for all of my activities were so cool, I couldn't possibly pick just two. I ended up ordering three rings. In total, it's going to set me back about $500.. It's worth it, though, because I'll be able to remember how awesome high school was forever."
However, not all orders are going to cost this much. Rings range from the low cost of $80 to around $300 for a ring with a gold band and diamond gem.
"I think it's so neat that Grady students are so into their class rings," Grady alumni Jerry Buchanan said. "I still wear my class ring all the time. I hope to be buried in it when my time comes."
The pleasure of being able to enjoy their rings for years to come was one that was almost taken away.
"I love that the kids are so spirited about their rings," Grady faculty member Joan Crawford said."The only negative interaction I've ever had with the rings was seven years ago when a boy with four rings punched another boy. The kid got cut up pretty bad, but it hasn't happened since, and we weren't held liable, so I still support the rings."
Other teachers have different thoughts on the trend.
"I think it's weird," teacher Angelica Daknis said. "Sometimes, I see kids with one ring on each of their fingers; it reminds me of the time kids were all obsessed with silly bands and wore them all up their arms."
The rings, though, have more sentimental value to the students than that.
"In 2039, we're all going to pull up to our 20th reunion all blinged out with our rings on," senior Mac Karson said. "We'll be able to look at each other's rings and remember the good old days."
Leave a Comment
About the Contributor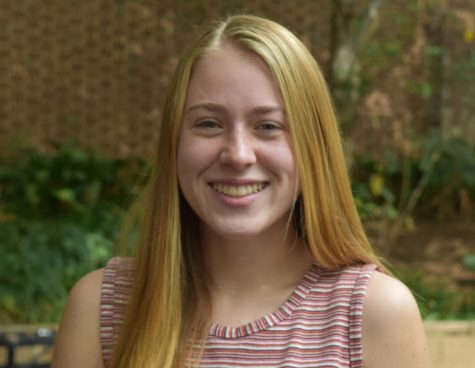 Abby Peters, Comment Managing Editor
Abby Peters is a senior at Grady and has been in the journalism pathway since her freshman year. This year, she is the Comment Managing Editor and last...