APS announces plans to turn Inman into mixed-use development
Satire
With the recent renovation of the David T. Howard facility leaving the former Inman Middle School vacant, there has been a whirlwind of speculations regarding the future of the property. The original options range from a new elementary school to a fourth and fifth grade academy. However, Atlanta Public Schools recently decided to move onto a new, lucrative venture: real estate.
On Wed. May 26, APS announced plans to turn Inman into a mixed-use, live-work-play development, with a flashy new name: Inman Neighborhood Market.
"When deciding what to do with the building, we realized that there was simply no solution that would meet all of our needs," Superintendent Donna Shields said. "We figured that if we couldn't make everyone happy, we might as well make money off of the facility. Afterall, Atlanta can never have enough live-work-play developments. Millennials eat them up."
Seventy percent of the revenue brought in from the Market would go towards APS' budget, with the majority of earnings going towards salaries for the superintendent and the school board. Because the Market is owned by APS, it will benefit from an education tax break.
"We honestly should have thought of this sooner," Shields said. "We've been struggling with funding after renovating several schools, and this is a way to make quick cash. Because it's an educational investment, we can use taxpayers money to fund the project and we don't have to pay income tax. Ponce City Market wishes they could be us."
The plans for the facility are ambitious. A food hall will replace the former cafeteria and gym, and upper-level classrooms will be turned into lofts and office spaces for companies and tenants to rent out. Ground-level classrooms will be converted into trendy shops and boutiques, and the auditorium will be made into an intimate concert venue that rivals The Tabernacle in Downtown Atlanta.
To top it all off, APS has commissioned local artists to paint murals on every inch of exposed brick, complete with angel wing designs viewers can stand in front of to give an angelic look to their photos.
"I'm so excited for the new Market," 26-year-old Christie Tayler said. "Between the BeltLine, Ponce City Market, Atlantic Station and Krog Street Market, everyone's Instagram feeds are starting to look the same with the same murals. I need some fresh, trendy spots to keep up my aesthetic, so I'm excited for all the photo-ops Inman Neighborhood Market will bring."
One of the more innovative aspects of the project will be the conversion of the current instructional suites, also known as the trailers, into a tiny house and food truck village, complete with a dog park right off the back. Brian Reid, the architect commissioned for the project, drew from similar establishments around the country for inspiration for the proposal.
"When deciding what to do with those god-awful trailers, we drew inspiration from the mecca of millennial markets itself – the Magnolia Silos in Waco, TX," said Reid. "The village will be outfitted with a couple of food trucks, and tiny house models that people can rent out as event spaces. The dog park will run into the village, encouraging young people to mingle alongside their pups."
Despite the excitement around the new Market, a few community members have expressed concern. Wanda and Seth Westbrook have lived in Virginia-Highlands for nearly thirty years, and are worried about what the development will bring to the neighborhood.
"When Ponce City Market was being built, we really weren't concerned about what was happening to Old Fourth Ward," Wanda said. "I was just excited for all the new restaurants, it didn't affect us. A lot of residents were forced out due to higher property taxes, but the neighborhood looked trendier, right? But, forcing us out? We're good, tax-paying people! We've been here forever. It's insanity."
In response to these concerns, Shields simply replied, "It's all for education." The project is set to be completed late 2023.
"We're excited for all the new opportunities Inman Neighborhood Market will bring," Shields said. "We've seen how wonderful of an asset mixed-use developments have been to our city, keeping us a relevant travel destination. It's a source of pride for APS to be a part of this neighborhood revitalization and beautification."
Leave a Comment
About the Contributor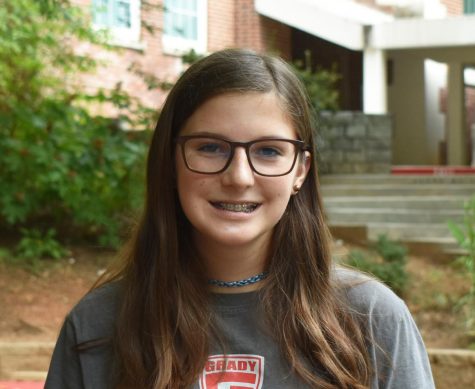 Lanier Pickren, Comment Managing Editor
Lanier is a senior and this is her third year on staff with the Southerner. In addition to writing for the Southerner, Lanier is editor of Latin club,...