Graduating class takes senior assassin too far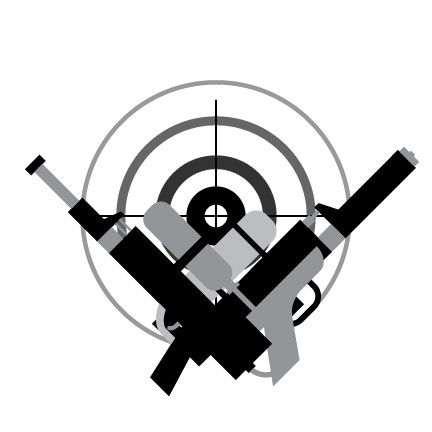 Satire
Though Midtown High School hosts an array of events for seniors, including homecoming and prom, it's a student-run event that seniors look forward to the most every year: Senior Assassin.
Senior Assassin is a competitive game in which seniors are assigned targets and have to "shoot" their target with a water gun to eliminate them before the end of each round. When one senior eliminates another, they obtain their victim's target. The game goes until only one senior is left, and that one senior wins a pot of money containing all the players' entry fees.
"Senior Assassin usually lasts for several weeks in the fall and is all in good fun," senior Jack Delmonico said. "It's really funny when people get bowled over in the parking lot on their way out of the A building."
This year in September, Senior Assassin started as usual with 75 students, each armed with a water gun, the name of a target and, of course, floaties and goggles, which make students immune when worn. However, things soon got more out of hand than usual.
"I have seen the competition happen every year," fourth-place Assassin finisher and senior Ayesha Hill said. "This year started out pretty normal, with people breaking into each other's houses and whatnot, but I have never seen it get this intense. Friendships are being ruined. Kids staying home from school just to win."
One week ago, third-place finisher Patrick Wilder was eliminated, leaving only two seniors, Derrick Johnson and Grace Lundstrom, fighting it out for the $500 pot and all the glory that comes with being the 2021-2022 Senior Assassin champion.
"Derrick ambushed me in the parking lot right after basketball practice," Wilder said. "I thought I was being mugged at first, but stopped pleading for my life when I realized it was Derrick. All in good fun. Now, the whole thing has been taken to the next level with Grace and Derrick refusing to come to school, contact their friends, or even leave their homes. I am best friends with Derrick, and he's refused to Snapchat me for a week. We lost our streak." 
Lundstrom and Johnson have each missed one week of school, with both refusing to leave their houses out of fear of being eliminated. Though both have been given detentions, the hold out continues. 
"I have worked so hard for this — sacrificed friendships, failed classes, even shot my twin sister and ruined my relationship with her," Johnson said. "This is all I have left, and I have to win. I have already been given detention, and the school has threatened me with a suspension, but I have no plans of quitting until I eliminate Grace. The clout I will get for winning will be worth everything, and plus there is $500 on the line."
Though Johnson has said he will not quit soon, so has Lundstrom. She has also been given detention and has been threatened with further action, but it seems nothing can break the will of these seniors. 
"Yeah, those letters from the school are just a trick from Derrick," Lundstrom said. "I'm not actually suspended, he just wants to fool me into showing up to my suspension hearing and then shoot me. I'm not coming back to school until I get Derrick out. I have worked too hard, and there is more than just $500 on the line; there is glory. If I win, I will go down in Midtown history."
While the students are having "fun" with the whole game, the same cannot be said for the administration.
"I don't think it's funny anymore, and has instead become a game that has been taken way too far," Assistant Principal Cheryl Howard said. "There's no way to even forge those suspension letters. If you're reading this, Grace and Derrick, just come back to school. Neither of you are on track to graduate. You're playing junior assassin at this point."