Minecraft ushers game-based learning to classrooms
Satire
Schools across the district are beginning to integrate an unconventional resource into their daily curriculums: Minecraft. The 2009-era Mojang video game features block-style display in a whimsical world of pixelated creation; players have the option of experiencing a "survival" style simulation or a "creative" landscape, all incorporating elements of creation and design.
Schools are using the game's new "Minecraft in the Classroom" feature, which aims to integrate the creative and engineering uses of the gaming program in science, math and art classes.
"We have completely stopped using textbooks," said Janiyah Reed, a middle school art teacher in Virginia. "The kids learn better when they can see what they are doing on a screen; the creative modes in the game really make teaching aspects of design so much easier. Especially with middle school-aged children."
Beyond Minecraft's colorful landscape, schools are also beginning to use an array of other video games to replace what many view as outdated curriculums.
"In all of our history classes, we use the game 'Empire Total War' to show how different nations and empires interacted in different time periods," said Colin Shephard, a World History teacher at a school in Alpharetta. "Battling other kids in an educative platform really helps solidify the historical concepts. While a lot of the time they aren't exactly accurate, as lots of kids like to change the outcomes of wars; it's about getting them engaged in history. I think video games really capture kids' attention."
Science classes have begun to use video games to teach concepts as well.
"'Grand Theft Auto' has been extremely effective in teaching concepts like drift and acceleration," said Theresa Davis, a physics teacher at the Isadore School in Washington. "Racing games are perfect for seeing real-world applications of physics."
Video games are even becoming popular in classes outside of the main subjects.
"In the general fitness classes, especially those filled with seniors or freshman, we just use Wii Fit," said Jeremy Russell, gym teacher and boys lacrosse coach at St. Simons High School in North Carolina. "It's a lot cheaper than maintaining the gym and the fields. We just project the activity screen on the wall and have the kids each on one of the fitness boards. They can ski, swim, hang glide, whatever they want really, and it's a lot more interesting than just going outside."
Video games' educational popularity has been accelerated by their affordability. While to the average gamer, buying a $40 game for each class may be slightly out of their budgets, the comparison of the cost of classroom gaming to the price of textbooks and maintaining classrooms has convinced educators to abandon "old" ways of learning.
"The United States has been looking for a solution to the issues with the public education system, and I think that video games are the answer," said Dr. Christine Maxwell, Superintendent of Clayton Public Schools in Illinois. "They are better at getting kids' attention than any other methods. In such a digital age, we need to strive not only to make sure we use the best technologies in education but the most entertaining ones as well."
Game-like electronics are no new concept to the classroom. Virtual-reality headsets (or VR) are environment simulating technologies that use 3D imagery to submerse individuals in a recreated location or game and are commonly used in classrooms.
"VR sets are already used in schools across the nation, so why not take it a step up?" Dr. Maxwell said. "Video games are just the next step in digitizing schools, and if people are already willing to use headsets, then gaming just becomes easier."
Many argue that putting more video games in classrooms is only going to worsen an existing problem.
"If we want students to be more focused, and video games are already causing them to be distracted, why should we encourage kids to use them even more?" said Christopher Holland, an economics teacher at Bernard High School in South Carolina. "Video games in the classroom defeat the whole push to remove diversions in schools."
Others, however, see video games as the solution to these common classroom distractions.
"Kids playing games in class is already a problem, so why not take that issue and turn it into the solution?" said Victoria Williams, a biology teacher at Samuel H. Johnson Middle School in Rhode Island. "Take what is distracting students, in this case, video games, and use it as a teaching aid. They are already using them during class time, so it won't be difficult to get them engaged to use them in an educational way."
Whether or not educators agree on their use, video games have begun to take over classroom instruction.
"Video games are the future of education," Dr. Maxwell said. "In a time of such intense technological distraction, it's about time we use them to our advantage."
Leave a Comment
About the Contributor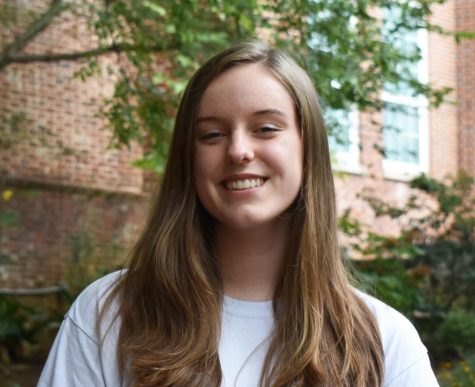 Tyler Jones, Co-Editor in Chief
Tyler Jones is a senior in her fourth year writing for the Southerner. When she is not writing features on anything Atlanta, you can usually find her in...