Knights tame Lions, start region play with a hot start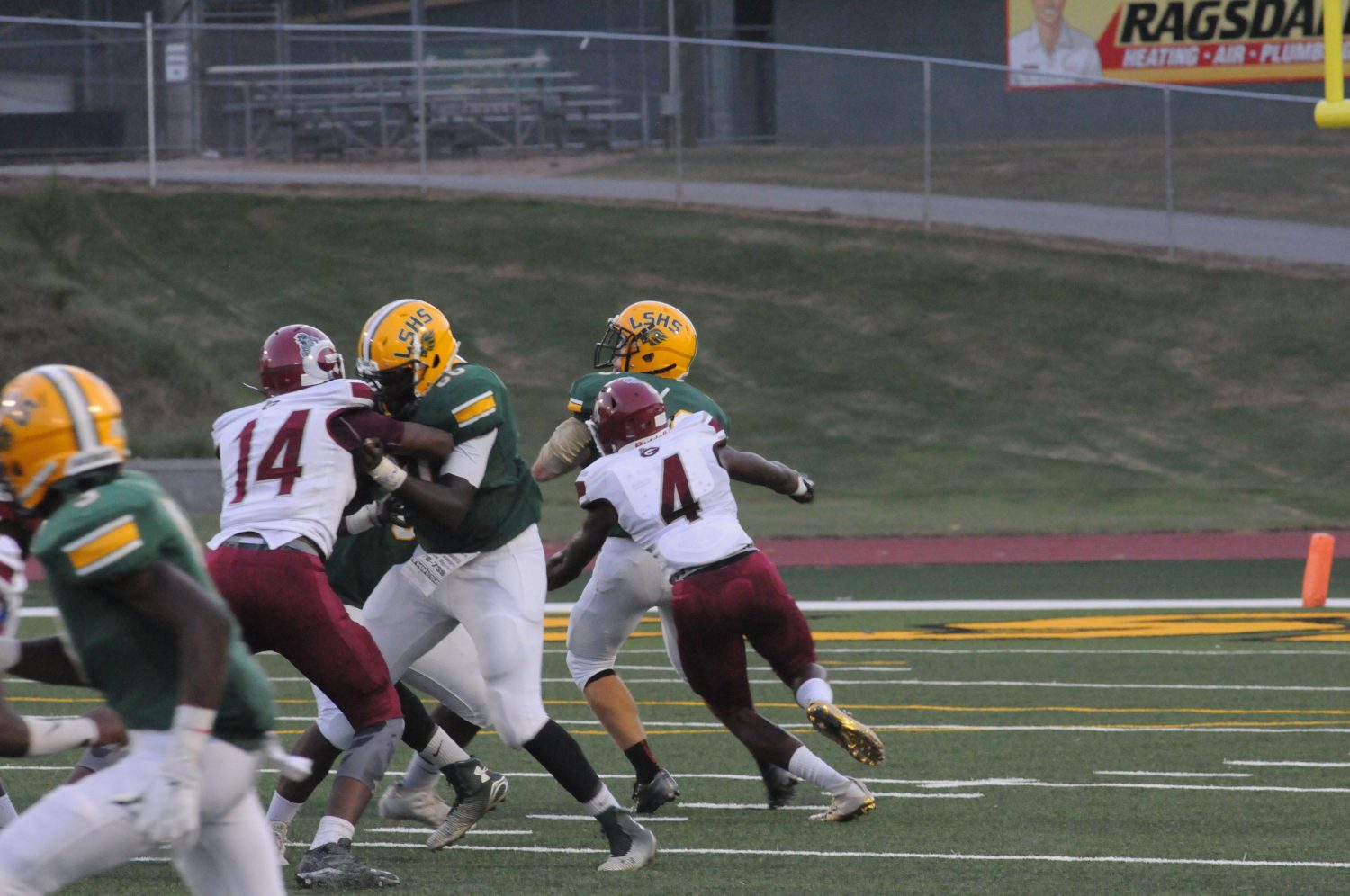 Alex Tonico
September 18, 2016
LITHIA SPRINGS- Before Friday, the Knights had only scored 60+ points in three games since their 1947 inaugural season. They had 68 points at halftime before beating Lithia Springs 74-14, which is the second highest point total in school history.
"I'm not surprised. We were supposed to do that," said senior quarterback Caylin Newton, who, along with all the other varsity players, was able to rest after halftime. Having tallied  503 total yards and six total touchdowns by halftime, he was O.K with the extra rest.
The Knights came out hot on both sides of the ball. The offense scored every time it touched the ball in the first half, and the defense forced two fumbles on Lithia Springs' first two drives, intercepted the quarterback once, and didn't allow a first down until 4:25 left in the second quarter.
The Knights scored quickly and efficiently on offense. Their longest drive was 8-plays, 70 yards in the first quarter which was capped  by a 15-yard pass to senior tight end Kemari Averett. Grady put the Lions away quickly with three 1-play drives, one 2-play drive, two punt returns, and two 3-play drives. The remaining drive was a 6-play, 86-yard drive to open  the game that ended with a 10-yard run by senior running back Jeffrey Black.
Lithia Springs  finally got on the scoreboard when the Lions' kick returner ran 74 yards for a touchdown on the first play of the second half. Lithia Springs scored again with 10:17 left in the fourth quarter, but it was too little, too late.
"Like I said, it's on to the next one. There are still corrections to be made, but we are on to Decatur," said head coach Earthwind Moreland. Grady plays Decatur on Friday, Sept. 23 at Grady Stadium at 7:30 p.m.
Key Performers: Senior safety and wide receiver Cincere Mason returned two punts for touchdowns. Senior running back Jeffrey Black ran in for two touchdowns. Senior wide receiver Aaron Hudson had four receptions for 111 yards and two touchdowns. Newton threw for 461 yards and five touchdowns and rushed for 52 yards and one touchdown.