Cluster principal transitions to new elementary school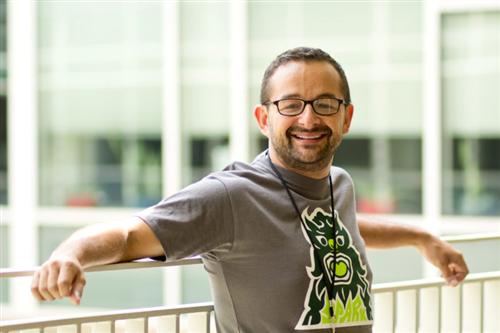 Former Springdale Park Principal Terry Harness has been selected as the principal of the new Midtown Cluster elementary school in Virginia-Highland. The school opens its doors in 2023.
"The Midtown Cluster itself, in terms of the principals and the leadership – it's pretty phenomenal, and we have amazing individuals that have done great things," Harness said. "I want to continue that legacy at a new school in the Midtown Cluster. My expectation is to give kids exactly what they need to ensure that they're successful and that they're learning and growing."
Though Harness loved his role at Springdale Park, he applied for the position at the new school because he lives within the new school's attendance zone and was interested in a change of scenery.
"I honestly am incredibly excited for the opportunity to open up a new building," Harness said. "It excites me, and it's reignited something within me that I feel like, during the last couple of years with COVID, specifically, I may have lost."
Harness started his teaching career as a high school teacher in South Carolina. When he moved to Atlanta, he was hired as an assistant principal at North Springs Charter High School. For the last 11 years, he has been working in elementary schools as an assistant principal until he was hired as the principal of Springdale Park in 2016.
"I've always wanted the experience of opening a new school because you get to start everything from scratch," Harness said. "That was incredibly intriguing to me. The majority of the new school's students and family already come from Springdale Park, and knowing that there would be so many familiar faces, along with some new faces, was also very appealing to me and inspired me to want to be at a new place."
Prior to Harness's hiring, Kari Schrock was recommended as the principal. One day after the district introduced her to parents, she was removed from consideration for the position due to parent concerns surrounding her work history. Cluster parent Mary Saghafi has been frustrated with the principal selection process.
"It just feels very frustrating that the communication with the stakeholders has been so poor, especially about hiring and the two new hires: one being at Howard middle, and then the other being the first candidate that they hired for [the new school]," Saghafi said. "Having to let both of those people go is a really bad look."
With attendance zones being redrawn for Springdale Park, Morningside and Mary Lin, some parents are concerned about how their students will adjust to a new environment.
Addressing those concerns, Springdale Park Principal Dr. Jennifer Toney said students' attitudes are reflective of their parents', and parents having a positive mindset is helpful in moving to a new environment.
"Kids are so resilient, and it totally depends on how the adults' attitudes are towards things," Dr. Toney said. "I think as long as the parents have a great attitude, and they're like, 'Oh my gosh, it's going to be amazing to make new friends; you're going to have a new experience; you're going to be great.' I think that helps along the way in making sure the kids feel comfortable and safe in a new environment."
Saghafi has children who are being rezoned from Mary Lin to Springdale Park next fall. At first, she was disappointed to hear Harness would be moving to the new school. Now, she appreciates his appointment because as an internal candidate, Harness is already knowledgeable about the cluster's culture.
"I took a long, hard look at it, and I think that it was the right decision to move him to the new elementary," Saghafi said. "He is very experienced; it will definitely make the transition to a new school and opening a new school much easier for many families who already know him."
Saghafi said parents need to feel confident in where their children go to school, especially during the challenges posed by redistricting.
"What I have found with talking with parents is that everyone is just craving some stability, and post-pandemic life has created great fears in parents in not understanding what their kids are learning," Saghafi said. "I think everybody feels stretched very thin, and the ability to participate is really difficult when communication is poor."
Dr. Toney is taking Harness' spot as Springdale Park's principal. She has worked alongside Harness as the school's assistant principal for the past six years and is excited to become principal of a school, particularly during the major transitional change.
"I could not pick a better place to be a principal and assistant principal," Dr. Toney said. "Our community is so loving, so kind, so giving; I know, no matter what, they're always going to be there for the children, for our teachers. We really are a community, so I'm excited to take the torch from Mr. Harness and continue to lead the SPARK team to do great things."
Since his appointment was announced, Harness has received an outpouring of positive feedback, although many are sad to see him leave Springdale Park.
"Springdale Park is always going to hold a very special place in my heart for myself; it's where I first became a principal, and I've been there for the last seven years," Harness said. "SPARK (Springdale Park) means a lot to me; the kids mean a lot to me; the teachers mean a lot to me; the families mean a lot to me. But the decision to move was made easier when it was announced that Dr. Toney, who's been my assistant principal for the last six years, would be named the new principal of SPARK."
School board member Michelle Olympiadis said the Midtown Cluster does a good job of taking care of its students, and rezoning won't change that.
"[Harness] is well-respected, has been a good leader and has done a lot with the school (Springdale Park)," Oympiadis said. "The community was already very successful, but he put in even more to help elevate where the school was in its reputation. I think the majority of people look at the Midtown elementary schools, and I don't think anybody can complain about any of them; I think they're all pretty stellar."
Harness wants to do all he can to make the transition from different schools as seamless as possible for all families and ensure the community he is going to lead feels welcomed.
"Any time you rezone a school or you rezone a cluster, there will be neighborhoods that are potentially unhappy about leaving their current school and moving to a new one," Harness said. "The main goal for me would be to bring those neighborhoods together and that every neighborhood, every parent, every teacher, every student, that they have a voice, and I want to ensure that I hear that voice."