Athletes find inspiration in U.S. Olympic role models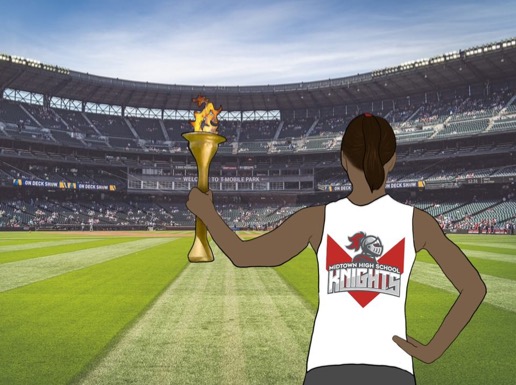 Every four years comes a very special moment in sports: the Summer Olympic Games. 
For student-athletes, the Olympics are just that; a truly special moment. Many find inspiration, hope, and pride in seeing their country compete in their respective sport at the world's most prestigious level of athletic competition.
The United States led all nations competing in the 2020 Summer Olympic Games, which took place this past July, winning 113 medals, including 39 gold, which also earned the USA the most gold medals of any nation. Some sports the U.S. teams excelled in included swimming events, which won 30 medals with headliners like Ryan Murphy and Katie Ledecky, as well as track and field, where shotputter Ryan Crouser won gold and set an Olympic record, or in the women's sprints where all-time great Sydney McLaughlin won gold in the 400m hurdles while setting a world record, and in men's basketball, where Team USA continued its streak of success and added a 16th gold medal to the USA's Olympic basketball legacy.
For athletes like Kai McHale, a senior on the varsity swim team, seeing their sport represented means a lot, particularly in more niche sports. 
"It's great to see us recognized as swimmers," McHale said. "[The Olympics] is really the only recognition swimming gets, every four years, and it's nice to see it recognized."
The same pattern is seen in other sports, like volleyball, which rarely garner much attention at the professional level.
"For me, the Olympics is one of my favorite sporting events," junior volleyball player Chloe Walker said. "Outside of the Olympics, you don't hear people saying they watched a professional volleyball game; they're typically talking about the NFL or the NBA, but for me, it's really important for people to see the sport that I know and the sport that I love. It's really a treat to know people across the nation get to see volleyball like I do."
Track and field athletes also feel a sense of pride when they see their sport appreciated in a way that it otherwise isn't in the off-years of the Olympic cycle.
"I think the Olympics are a really big deal because with track and field, people only really talk about it when it comes to the Olympics," senior hurdler and sprinter Aaliyah Rapping said. "It's a fun time for me because when it comes to the Olympics, people who don't usually watch track get to watch it, and I get to watch the whole nation get excited about what our track athletes can do. A lot of times, we, as track athletes, don't get recognition between the Olympics so seeing everyone show their pride for us in the Olympics is really exciting."
In addition to Olympics' acknowledgement to the world's smaller sports, the games also provide role models and inspiration for younger athletes by building national pride.
"I think our success in the Olympics really shows that the U.S. can compete with others in volleyball, and that I can compete with others," Walker said, "Because I'm from America, I know I can get to the same ability that those players [on the U.S. team] are at. It's very motivating and inspiring to know and see that volleyball can be a U.S. sport."
Rapping gained a sense of motivation after watching the U.S. Olympians succeed.
"I definitely think seeing so much U.S. success means a lot," Rapping said. "Especially when it came to the sprints and with the women, specifically; it's pretty inspirational to show that these athletes were in high school and college like us, and you can see that we can go down the same path as them, and that makes it really inspirational to see them doing well on a global scale."
That sense of pride extends beyond athletes supporting their nation by inspiring high school athletes in their ametuer-level athletic endeavors.
"It gave me a sense of pride that my nation was able to produce such amazing athletes and that we were able to take away the most golds of any country at the Olympics," McHale said. "As I go into this season, knowing I'm in the right country and the right place for elite swimming is comforting, and inspiring."