Sweet treat: freshman profits from cake baking business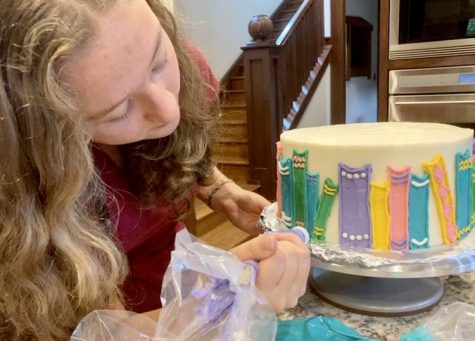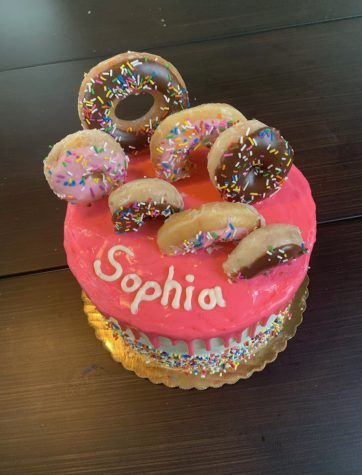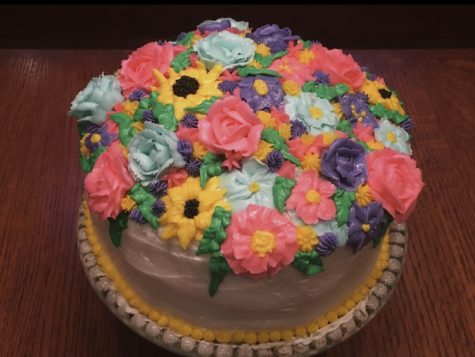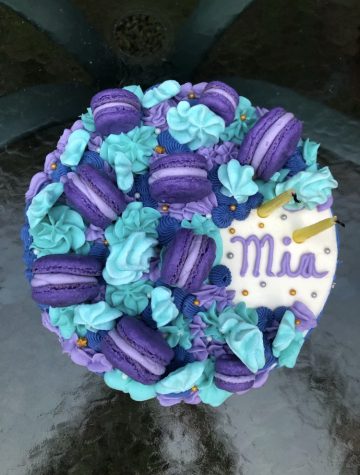 The fresh, sweet aroma fills the Laster household as freshman Virginia Laster perfects the finishing touches on the intricately decorated cake. 
In late March, Laster launched her baking business, making and decorating cakes from scratch. 
"I've had an interest in baking since I was little," Laster said. "When I started the business, I didn't have much else to do with so little going on. And, I thought that people probably wouldn't want to go very far to get cake,
so
I could maybe help out the neighborhood a bit." 
Despite the Covid-19 pandemic, there is always a reason to celebrate. Laster makes it easier for the community to continue celebrating, no matter the circumstances.
"I knew I wanted her to make my birthday cake," freshman Sophia Lenhart said. "I would FaceTime her when she made some of her first cakes for her neighbors, and they were all phenomenal. I made the right decision. It was the best cake I've ever had."
Laster began baking with her family and remembers helping her mom and grandmother in the kitchen as early as 7 years old.
Since then, she has improved, practicing new techniques and designs. 
"I mostly just taught myself, and I watched YouTube videos," Laster said. "I'd look at a lot of pictures from Google and just experiment."
Through her experiments, she created some of her best designs, allowing her creativity to flourish rather than following step-by-step instructions.
"My favorite design that I've probably made was this cat cake," Laster said. "This one was just really fun because I kind of just went with the flow. I didn't have a super clear plan, and it turned out really pretty. I was really happy with it."
Not all of her experiments are successful, teaching Laster to never give up.
"The first time I tried to do a drip cake with the drips going down the side of the cake, I completely messed it up," Laster said. "It got everywhere and didn't look good, so I had to pull them all off and re-ice the whole cake. It probably added an extra hour or two, at least."
Laster's mother first had the idea for her to sell her cakes as a way to stay entertained during the pandemic.
"My mom posted some cakes I had on her Facebook page and through social media and my friends; I was able to get my first customers," Laster said. "Then from the recommendations of the first customers, I got new ones and so on."
Laster charges $40 to $50 per cake, depending on the decorations. She collaborates with the buyer to decide on the designs. Together they look through photos to create the idea. 
"The cake I purchased for my birthday was a chocolate cake with two different buttercreams," said freshman Mia Jurkovic. "The decorations covered the entire cake. On top were meringue cookies, macarons and flowers made from frosting. The decorations went down the sides along with drips flowing downwards. It looked so gorgeous, and it was one of the most delicious cakes I have ever had."
Jurkovic said Laster's cakes differ from store-bought ones: they come from the heart, are made specially for the occasion and are personalized to the buyer's every want. 
"Store-bought cakes follow templates and only parts are customizable, but each of her cakes has a unique design based on research and the customer," Jurkovic said. "She is able to turn her customer's exact visions into a reality."
So far, Laster has baked around 20 cakes for purchase. She hopes to continue to grow her business becauses she enjoys baking for her family, friends and others.
"My favorite part is tasting the cakes," Laster said. "But, I also like seeing the customers first look at it. It's really nice to see how excited they are and how much they like it."