Leon Eplan's legacy continues to impact Grady
Leon Eplan, a 1946 graduate of Boys High School, now Grady High School, died at 92 years old.
Eplan was passionate about Boys' High and its successor, Grady High School. 
"He was tremendously proud of being a Boy's high graduate," Mansbach said. "He saw Grady as a very important school in Atlanta and was proud of the fellow people that have graduated from Grady as well. He really always stayed involved and always talked about it."
Eplan credited the people he met at Grady for making a difference in his life.
"It was more about the people that he went to high school with who were still in his peer group," Mansbach said. "They were lifelong friends and he lived into his 90s. Many of them are the same age."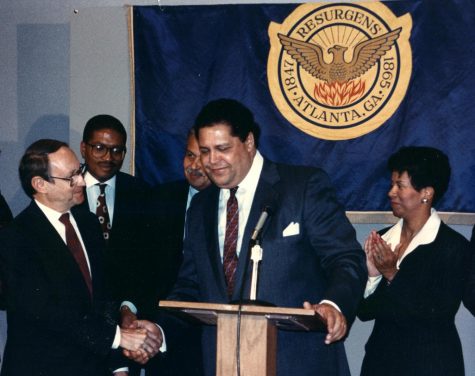 Eplan went on to become an urban planner and devoted much of his life to the City of Atlanta, which included working as the Chief Planning Consultant for Marta. Under Mayor Manyard Jackson, he created the Neighborhood Planning Unit system which is still in use today."
"He thought a lot about decisions that the government would make on the people in the city," urban planner Jodi Mansbach, a family friend of L. Eplan, said. "A lot of planners get criticized for not being so thoughtful about those types of things, and I think he was ahead of his time in being very thoughtful about what it meant for different communities." 
Eplan's approach helped the people who these projects affected and allowed them to participate in the projects. 
"He really advocated a grassroots approach, kind of a bottom-up type of civic participation," Mansbach said. "That really empowered people in local communities to have an influence. . . on how decisions are made." 
Outside of his job, L. Eplan was involved in political projects in Atlanta for much of his life.
"He was actively involved in the civil rights movement," his son Harlan Eplan said. "He was involved in a group called Southface Energy . . .It's a group that is focused on building green buildings, making buildings more energy-efficient. He was on the board of many organizations. He was on the board of the ACLU, the American Civil Liberties Union."
Later in life, L. Eplan became involved in the Boys High Alumni Group and served as the group's president from [time period goes here]. This included collecting money to donate to Grady.
"In his 80s, he got very active in the Boys High Alumni Group," Harlan Eplan said. "There's a foundation and they have money that's managed by the Atlanta Community Foundation. It's a group that manages when people have money to give away."
The money donated by the alumni association is being used to support various projects around Grady to help students and teachers. This money will continue to support future Grady projects.
"That fund supports the Grady Foundation," Rachel Spears, the president of the Grady Foundation, said. "[The Grady Foundation] supports Grady High School and they provide the funding for the math center, the reading center, and the writing center."
L. Eplan's family says that his legacy of giving to Atlanta and Grady High School can be honored by donations to the Boys High Scholarship Fund
"We wanted people to give money to [the Fund]. . . to leave behind a legacy," Eplan said. "Let people know that there's a huge history. If you were a kid, if you were anybody that grew up in Atlanta, in that period, if you wanted to go to any university, you went to Grady. That was important to him."
Even after his death, L. Eplan's work improving Grady and Atlanta will continue to help the next generations of Atlantans, according to H. Eplan
"My dad was very very dedicated and passionate," Harlan Eplan said. "Once he found his passion, which was city planning, he was all and so he was very, very, very focused on city planning and he was very proud to be a fourth-generation Atlantan.