Grady community grieves after fire destroys historic Krispy Kreme
Birthdays, dentist appointments, team meetings, tryouts and fundraisers — this is what the historic Ponce de Leon Avenue Krispy Kreme Doughnuts shop meant to the Grady community.
Early in the morning on Wednesday Feb. 10, the Krispy Kreme shop was completely gutted by a fire, leaving behind a trail of grieving Atlantans. No one was injured in the fire. A little over a mile from Grady, the Ponce de Leon Krispy Kreme first opened in 1965 and quickly became an Atlanta landmark for its iconic vintage sign and its "hot n' ready" glazed doughnuts.
While Krispy Kreme was an Atlanta staple, it was a Grady staple, too. English department chair Alex Wallace was a frequent visitor. He used to bring doughnuts for English team meetings and for students. When Wallace heard the news, he was "shocked" and "horrified."
"I had so many unanswered questions," Wallace said. "I didn't know who, what, when, where, how it happened, why it happened, when it happened."
On Feb. 26, investigators ruled the cause of fire as arson, although there is currently no suspect. Krispy Kreme said on its official Instagram a reopening date is uncertain, but the location will open "as soon as possible."
In the meantime, Wallace misses the location.
"I truly believe it was [a part of the Grady community], it really was," Wallace said. "We as teachers would go there often, and I know [Principal] Dr. Bockman went there faithfully. She would have doughnuts for us every Friday in the office."
At Grady functions, boxes of Krispy Kreme doughnuts were a mainstay. Sophomore Aisling Mahony recalls having Krispy Kreme doughnuts at her freshman homecoming. Senior Leo Hollingworth remembers how clubs used to lure new members in with a box of warm, gooey doughnuts.
"It's just something that we have all kind of grown up around," Hollingworth said. "Going to Krispy Kreme and Krispy Kreme being a staple, in a way, at events."
Hollingworth has seen the first-hand effect that Krispy Kreme doughnuts have had on students. In his sophomore year, Hollingsworth helped run a fundraiser for the Mechanics Club selling doughnuts during lunch.
"We decided to get Krispy Kreme because it's iconic," Hollingworth said. "A lot of people love Krispy Kreme …we were just selling out instantly, each lunch period. It got to the point where we were like 'Wow okay, we are onto something here.'"
In addition to fundraisers, Krispy Kreme was a tradition for many students. Senior Lucy Strohl had a tradition of eating Krispy Kreme after Ultimate frisbee tryouts and visited Krispy Kreme only a few days before the fire.
"We were there the weekend before it burned down," Strohl said. "I was really shocked because we were just there. It was just there, and then it was gone. I was like, 'what the heck is happening?'"
Like Strohl, Mahony had Krispy Kreme doughnuts right before the fire destroyed the shop. Mahony had a tradition of visiting Krispy Kreme after the doctor's appointments and to celebrate birthdays.
"I went to Krispy Kreme almost every time I had a doctor's appointment," Mahony said. "My siblings and I always wake up early and go there for our birthdays, regardless of whether we had school."
While Strohl and Mahony will have to settle on Dunkin' doughnuts or other Krispy Kreme locations for now, both await the location's comeback.
"I'm a Krispy Kreme doughnut type of person," Strohl said. "I do like the Dunkin' doughnuts's doughnuts, but I prefer the Krispy Kreme doughnuts. I miss the 'melt in your mouth' [sensation] and of course, I hope it comes back."
Leave a Comment
About the Contributor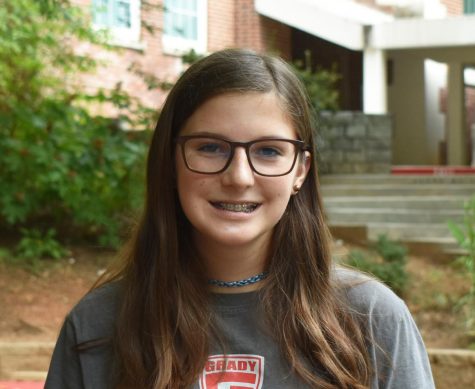 Lanier Pickren, Comment Managing Editor
Lanier is a senior and this is her third year on staff with the Southerner. In addition to writing for the Southerner, Lanier is editor of Latin club,...