Cup of charity: Tea house Dr. Bombay's supports female scholars
Tucked away in Candler Park sits a hidden getaway from the busy city of Atlanta. Dr. Bombay's Underwater Tea Party provides a friendly, cozy atmosphere for tea lovers while also serving as the cornerstone for The Learning Tea, a charity that provides scholarships to women in India.
The story behind the tea shop's name came from a conversation between its founder, Katrell Christie, and its co-owner, radio host Nick "English Nick" Parsons.
"At the time when I was starting it up, I really loved coffee, and Nick asked [me] about tea, but I didn't know that much about tea," Christie said. "He asked if I had grown up drinking tea, and I said, 'Not really, my parents were more into coffee.' Then, he asked if I had ever had tea parties. I told him that the only tea party I ever had was an underwater tea party with my friends at the pool."
Dr. Bombay's offers high tea, coffee, books, pastries, desserts, ice cream and sandwiches. The atmosphere gives a nostalgic feel to social studies teacher Jay Sullivan, who lived in New York City for 25 years.
"I would describe Dr. Bombay's as what Starbucks wants to be," Sullivan said. "I used to live in New York City; it's what we used to think of as some of the coffee shops in the West Village in New York, and you could go there, read a book, do some work and hang out all day and buy a cup or two of coffee. [Dr. Bombay's] really has a neighborhood feel, where everybody is welcome, and it's just Candler Park's special place."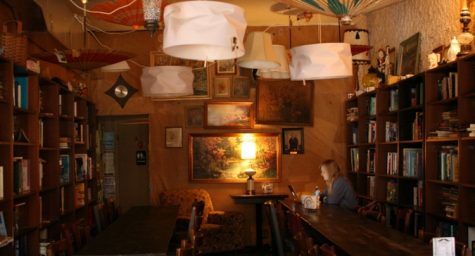 The majestic interior of Dr. Bombay's provides a sense of escape from reality to customers. Lanterns and traditional Asian umbrellas hang from the ceiling, and shelves of books cover the walls, reminding customers of childhood movies.
"People who come here for the first time sometimes compare it to Alice in Wonderland like the Mad Hatter's tea party," Parsons said. "Actually, yesterday, a guy wanted to take a picture of our tea room because it reminded him of Harry Potter."
Each teacup and decoration in Dr. Bombay's has been hand-picked by Christie, adding to the eye-catching atmosphere.
"It's all of my collected treasures that I have collected throughout my life," Christie said. "I wanted it to be really unique, and each one of those little things in the store I love, and I found somewhere around the world. It's a culmination of my travels and bringing things back for people to see."
Christie has wanted to keep the focus on Dr. Bombay's as a local spot, special to Atlanta.
"The thing about that place is that it's quirky. It's homey and cozy, and I want to keep it that way," Christie said. "But, I've realized that those kinds of places are becoming few and far between. Things have gone corporate, and people don't put as much time and effort into the atmosphere, and I really didn't want to change. Places like Dr. Bombay's are little treasures."
Sullivan volunteers with the shop's beneficiary charity, The Learning Tea, working monthly fundraiser dinners. 
"Once a month, before the pandemic, they have these wonderful Indian food dinners that everybody comes to, and you pay 20 dollars to come to this dinner called 'The Learning Tea Dinner,'" Sullivan said. "We do it the last Monday of every month, and, during the pandemic, they're still doing it, just with takeout only. We have people seated; we have Indian music playing; we give people a wonderful meal and, with their 20 dollars, they help to fund this amazing project called The Learning Tea."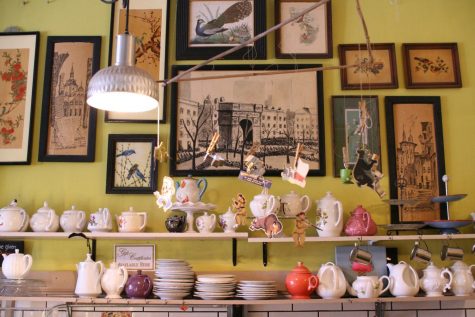 Christie founded the organization after visiting India, a trip which a regular customer invited her on. They visited the impoverished city of Hyderabad. There, they helped women make jewelry, which their husbands would sell to feed their families.
"I don't think people could understand how poor the conditions are," Christie said. "So poor that, most Americans wouldn't think this happens on a day-to-day basis."
Christie and her group finished the project faster than expected. Her ticket back to the U.S. wasn't until three weeks later. To fill her free time, she also went to Darjeeling to learn more about tea.
"I ended up offering to volunteer at an orphanage, and when I got there and saw the conditions, it was heartbreaking," Christie said. "I knew I could do something. I just didn't know to what extent I could do it. I just really fell in love with the kids."
Girls had to leave the orphanage after they turned 16. Christie developed a strong bond with three girls there, and she was aware they were approaching the age of 16.
"I realized I had to do something," Christie said. "I didn't really know exactly what it was that I was going to do, but I knew that what would help them would just be to keep them in school, however I could make that happen was my solution."
Christie told the girls she would help them, and she came back to the U.S. determined to change their lives. She put a fishbowl on the counter at Dr. Bombay's and put an index card on it with the girls' faces on it. She asked customers to put their extra change in the bowl.
"Within six months, I had enough money to go back to India and enroll all three of them into college, get them an apartment for six months, set up a food stipend, pay the electricity and water bill for six months and get them uniforms," Christie said. "That fishbowl just really showed the generosity of the community."
In Darjeeling, the housing initially paid for by the fishbowl's funds is still in use today, housing 12 girls. A large portion of the profits at Dr. Bombay's helps fund The Learning Tea.
"The thing that makes [Dr. Bombay's] so special is that I am responsible for food and shelter, some really basic necessities for people's survival on the planet," Christie said. 
With the restaurant business being difficult, especially during the coronavirus pandemic, Christie hopes that Dr. Bombay's will continue to give housing, educational and empowerment opportunities for young women living in Darjeeling.
"I hope the store survives; I'm doing everything I can to make that happen," Christie said. "The climate for the restaurant industry is difficult right now. But I'm just working hard and taking it day by day."