Nikema Williams focuses on voting rights, affordable healthcare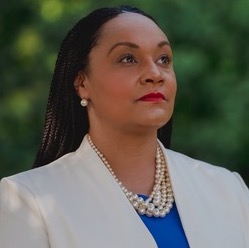 42-year-old Nikema Williams won the Georgia State Senate District 39 seat as a Democrat in the 2017 Runoff Election by a margin of 2.2 percent. Williams garnered 51.1 percent of the vote compared to opponent Linda Pritchett's 48.9 percent, who also ran as a Democrat; the difference in their votes amounted to 475. The seat had previously been occupied by Democrat Vincent Fort, whose resignation to run for Mayor of Atlanta triggered a special election. Williams remains in the seat. 
In November of 2018, Williams was arrested at the Georgia State Capitol during a protest against the outcome of and the alleged voter suppression that took place in the gubernatorial election. Her case was dismissed in June 2019. 
Williams is the first Black woman to serve as chair of the Georgia Democratic Party, having assumed the post in 2019. She previously served as the Party's vice chair and interim chair. In 2016, she was one of Georgia's 15 superdelegates to the 2016 Democratic Convention and cast her vote in favor of Hillary Clinton. While campaigning for the Democratic Party in 2008, Williams met her now-husband Leslie Small, a former aide to the late Rep. Lewis.
As a part of her campaign, Williams proposes the John Lewis Voting Rights Act, "ensuring protections to our sacred right to vote." She is a supporter of automatic and same day voter registration, ranked choice voting and "standardizing our vote by mail system." Like Stanton-King, she supports the enfranchisement of released felons. On her website, she remarks on her 2018 arrest as her act of Rep. Lewis's trademark "Good Trouble."
Williams supports both Medicare for All and the Green New Deal. Her platform also encompasses affordable "quality childcare, paid family and medical leave and long-term care." In terms of social justice, she advocates for the abolition of the cash bail system and the Breathe Act, which aims to close all federal prisons and immigration detention centers. "Access to education" is one of her priorities, vowing to decrease student debt and increase investment in public education. As a former Vice President for Public Policy at Planned Parenthood Southeast, Williams is pro-choice. As State Senator, she vehemently opposed anti-abortion HB481, also known as the "Heartbeat Bill." 
Williams declined the Atlanta Press Club's invitation to a virtual debate against Stanton-King on Oct. 12. She stated, "…I'm not going to give my opponent a platform to spread her Trump Republican lies and baseless conspiracy theories to the voters of the Fifth Congressional District. I refuse to legitimize her candidacy."