Georgia's 5th congressional district election
October 28, 2020

The 5th Congressional District of Georgia's seat has been vacant since July when Representative John Lewis of the Democratic Party died from pancreatic cancer. For the seat, Democratic nominee Nikema Williams, chair of the Georgia Democratic Party and state senator, will face Republican challenger Angela Stanton King, an author and television personality. Both candidates declined to run in the district's special election that would decide who would finish the remainder of the late Rep. Lewis's term. 
Georgia's 5th Congressional District comprises sections of Fulton, Dekalb and Clayton counties and, most notably, the majority of Atlanta. Rep. Lewis, one of the original Freedom Riders and a leader of the Civil Rights Movement, has served the district since the centennial Congress of 1986. He ran unopposed in 11 of the 17 congressional elections and never received less than 69.1 percent of the vote. 
The district's population is 58 percent African-American, 33 percent white and five percent Asian according to the US Census Bureau. Based on data from the last two presidential elections, the voting results in the district were 34 percent more Democratic than the national average, making the district the 14th most democratic in the nation.
Nikema Williams focuses on voting rights, affordable healthcare
42-year-old Nikema Williams won the Georgia State Senate District 39 seat as a Democrat in the 2017 Runoff Election by a margin of 2.2 percent. Williams garnered 51.1 percent of the vote compared to opponent Linda Pritchett's 48.9 percent, who also ran as a Democrat; the difference in their votes amounted to 475. The seat had previously been occupied by Democrat Vincent Fort, whose resignation to run for Mayor of Atlanta triggered a special election. Williams remains in the seat. 
In November of 2018, Williams was arrested at the Georgia State Capitol during a protest against the outcome of and the alleged voter suppression that took place in the gubernatorial election. Her case was dismissed in June 2019. 
Williams is the first Black woman to serve as chair of the Georgia Democratic Party, having assumed the post in 2019. She previously served as the Party's vice chair and interim chair. In 2016, she was one of Georgia's 15 superdelegates to the 2016 Democratic Convention and cast her vote in favor of Hillary Clinton. While campaigning for the Democratic Party in 2008, Williams met her now-husband Leslie Small, a former aide to the late Rep. Lewis.
As a part of her campaign, Williams proposes the John Lewis Voting Rights Act, "ensuring protections to our sacred right to vote." She is a supporter of automatic and same day voter registration, ranked choice voting and "standardizing our vote by mail system." Like Stanton-King, she supports the enfranchisement of released felons. On her website, she remarks on her 2018 arrest as her act of Rep. Lewis's trademark "Good Trouble."
Williams supports both Medicare for All and the Green New Deal. Her platform also encompasses affordable "quality childcare, paid family and medical leave and long-term care." In terms of social justice, she advocates for the abolition of the cash bail system and the Breathe Act, which aims to close all federal prisons and immigration detention centers. "Access to education" is one of her priorities, vowing to decrease student debt and increase investment in public education. As a former Vice President for Public Policy at Planned Parenthood Southeast, Williams is pro-choice. As State Senator, she vehemently opposed anti-abortion HB481, also known as the "Heartbeat Bill." 
Williams declined the Atlanta Press Club's invitation to a virtual debate against Stanton-King on Oct. 12. She stated, "…I'm not going to give my opponent a platform to spread her Trump Republican lies and baseless conspiracy theories to the voters of the Fifth Congressional District. I refuse to legitimize her candidacy." 
Leave a Comment
Angela Stanton-King runs on criminal justice reform, anti-abortion platform
43-year-old Angela Stanton-King is the founder and president of the American King Foundation, which focuses on "uniting American families with a pathway to justice, economic stability & relational wellness with Christ." She gained national media attention in February 2020 after she was pardoned by President Trump on Feb. 18, 2020 for her 2004 conviction for her role in a car theft ring. Stanton-King was sentenced to two years in prison for the conspiracy conviction, giving birth while in prison. 
Starting in 2008 after her release from prison, Stanton-King released several autobiographies, one of which, entitled Lies of a Real Housewife, embroiled her in a lawsuit with Real Housewives of Atlanta star Phaedra Parks due to accusations made against her. 
The goddaughter of Martin Luther King Jr.'s niece Alveda King, a vocal critic of abortion, Stanton-King has made "standing for life" the cornerstone of her campaign. In terms of criminal justice reform, Stanton-King wants to focus on mass incarceration prevention, prisoner rehabilitation and enfranchising anyone released after being convicted of a felony. Her other four platforms that she lists on her website are "protecting children & their innocence," "caring for veterans," "protecting religious freedom" and "fostering entrepreneurship." 
Stanton-King is a member of a collective of President Trump's Black supporters. In a tweet from Mar. 7, 2020, she stated, "America can accept a transsexual that changed their whole identity/sex but can't accept a Felon who has changed their whole lifestyle…" She also was quoted in a 2020 interview with NBC News stating, "I'm very concerned about the whole LGBTQ movement and the way it sexualizes children." 
Stanton-King has been accused of supporting the QAnon conspiracy theory because she tweeted their rallying cry "THE STORM IS HERE" and has tagged multiple tweets with QAnon tag #WWG1WGA (Where we go one, we go all). She walked out of an Oct. 2020 interview with The Guardian after being asked about the accusations. She tweeted in Aug. 2020, "I don't know who needs to hear this but if ANYTHING happens to Donald J. Trump havoc will be unleashed upon this nation."
About the Writer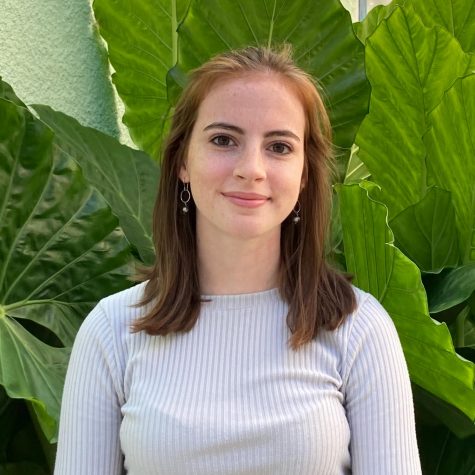 Elena Hubert, Co-Editor in Chief
Elena is a senior and a co-editor-in-chief of the Southerner. As the captain of both the varsity cross country and public forum debate teams, she can most...
Leave a Comment