Angela Stanton-King runs on criminal justice reform, anti-abortion platform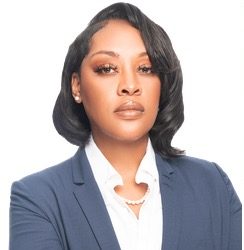 43-year-old Angela Stanton-King is the founder and president of the American King Foundation, which focuses on "uniting American families with a pathway to justice, economic stability & relational wellness with Christ." She gained national media attention in February 2020 after she was pardoned by President Trump on Feb. 18, 2020 for her 2004 conviction for her role in a car theft ring. Stanton-King was sentenced to two years in prison for the conspiracy conviction, giving birth while in prison. 
Starting in 2008 after her release from prison, Stanton-King released several autobiographies, one of which, entitled Lies of a Real Housewife, embroiled her in a lawsuit with Real Housewives of Atlanta star Phaedra Parks due to accusations made against her. 
The goddaughter of Martin Luther King Jr.'s niece Alveda King, a vocal critic of abortion, Stanton-King has made "standing for life" the cornerstone of her campaign. In terms of criminal justice reform, Stanton-King wants to focus on mass incarceration prevention, prisoner rehabilitation and enfranchising anyone released after being convicted of a felony. Her other four platforms that she lists on her website are "protecting children & their innocence," "caring for veterans," "protecting religious freedom" and "fostering entrepreneurship." 
Stanton-King is a member of a collective of President Trump's Black supporters. In a tweet from Mar. 7, 2020, she stated, "America can accept a transsexual that changed their whole identity/sex but can't accept a Felon who has changed their whole lifestyle…" She also was quoted in a 2020 interview with NBC News stating, "I'm very concerned about the whole LGBTQ movement and the way it sexualizes children." 
Stanton-King has been accused of supporting the QAnon conspiracy theory because she tweeted their rallying cry "THE STORM IS HERE" and has tagged multiple tweets with QAnon tag #WWG1WGA (Where we go one, we go all). She walked out of an Oct. 2020 interview with The Guardian after being asked about the accusations. She tweeted in Aug. 2020, "I don't know who needs to hear this but if ANYTHING happens to Donald J. Trump havoc will be unleashed upon this nation."