Tiger King: Murder, Mayhem, and Madness
Tiger King: Murder, Mayhem, and Madness, the new Netflix sensation, has surpassed anyone's preconceived notions of what a documentary could be. Just a warning, it does contain cursing, smoking, and images of animal abuse. Most of this series takes place in a small privately owned zoo in southern Oklahoma, starring the owner, a man who goes by Joe Exotic. The premise of Tiger King is the enticing true story of how Joe Exotic, a self-proclaimed "redneck, gun-toting, mullet-sporting, tiger-tackling, gay polygamist", was accused of a murder for hire plot of a Florida woman named Carol Baskin.
The series goes in depth into the underground world of big cat trading in the U.S.. Currently, there are more Bengal tigers privately owned in the U.S. then there are left in the wild. A popular money making opportunity in private zoos is known as "cub-petting", which is the sale of tickets to pet tiger cubs. Another venture of these zoos is the sale and trade of endangered cats, which is illegal in the U.S.. There is a debate raging about the ethics of these private zoos, and a popular advocate for the cats is a wildlife conservationist, Carol Baskin. Baskin is at odds with Joe Exotic throughout the series, which reaches a point when Exotic is accused of planning Baskin's murder.
The show began filming in 2015, however following the big cat community and life of Joe Exotic was not the directors' original intention. Out of the two directors, Eric Goode and Rebecca Chaiklin, Goode was an avid reptile fanatic who wanted to focus a documentary on reptile smuggling and trade. While filming a private owner's exotic reptile collection, one of the traders wanted to show the crew a new item he had just purchased. The camera crew followed him out to his van in the Florida heat to reveal a fully grown snow leopard. From here they discovered a community of underground big cat owners, which led them to Joe Exotic. Little did they know that this new direction would be about much more than just big cats. While most footage was shot by the documentary crew, some video was taken from Exotic's live internet broadcasts and other special appearances he has made in the past. The film crew traveled around the country to interview different big cat owners.
A smaller storyline within the series is the life of Carol Baskin. She escaped an abusive relationship to fall in love with a wealthy married man who she later wed. Supposedly, her husband then "went missing" years later and left Baskin his entire fortune. One critique I have of the show was how unsatisfied they left viewers after suggesting that Carol may have killed her husband. When going more in depth on this during the third episode, they point out flaws in the investigation of Baskin's late husband, which were never further looked into. The biggest grievance I had with the show was the utterly disappointing follow up episode hosted by Joel McHale. It was bad quality, unneeded, and didn't resolve any issues. McHale tried and failed repeatedly to be comedic when interviewing different guests, leaving viewers disgruntled to say the least.
Overall, I would give this series an 8.5 out of 10. The ridiculous real life characters kept viewers on the edge of their seats, and the crazy antics kept people entertained throughout the whole show. I would give Tiger King a 9 out of 10, but I felt the follow up episode really let the audience down. Apart from this, this was an extremely watchable documentary series that I would highly recommend.
Leave a Comment
About the Contributor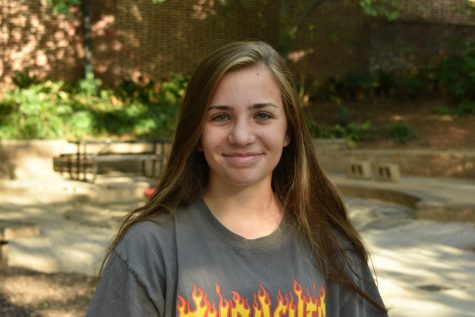 Tatum Dutton, Writer
Tatum is a sophomore that is graduating in the class of 2022. She plays softball and enjoys painting in her free time. She is super excited to be a part...