Basketball program transforms with new coaching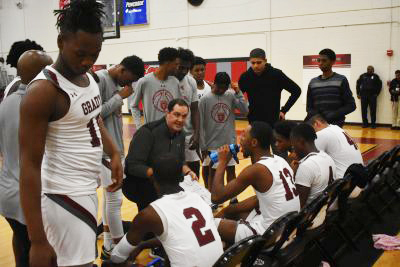 The bench cheers and senior Michael Stevens flies down the court. He stands at the top of the arc, weighing his options, just as he remembers what his coach told him with 4:15 left in the first quarter of the game against Lithia Springs.
"It helps a lot because we need that energy on the bench," starting point guard Stevens said of new basketball coach Patrick Johnson. "Like, when we [are] on the court, we need that energy; we need to hear that; we need to hear our coach in our ear telling us what to do."
As Stevens hesitates, so does his opponent, and he jumps up to sink the three-pointer. The boys' basketball team had a change in coaching this year, with the hiring of Grady and Duke University basketball alum Johnson. The restructuring came after a string of losing seasons, and players praise Johnson's style.
"Personally, I say that it's more different; the atmosphere is different; it's way better than last year; he changed it [the program] a lot," senior Dewan Wright said. "He lets us play."
With every team he coaches, Johnson wants to be "organized, disciplined, fair, enthusiastic and supportive." Other than that, however, he says he tailors certain aspects of his coaching for the team.
"My style is pretty consistent with whatever team we have," Johnson said. "You have to be true to who you are and what fits you the best, so that part of it stays the same, but every team is different as far as what it does best, what gets it going, and sort of what its level of accomplishment can be to a certain extent."
In basketball, Johnson knows of the importance of being a tough competitor and holding morals, and he brings that aspect wherever the game takes him.
"The biggest thing, honestly, is we want to be a team that's really together, a team that plays really hard, that competes all the time, that backs each other up," Johnson said. "The values that we're gonna kind of base our success on is the most important part to me."
Johnson's goals for his basketball team revolve around what his players will take away from the experience and building relationships.
"That's why I coach. I mean, we're not getting paid millions of dollars," Johnson said. "The accomplishments are great, but ultimately, the beauty of sports – especially high school sports – is those relationships you develop with the coaches or your players or your teammates or whatever the case is, I think that's ultimately what we're trying to do."
The teamwork aspect of the game that Johnson stresses is reciprocated by the players, as Stevens referred to the team as feeling "more comfortable" and "like it feel like a family this year."
"If you could ask me sort of what do I want out of my team, that's (teamwork) really close to the top of the list," Johnson said. "Right along with talent and shooting and rebounding and all that kind of stuff, your team culture and how well your team works together and how close we are as a team is a really important part of winning, but it's also a really important part of an experience that means something to everybody."
Johnson refers to basketball as a "game of mistakes," citing that as one of the reasons why he loves it. However, he does not believe in calling players out on their mistakes, but instead teaching them how to improve.
"Players know for the most part when they're making mistakes, and so, it's my job to put them in a position to succeed when they get out there," Johnson said. "They need more than just somebody pointing out their mistakes."
Johnson will make sure players improve by repeatedly instructing them on how to make amends for their mistakes, says Stevens.
"If he sees us make a mistake, he gonna get on us; he gonna keep getting on us until we get it right," Stevens said.
The role of the bench on a successful basketball team is important, according to Wright and Johnson. For this reason, the bench aspect is highlighted by the coaching staff. His assistant coach encouraged the bench to clap and cheer on their teammates multiple times throughout the home game against Lithia Springs on Dec. 3.
"I think it's important for our whole team to be actively involved in the game, even if there's only five guys on the court at a time, but we've got a big group that has a role to play in trying to get our performance to its best," Johnson said.
Wright agrees.
"Believe it or not, the people on the court, they play off the bench's energy," Wright said. "So like if the bench, they're hype, they're talking on the bench, the people on the court actually play better."
This consistency between both the coaching and the players leads to a melded team that attributes to much of the chemistry and smoothness in games.
"Ultimately, as an athlete, the biggest thing you're gonna take going forward is sort of those relationships and those lessons, more than even the win over Decatur on this day," Johnson said. "That stuff fades, but that other part stays with you."
"Too slow! Too Slow!"
During the second quarter of the game against Lithia Springs, Johnson yelled, "Too slow! Too Slow!" after the team stopped driving at the Lions. Johnson encourages his team to keep it fast and interesting on the court.
"I think the team that's attacking, the team that's most aggressive usually has the best chance to win, so we definitely emphasize trying to push the pace, trying to stay organized, and make good decisions," Johnson said. "I think basketball's meant to be played fast, and that's sort of what I try to instill in our guys."
In a timeout just before the second half of the Lithia Springs game, Johnson got the team going by saying, "Pass together, play together …." Motivation like this is part of another major aspect of Johnson, and his staff's style that is well-received by the players: honesty.
"He straight forward," Wright said. "He gonna keep it real with you."
In a fourth quarter timeout during the same game, Johnson said, "Pass to each other and trust each other. Don't think about it. You're on the court for a reason. If you can't trust someone, I'll make changes. Don't wait for somebody else to do it, you go do it," as he sent the team back on to the court. The trust players need to have on a basketball team is fostered by tJohnson's coaching staff.
"No one wants to be part of a team that's selfish and doesn't care about each other," Johnson said. "You can win all the games you want, but it's ultimately not that satisfying. You want to be a part of a team that's all pulling in the same direction, for sure."
As the Knights enter the court for warm-ups before every game, they run out in an organized line and immediately split themselves up into groups for stretching, layup lines, and shooting. During the whole process, the coaching staff sits on the bench and discusses the game plan for the day. This freedom benefits the players by leaving them to make their own decisions.
"We'll go over sort of what we want our warm-up to look like at the beginning of the year, and I let them sort of have the freedom to execute that," Johnson said. "I think it's pretty similar to my philosophy overall. It's important to me that we're organized and focused and getting productive things done, but you know within that structure, I see my job as preparing our team on what's expected and what to do, and sort of giving them the freedom to execute that themselves … That's how the game's gonna be. They need to have some freedom to make decisions and do things themselves."
As far as expectations, Johnson never has to say a word. The players know what they need to do.
"We know what he expects, so we try our best not to let him down," Wright said. "We know what he does for us and how much he does; so we try to do what we can."