Q&A with admissions officer at University of Southern California
What is the academic curriculum like at USC?
"One of the reasons people love the University of Southern California, other than the fact that it's in Los Angeles, is that you can pretty much study almost anything, and you can have the opportunity to double major with that interdisciplinary learning. It's very easy at the University of Southern California to be a business major but also get a minor in dance or a minor in film or in fine art or engineering. We really promote that. We promote that so much that 75 percent of our students that graduate with at least a major or a minor."
How diverse is the student population?
"We're actually really big on diversity on our campus. Something that surprises a lot of people is that only 38 percent of our student body is white. 15 percent of our student body is international, 30 percent of our human body is what we call underrepresented minorities, so Latinx, African American, and Indigenous [people]. Then we have about a 15 percent domestic Asian population. So that's a really cool flare coming on campus getting to see that variety of diversity."
Do a lot of students study abroad?
"In terms of global perspective, we really promote studying abroad. Over 70 percent of our students spend some time off campus [studying abroad.] Our abroad programs are based upon traditional ones, where you can do semester or year long programs during your junior year, but we also have this cool program called 'Problems without passports.'" Hear about the program, some of the classes that students can take and trips they took in this audio clip.
What does the social scene on campus look like?
"We are a highly social campus… so if you're one of those people that after class, you want to go home, lock yourself in your room and watch Netflix, USC is probably not a good fit for you… We have a lot of school spirit at the University of Southern California. Our football stadium is very historic. It hosted two Olympics, and it's actually about to host the 2028 Olympics, so that's pretty cool that our campus has that kind of history. We also have one of the most famous marching bands in the world. They've performed with Beyonce, they've won a Grammy, they're actually really cool."
---
Fast facts from the admissions officer:
20,000 undergrads and 25,000 grad students.

Large school. Average class size is 26 students with a 8:1 faculty ratio.

21 different colleges on the campus. Over 150 Majors and over 175 different minors.

92% graduation rate. "People that come to USC graduate at USC"

$57,256 is the undergraduate tuition
Famous alumni include: Will Ferrell, Neil Armstrong and George Lucas
About the Contributor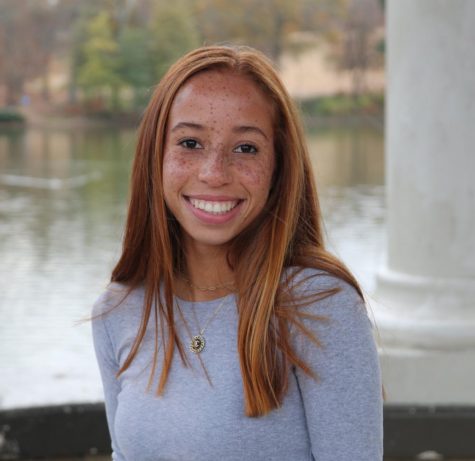 Kamryn Harty, Co-Editor in Chief
Kamryn Harty is excited for her last year on The Southerner staff! She is a Co-Editor in Chief and a member of the class of 2021. When she's not writing,...