School fails to make AYP, plans reforms for next year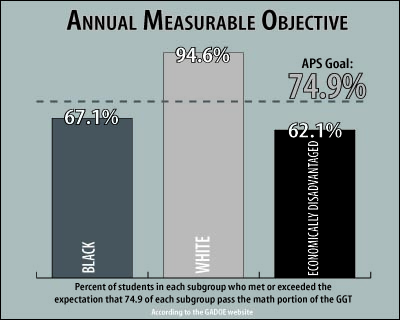 The Southerner
March 2, 2012
Hang on for a minute...we're trying to find some more stories you might like.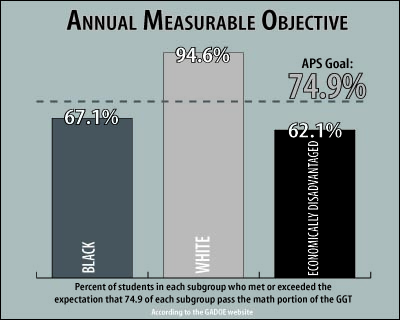 By Elizabeth McGlamry
Sophomore Michelle Kendall wanted to go to Grady. But last year, 127 students' failure to meet academic standards on the math portion of the Georgia High School Graduation Test led to Grady High School not meeting Adequate Yearly Progress under the No Child Left Behind Act for the 2009-2010 school year. This meant that Kendall, a former private school student, had to go to her zone school: North Atlanta High School.
"It was frustrating," Kendall said. "North Atlanta is not as academically challenging for me and doesn't offer all of the sports that Grady offers."
Under NCLB, students can only transfer from their zone school if that school did not meet AYP and the school to which they wish to transfer did meet AYP.
Grady did not meet AYP last year because the black and economically disadvantaged subgroups did not meet the Annual Measurable Objective in math. The Hispanic, students with disabilities, Asian/Pacific Islander and American Indian/Alaskan subgroups' data was recorded but not considered when determining AYP because those groups did not contain more than 40 students. The AMO set last year was for 74.9 percent of each subgroup to meet or exceed expectations. For Grady, about 33 percent of black students and about 38 percent of economically disadvantaged students did not meet the standards for the math portion of the GGT. Principal Vincent Murray explained that there are many ways that the administration plans to remedy the situation to help this year's juniors on the math portion of the GGT, starting with tutorials earlier in the year.
"We want it to be that they're so familiar, that when they take the test in March they'll be more comfortable with the new curriculum," Murray said.
According to Kaye Myles, Grady's Project Success coordinator, the administration has started classes such as "math support" to help the students who do not perform well on the GGT.
"We are giving extra support in math, where we missed last year," Myles said.
This will be especially important this year because the math standards on the GGT have been changed to match the new math performance standards in Georgia, meaning that this year's juniors will be the first group to be tested on the Math III level.
"Problems of the Day" for math will still be implemented to help students prepare for the types of questions that they will see on the GGT.
In addition, Grady will continue to hold community-based tutorials for students who are unable to stay after school for tutorials. While it has been hard to reach every neighborhood since Grady's student population spans such a wide geographical area, Murray still believes they will continue with the neighborhood lessons.
Atlanta Board of Education vice-chair and Grady parent Cecily Harsch-Kinnane believes these community-based tutorials were effective.
"[The administration] started doing some support work with those groups after school and somewhat during the day," Harsch-Kinnane said. "Then when they changed it to the actual neighborhoods and set up Saturday schools in those neighborhoods…it showed to be helpful."
According to Matt Cardoza, director of communications of the Georgia Department of Education, just because a school does not meet AYP does not mean that that school is "failing." Cardoza believes that not meeting AYP is not necessarily an assessment of the school's performance.
According to Cardoza, it can mean that a few students in a particular subgroup or subject did not meet the academic standards. In fact, schools can find the individual students who did not perform well on the GGT.
"We have had cases where it has literally been one or two students for a school not to meet AYP," Cardoza said. "It's truly down to the student level."
Myles, however, said that she believes that Grady needs to provide students with a clear understanding of what meeting AYP actually means for them personally and for their school.
"To me, [not  meeting AYP] doesn't mean the people did not try," Myles said. "We need to educate the students on what AYP is. It is easy to look at the individual, but we need to look at the school."
Each school's report can be taken as a diagnostic for the school to see where it needs improvement. A school's AYP can be used to evaluate where the school is in terms of academic performance and to help the school see the areas in which it needs to improve. That is why the administration finds AYP useful for other reasons besides determining progress.
"[AYP] is a barometer in terms of what we need to do," Murray said. "It's a really good yardstick for us."
This story won second place in the News category of the 2011 Southern Interscholastic Press Association Mail-In Contest.