Knights lose to North Atlanta 40-19 after two players are ejected
Hang on for a minute...we're trying to find some more stories you might like.
A high powered North Atlanta team using a run heavy option style of offense outlasted Grady 40-19 on Friday Aug 23.
Two ejections of Grady players, one being senior captain Alvin James, slowed down an offense that had scored on its first two drives of the first half.
"The biggest thing was when we got two guys kicked out of the game; two guys getting kicked out of the game that are both starters that are effective on both sides of the ball hurt us a lot," Grady head coach Kevin Clark said.
The game started with a long drive from North Atlanta that ended in a blocked field goal giving Grady the ball for the first time. Grady capitalized immediately with senior quarterback Aquinas Stillwell throwing a pass that found junior wide receiver Nathaniel Wiggins right in between the Warriors cornerback at safety. The extra point was missed putting the score at 6-0.
North Atlanta immediately responded as their running game came into full effect. Both of the Warriors running backs had 30 plus yard runs as senior running back Tk Mack capped off the drive with an 8 yard touchdown run. The score was now 6-6.
On their next drive the Knights showed off their air theatrics again with Stillwell delivering another strike to WIggins for a 40 yard touchdown pass. Grady now led 13-6 with 1:48 left in the first quarter.
"He [Wiggins] helps us tremendously, you got a guy that pretty much can't be covered," Clark said. "He demands a double team which is going to leave some other guys open."
Following the touchdown Grady pinned the Warriors deep after their returner slipped during the kickoff. North Atlanta felt the pressure and fumbled an option pitch giving Grady good field position. However the Knights immediately gave the ball back, after Stillwell was picked off by linebacker Davis Bell.
The Warriors were able to convert on the turnover as Mack got his second touchdown on a one yard run with 7:20 left in the second quarter.
Both teams would get the ball one more time before the half, but neither were able to capitalize.
The second half started off with a fight as James shoved a North Atlanta player, resulting in his ejection. The ejection of James paired with the later ejection of another Grady player greatly hurt the already shorthanded team.
"I think we have to be more disciplined, and not do things that will kick us in the butt," said Clark.
The ejection of both players also hurt both sides of the ball as each player played both offense and defense.
"We're already undermanned and now its like we're losing four guys," Clark said. "That hurt us on both sides of the ball, we couldn't make adjustments."
North Atlanta continued their running success as they capitalized on the two ejections. Mack got his third touchdown of the game, and the Warriors led 20-13 after a two point conversion.
Grady continued to hang on as Stillwell broke free for an 80 yard touchdown putting the score at 20-19 with 5:34 left in the third.
That would be the last time Grady would score as North Atlanta's senior quarterback Wiley Hartley put the game out of reach with a 27 yard touchdown pass and 60 yard touchdown run. North Atlanta led 34-19 entering the fourth quarter.
North Atlanta would tack on one more touchdown to win 40-19 in a game marked by an undisciplined Grady team.
"We need to play as a team and not make stupid decisions," Stillwell said. "We just lost discipline."
However the Knights also saw improvements from last season and were able to score with multiple big plays.
"I think we're a lot older, we had a bunch of babies playing last season," Clark said. "I think we've gotten a lot stronger which has contributed a lot to our success."

About the Photographer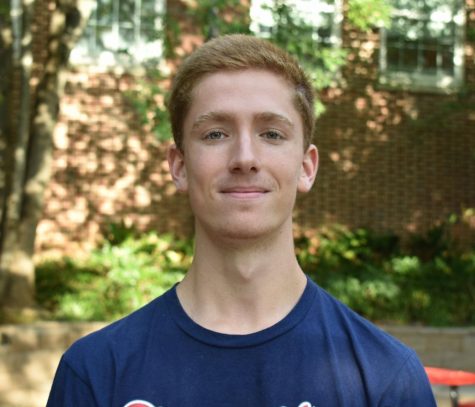 Elias Podber, Sports Managing Editor
Elias Podber is a senior this year and is excited to co-lead the sports section of the paper to new heights. He is captain of the cross country team and...