Capelouto continues journalism career for Atlanta Journal Constitution
Journalism has always been a constant grind for Atlanta native and Grady alum J.D. Capelouto.
However, after six long years of countless late nights and various internships, Capelouto landed a full-time job for the Atlanta Journal Constitution in September.
"I ended up at the AJC two summers ago as an intern, and I kept in touch with people from the AJC when I was interning for the Boston Globe last summer," Capelouto said. "They had an opening, and it worked out really well for me. It was a very nice way to come home and cover the community I live in."
Capelouto's interest in journalism began with his mother, Susanna, who works for Georgia Public Radio Station WABE, but he insists that both his parents wanted him to do what he wanted to.
"She wasn't like, 'Oh, you should do journalism,'" Capelouto said. "I just loved the idea of telling stories and being creative with my writing style."
Capelouto's passion led him to take journalism classes at Grady, and he eventually worked his way up to editor-in-chief for the Southerner in his senior year in 2014. Capelouto and the Southerner staff won the Pacemaker Award from the National Scholastic Press Association, the highest national honor in American student journalism. The staff also won Columbia Scholastic Press Association's Gold Crown, that organization's highest honor, and the Gallup Award, the top honor given by Quill & Scroll.
Former Southerner advisor Dave Winter credits Capelouto's leadership and determination for the paper's success as well as the management of a talented staff.
"He was the editor-in-chief in the year where we had an amazing group of kids in that class, but he was the leader of the staff, so he was able to bring the best out of everyone in a very talented group of people," Winter said.
Former Southerner news and comment editor Quinn Mulholland also credits Capelouto for his strong commitment to the paper and staff.
"He was definitely super dedicated to the Southerner and was just a constant presence in the Southerner room," Mulholland said.
Winter also knew Capelouto had the ability to take his journalism talents beyond high school.
"What struck me about J.D. was everything that happened after [high school]," Winter said. "When he went to college, he was just doing unbelievably strong reporting, and the thing that strikes me about his unique skill set is that he has got all the skill sets of a journalist, and he is a terrific reporter. That is also what made him a terrific editor; he is a great people-person."
When Capelouto attended Boston University on the Posse Scholarship, he immediately joined the student newspaper, The Daily Free Press. Capelouto also studied abroad in London, England his second semester during his junior year and worked as a Climate Change News Intern for the Thomson Reuters Foundation.
Capelouto credits his hands-on journalism experiences as a student to his success.
"Being on a student paper and being a student journalist is so important and so crucial nowadays if you want to succeed in this business," Capelouto said. "I learned more as a journalist being on the student paper than in a journalism class."
Capelouto's younger sister Carolyn, also a former Southerner lifestyle editor who currently attends George Washington University, credits her brother's tenacity and love for journalism, which inspired her to work for the Southerner.
"J.D. being in the Southerner definitely influenced my decision to do it at Grady as well," she said. "I saw how much effort he put into the Southerner and how much gratification he got out of it."
In the wake of increased attacks on the news media in recent years, especially from current President Donald Trump, Capelouto understands the current struggle of the journalism industry, and he strives to keep it alive.
"We need to make people see that it is worth people paying for," said Capelouto. "Keeping the industry thriving is something a lot of journalists are struggling with."
Currently, Capelouto is an online news editor for the AJC and continues to find new ways to improve.
"Every story you do and every interview you do teaches you a little bit more about the craft and how you can be a better journalist," Capelouto said. "You have to start somewhere and having this experience helps prove it."
Carolyn has always praised her brother for being an inspiring journalist and is confident that he will do great work for the AJC.
"He has known this is what he has wanted to do since high school, and he stuck with it and actively searched out opportunities to help him improve," Carolyn said. "When he knows what he wants, he works hard and gets it. He is just really talented at what he does."
View Comments(1)
About the Contributor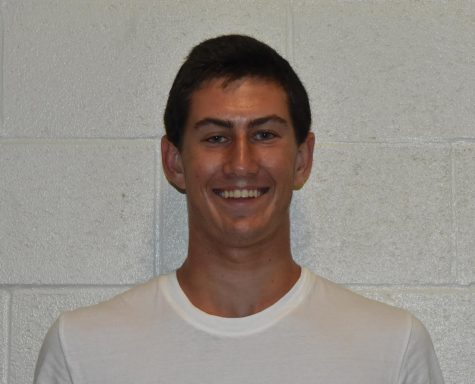 Josh Wolfe, Comment Associate Managing Editor
Josh Wolfe is currently a senior and will be attending Lafayette College next year and joining their varsity tennis team. He enjoys tennis, writing, and...