Senior Stroppel excels on big stage, small screen
While many students play video games regularly, very few make the hobby into a career. With 120,000 followers across all platforms, senior Brady Stroppel has created a streaming account drawing in viewers from across the globe.
As a sophomore, Stroppel enjoyed playing Fortnite, a popular video game. Like most teenagers, Stroppel considered the game to be a casual pastime until one round gave him the opportunity to make more out of his interest.
"I started playing this game mode called Duos where you get assigned a random teammate," Stroppel said. "I matched with someone under the name TTV Rusher, who was using a voice changer. I asked him how his day was, and we kind of hit it off."
Unknown to Stroppel at the time, his mysterious teammate was Timothy Betar, also known as TimTheTatman, a streamer with over four million followers. Betar's round with Stroppel was uploaded to Twitch, a live video game streaming service, and was viewed live by over 70,000 people.
"When I found out who I had been playing with I freaked out; Tim was the biggest streamer at the time," Stroppel said. "The people watching wanted to see more of me; so, we kept playing. Everything was uploaded to YouTube, and it's one of Tim's most watched videos. That's when everything started."
Inspired by the love he received from Betar's audience, Stroppel decided to create his own streaming account.
"The first few weeks of streaming were pretty amateur; I didn't really know what I was doing," Stroppel said. "My views started to pick up; so, I hired a manager. When I upgraded to that level of professionalism, I started making a lot more money."
During his first weeks playing video games on Twitch, Stroppel made $4,000. In the following five months, the number grew to $30,000, due to an increase of viewers and time committed to the platform.
"One night Brady came into our room and said that someone had donated 100 dollars to his account," Scott Stroppel, Stroppel's father, said. "It was pretty incredible to watch him begin to earn a living off of his computer."
Today, Stroppel makes $55,000 a year, having finally transformed his hobby into a career with a majority of his profit coming from viewer donations. Stroppel would even host charity streams to raise money for nonprofit organizations, contributing to a long and tiring work schedule.
"My entire life was just waking up to stream, sometimes I would even skip school," Stroppel said. " It was so mentally draining, especially for a 14 year old. I had no social life, it almost felt as if my high school experience was taken away from me."
Due to his notoriety as a popular Twitch streamer, Stroppel began to enjoy the perks of attaining a large following on social media. He was invited to TwitchCon in September of 2019, an event held in New York City to celebrate the culture of video game streaming.
"It was pretty remarkable to see Brady travel to New York," Scott Stroppel said. "People were even recognizing him on the street. I think that it was a rewarding experience for him."
While an increase of social media presence was good for business and provided Stroppel with travel opportunities, it took a negative toll on Stroppel's mental and physical well-being.
"Brady had so much dedication to streaming that he would stay up late into the night," Shannon Stroppel, his mother, said. "His mood was definitely affected. He showed incredible motivation, work ethic and love for raising money, but it was taking a toll on him emotionally."
In order to sustain his energy for hours at a time, Stroppel reminds himself of the motivation behind his streaming: to perform and entertain.
"I remember why I am doing it and how it directly translates to what I'm also trying to do as a performer," Stroppel said. "I want to express my emotions to an audience, and I want that to be what I do professionally. I have to remind myself that I have a purpose for doing this, and I am meant to be doing it."
While gaming may be a talent of Stroppel's, it is not his passion. Now participating in the college application process, Stroppel hopes to be accepted into a top school for musical theatre.
"Becoming a performing artist would make me so much happier than playing video games professionally," Stroppel said. "After my first experience with musical theatre, I knew I wanted to do it for the rest of my life."
Stroppel never seriously considered musical theatre as a possible area of interest until his mother introduced him to the program.
"Brady tried sports, but he didn't really seem to enjoy them. Knowing him, we suggested musical theatre," Shannon Stroppel said. "He signed up for the musical theatre pathway and was casted as Little John in "West Side Story." I couldn't believe what a natural he was; he found where he finally belonged."
Stroppel's talent did not go unrecognized. Throughout his high school acting career, Stroppel has been cast in multiple school performances. He began to grow as a performer, hoping one day act professionally.
Lee Pope, who serves as a director for the theatre department, and head of the history department, is impressed with Stroppel's drive.
"One of the things you're always going to have if you want to be a professional actor is a certain level of commitment and dedication, and Brady definitely has that," Pope said. "It is remarkable. Even now, I see him on his lunch break working, doing exactly what an actor should be doing."
Throughout the first semester of his senior year, Stroppel participated in the college audition process for musical theatre. The process involves several recorded entries of songs and monologue, as well as in-person auditions.
"The acceptance rates to the schools that I'm applying to are so unbelievably low; so, everything I submit has to be my best work," said Stroppel. "You have to be okay with denial, especially in this industry. You will get denied 99 times and accepted once. The college admission process is a really good way to ease yourself into it."
Although many students find musical theatre intriguing, very few pursue it as a career due to the uncertainty of success and stability.
"I think students choose not to pursue a career in theatre because a lot of it is based on total luck and opportunity; not many people are willing to take that financial and life risk," senior Ella Mitchell, an aspiring actress, said. "The college audition process is terrifying but also insanely fun."
While the odds may appear slim, Stroppel remains realistic, yet hopeful. He understands that the only way he will get into his top musical theatre programs is through dedication.
"You have to go into this profession because there's nothing else you can imagine doing with your life," Pope said. "Your entire passion, desire, and everything you want to do in life is centered around performance. And Brady, I think he has that."
Leave a Comment
About the Contributor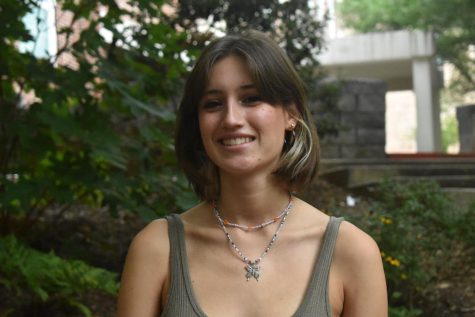 Alannah Edwards, News Managing Editor
Alannah Edwards is a senior and News Managing Editor for The Southerner. This is her fourth year working for the paper. While she is not writing, Alannah...