Four-Naught! Once again, Paideia squelches Grady's plan for revenge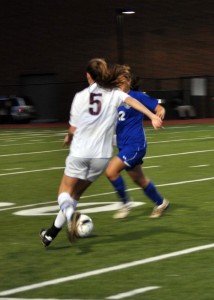 Hang on for a minute...we're trying to find some more stories you might like.
By Valentina Makrides
Were the Knights ready for some fútbol?
A Monday night party?
Well, as it turns out, no. The big showdown with Paideia, the rematch, the shot at revenge, turned out to be less Monday Night Fútbol and more of the same old song, second verse.
After losing to Paideia last year 5-0 on the road, the host Lady Knights fell Monday night at Grady Stadium to the visiting Pythons by a 4-0 score.
"You talk a big game but you don't play one," Coach Thomas told his team as he lectured the girls in the locker room during halftime. "You don't play with any heart!"
The girls may have wanted the win, but they simply could not earn it on this night, or even score for that matter. Although both Grady and Paideia played fiercely and competitively, Paideia came out on top of a lopsided contest, leaving Grady's players heartbroken, their coach irate, and their fans disappointed.
To say that the game was hard for the home fans to watch would be an understatement. At first, the home team and home crowd's spirits were high, but the momentum left the stadium like air out of punctured balloon after Paideia's Hannah Marcovitch scored in the first 10 minutes. The early goal showed the home team that the much-anticipated win would not come easily. Over time, Grady's confidence ebbed and its defense lapsed.
Paideia's Hattie Alexander secured the Python's second goal, then scored again in the second half. Trailing 3-0, the Knights showed clear signs of fatigue and dejection. The final blow was delivered by Juliette Fry, who scored the fourth and final goal for the Pythons.
Grady had every intention of showing Paideia what they were made of and avenging the team's losses last year and the year before that. After the game, the girls felt robbed. They had worked so hard and had waited so long for this opportunity, but they simply couldn't seize it.
"It was hard taking a loss like that since they weren't that much better than us," sophomore Emily Ferris said.
It was hard for the girls to create scoring opportunities without their leading scorer, Perri Bonner. Hopefully with Bonner's return, the team will be able to score against top competition.
"We let our guard down from the beginning and didn't show our true capability to work together as a team," said junior Sophia Buscaglia, who missed the game with a pulled hamstring. "I know we could have beat them if we had not given up so soon."
With the loss came the feeling of defeat and anger. Phrases like, "better luck next time" or "there's always next year" seemed inadequate yet oddly appropriate.
The team will have to wait another year for a chance to dent the scoreboard and possibly upend one of their fiercest rivals.