New Hands-Free Law impacts Grady community
 Now that school is well in session for the fall, many Grady juniors and seniors get into their cars each morning to drive through the busy streets of Midtown Atlanta.
With teenage drivers on the roads of Atlanta, the new Hands-Free Law, which took effect across Georgia on July 1, aims to lower the number of distracted-driving accidents. On the day of the bill-signing ceremony, Governor Nathan Deal was surrounded by the families of 5 Georgia Southern University nursing students who died in a highway accident. The students were hit by a truck driver who admitted to using his cellphone to text prior to the accident. According to the National Safety Council, motor vehicle deaths in Georgia increased by a third between 2014 and 2016, the fifth highest increase in the country. The top three reasons for this spike are distracted driving, speed, and alcohol.
"When I'm driving with a student, I haven't seen as many accidents, and I haven't seen many stop-and-go's or distracted driving," said Grady P.E. teacher and boys basketball coach Brian Weeden, who is also a Driver's Education teacher for A-1 Driving School.
The law, formally known as House Bill 673, says that drivers cannot have any part of their body touching or supporting a phone. Drivers also cannot use more than one button to answer a mobile phone. In order to make or receive calls or text, use the internet and social media, or write and receive emails, drivers must use voice-based communication.
"I feel like I can guarantee to myself that I'm going to be safe when I'm on the road, learning to drive with my mom," sophomore Emily Sands said.
Although newly-passed laws usually have a 90-day grace period, Bill 673 did not. If the law is violated, law enforcement officials will either give a warning to help drivers adapt to the new law or issue citations. One week after the law went into effect, the Georgia Highway Patrol issued 179 citations and 795 warnings to motorists across the state.
While the first couple of months are mainly for the education of drivers, fines for breaking can escalate. For the first offense, drivers will receive a $50 fine and a point on their licenses. For the second offense, drivers will receive a $100 fine and two license points, and for the third offense, drivers will receive a $150 fine and three points.
Accruing too many points on your license can have negative consequences. If a driver amasses 15 points over the course of 2 years, their license will be suspended. Too many points will also increase  a driver's auto insurance rate.
"When it's really time for them [policemen] to meet their quotas, during Christmas …they're going to start hitting folks hard, and that's when it will really come to light," said Weeden.
Emergency services, law enforcement officials and utility repair workers are exempt from the new regulation. Exceptions to the law also include people responding to or calling for emergency services, or supporting your phone in a lawfully-parked vehicle. Drivers can not support phones while stopping at traffic lights. While the law is restrictive, it actually frees teenage drivers. A 2010 statute said that anyone under 18 could not use their phone at all, but the new Hands-Free Act treats adults and teenagers the same.
"People in my class can't even get off their phones and there is a teacher constantly watching them, but in the car, there's not necessarily a teacher figure watching," said junior Elise Livius.
According to a study by the Research Institute of the Children's Hospital of Philadelphia, cell phone use behind the wheel reduces the amount of brain activity associated with driving by 37 percent. A 2017 study by the National Traffic Law Center showed that the overall crash risk increases 3.6 times over model driving when a driver interacts with a handheld device.
A study from the Children's Hospital of Philadelphia and the University of Pennsylvania School of Nursing found that about half of parents made a phone call while driving when their children between the ages of 4 and 10 were in the car with them.
"It starts from home," said Weeden, "You have to start policing your mom and dad because they're probably on their phones. That is just the world we live in today."
Sixteen states have banned hand-held cell phone use while driving. In California, a law banning holding a cellphone while driving went into effect last year. The results of the law have been immense with a 4 percent drop in California drivers picking up and using their phones while driving according to the Office of Traffic Safety. Although the law has caused a decline in distracted driving, Californians had a tough year adjusting. California Highway Patrol reported 32,000 more citations in 2017 than in 2016.
"For me, I don't really use my phone while driving because I'm learning to drive with my mom, but I could definitely see it being an adjustment for my friends," said Sands.
Atlanta Public Schools has taken an active role in accommodating student drivers who are adapting to the new law. Atlanta City Councilmember Andre Dickens began a safety initiative that distributed cell phone mounts to students in nine APS schools, including Grady, and information on the law has been made available to students.
"People are at that stage now where they're kind of doing it [using  their phone] without trying to get caught," said Weeden.
Leave a Comment
About the Contributor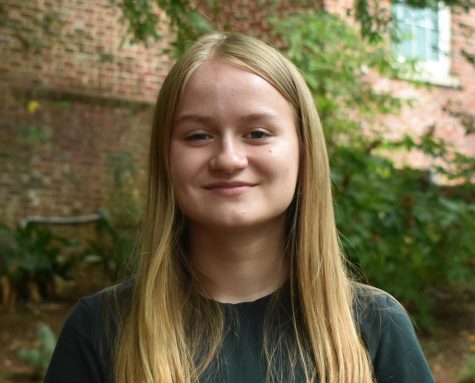 Anna Fedorova, Lifestyle and A&E Managing Editor
Anna is a senior and third year staff member. When she's not writing and editing, you can find her running cross country, working on mock trial, or sleeping.