Atlanta United near playoffs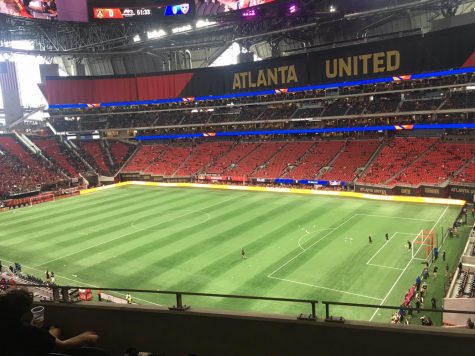 Atlanta United is entering the home stretch of its inaugural season. Their new home, Mercedes-Benz has opened, and with it there are new questions about how good Atlanta United can be as a team.  On some nights they look like the best team in the league, but they can also look like the worst.
Atlanta United started the season strong, looking like one of the top teams in the league.  A goal scoring offense led them to big wins over the Chicago Fire, and Minnesota United. Led by new stars Miguel Almiron and Josef Martinez, Atlanta looked unstoppable on offense and solid on defense.  This, coupled with the large home crowds that were flocking to their temporary home at Bobby Dodd Stadium made the Five Stripes one of the stories of the league.
However, Atlanta United eventually lost their momentum, and DC United is one of the reasons why. DC United is one of the worst teams in the league, and have played Atlanta three times.  That should be three easy wins, or at worst one with a of couple ties. However, Atlanta has suffered three of its eight losses to a pitiful DC United squad. Meanwhile, in two games Atlanta certainly should have lost, against Philadelphia Union, Sporting KC and Orlando City, they were able to pull out ties in or just before stoppage time.
One reason for these inconsistencies is injuries. Star striker Josef Martinez has missed time over the course of the season, and his absence has really hurt Atlanta's offense. Most recently, Martinez missed two games against Orlando, and another against Kansas City, and Atlanta United was only able to manage one goal in each of those three games. All-Star Greg Garza also missed a couple of games with a shoulder injury.
Luckily, this rough stretch was followed by a long home stand.  In their first game inside Mercedes-Benz Stadium, Atlanta United turned in their first complete performance in a while, beating FC Dallas 3-0. Several missed chances, two of which resulted in shots deflecting off of the crossbar could have broken the game even more wide open.  Backed by a loud crowd of around 45,000, Atlanta United dominated every aspect of this game, looking very different from the team that had been struggling before.
Atlanta did not stop there, running over the New England Revolution 7-0 in a lopsided game which got New England's coach fired.  Striker Josef Martinez scored a hat trick in that game, and followed it up with another hat trick against Orlando City, only the third player to manage consecutive hat tricks.  Atlanta tied Orlando 3-3.  The next week brought two more home games, and two more victories as Atlanta United continued their climb up the Eastern Conference.  Strong performances from both the offense and the defense led to a 4-0 win against the LA Galaxy, and then a 2-0 win against the Montreal Impact.
No matter what the reason is for Atlanta's inconsistencies, it is imperative that coach Tata Martino gets the players ready not only for the end of the season, but importantly for the playoffs.  Their recent successes have all but locked up their playoff spot, and the question is what will they do once they make it to the playoffs.  To make the most of this opportunity, Atlanta needs to play like they have in September, and forget about their performances in august.