Knights land in 5-A state rankings at No. 10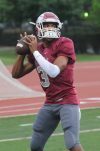 By Alex Tonico
The Grey Knights football team  landed in the state rankings for the first time in six years, starting the season 2-0. Grady defeated rival North Atlanta 53-0 on Aug. 19 and Woodward Academy, the No. 2 team in 4-A, 14-10, on Aug. 26.
With the Woodward win, the Knights cracked the 5-A rankings at No. 10. Grady was last ranked in 2010, when the team reached the state quarterfinals.
Against North Atlanta, the defense dominated forcing five turnovers by halftime, ending the game with six. Senior defensive back Avante Ross had a strong showing with two interceptions, a sack, and a forced fumble. The offense scored eight touchdowns, including five by senior quarterback Caylin Newton, two by senior running back DiMarcus Clay and one by  freshman quarterback Alvin James.
Against Woodward, Newton combined for 300 totals yards with 207 on the ground. With Grady leading at halftime 7-3, the referees paused the game due to lightning until 10:30 p.m. Woodward came out of the long break with an eight play, 92-yard drive to take the lead, but the Knights responded with a 1-yard Newton touchdown run. The game was called with 5:18 left in the 4th quarter because of Georgia High School Association rules,  moving  Grady to a 2-0 record despite predictions by the Maxwell Ratings of a 27-point loss. The team plays at No. 7 Ware County on  Sept. 9.
"Our team has really progressed throughout these past couple of weeks, starting with North Atlanta,'' said senior offensive lineman Seth Wolfe. "I feel like if we take it one game at a time, we could be undefeated by the end of the season."
Grady finished No. 6 in the 3-A rankings six seasons ago with a team that featured New Orleans Saints cornerback Damian Swann.
After an injury-riddled season last year in which key players went down, including  quarterback  Newton with a broken wrist, the team likes its chances if everyone remains healthy.
"It was hard not being out there with my teammates," said Newton, who missed four games last year. "It was one of the toughest things I've done."
The Knights lost seven starters during the course of the season, including  current Auburn University cornerback Marlon Character.
After moving up to Class 5-A from 4-A with last year's GHSA's  biennial region realignment, the Knights must square off with the likes of  Riverwood and city rival Carver with hopes of determining playoff seeding in Region 6-AAAAA. The Knights last won a region title in 2010, taking the Region 5-AAA crown.
A region win this year would be Grady's sixth in school history. The team's last region championship season ended with a 42-35 loss to  Peach County at Grady Stadium in the third round of the playoffs.
"We look amazing," said senior receiver Jacquez Sloan. "If this team can work on our teamwork and chemistry, I feel like it's a strong chance we can go 10-0, 15-0 including the playoffs."
With a mature offense full of seniors and a stifling defense that's yielded only 10 points in the team's first two wins, the Knights' hopes of going deep into the playoffs look alive and well.
"With a quarterback who can run, it gives our offense an advantage that other teams don't have,'' said offensive coordinator Terry Jones.  "It makes the game 11 vs. 11.''