Second round loss ends Grady football season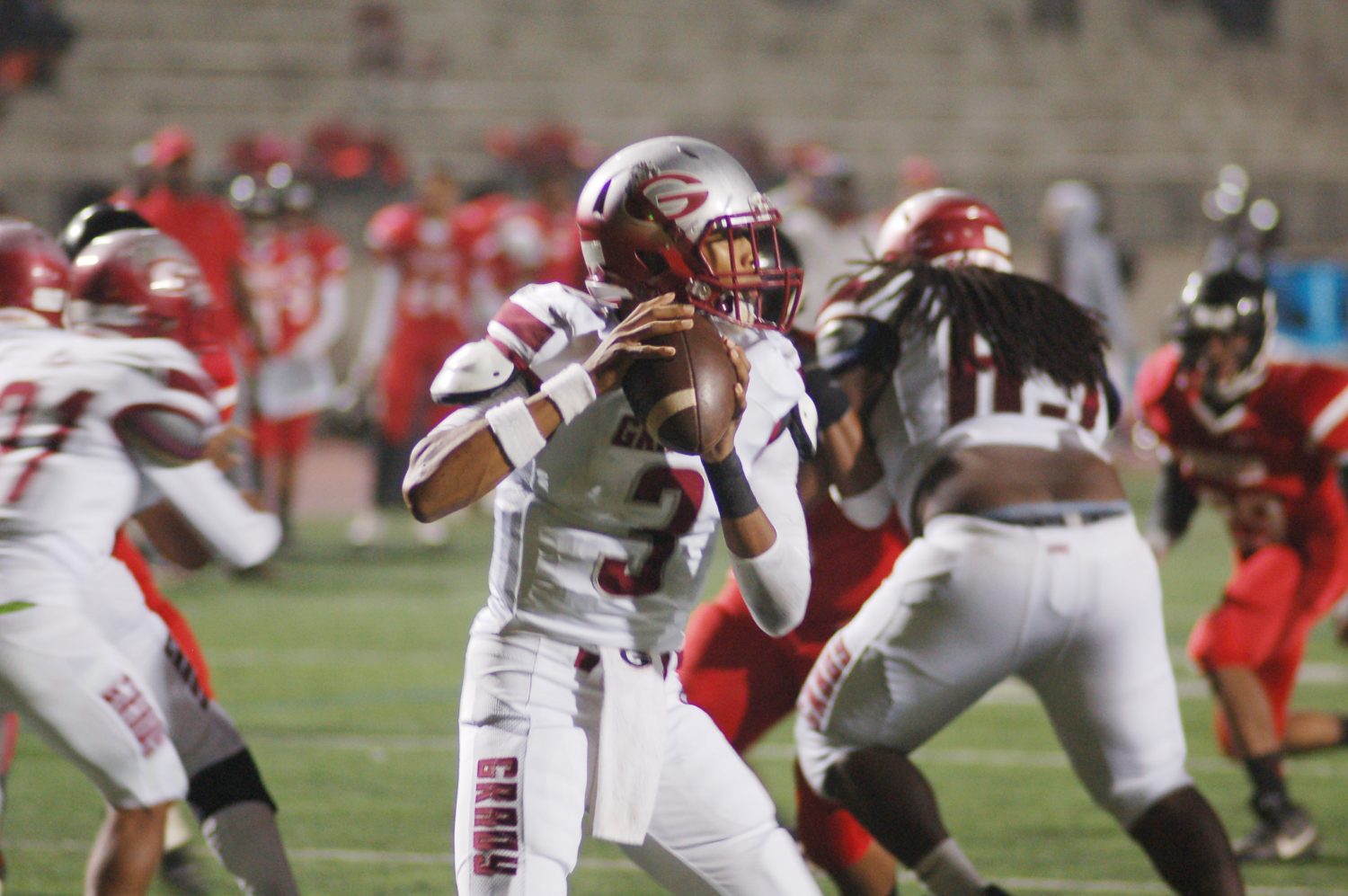 Grace Dusenbury
December 17, 2015
Grady's 2015 football season came to an end Nov. 20 as the Grey Knights lost in the second round of the Class AAAA state playoffs to Thomson.
Thomson's strong running game proved successful in its 44-21 defeat of the Knights.
Grady scored early when junior quarterback Caylin Newton hit senior receiver Ahmad Herron for a touchdown for the game's first score 5 minutes into the first quarter. Thomson quickly retaliated a minute later with a 75-yard touchdown run on its first play from scrimmage.
The Bulldogs kept the ball on the ground, scoring three second quarter rushing touchdowns, sending the Knights to the locker room down 21 at the half.
On the second possession of the third quarter, senior safety Marlon Character stopped a Thomson drive, intercepting a Bulldogs' pass at the 1-yard line. However, a couple plays later, Thomson pinned the Knights in their own end zone for a safety. With 7:42 left in the third quarter, sophomore linebacker Craig Philpot recovered a fumble and a couple minutes later, Newton found receiver Kemari Averett for a touchdown. The Bulldogs responded with another touchdown with about 3 minutes left in the quarter and ended the quarter by intercepting punter Harlan Faddis's pass on a Grady fake punt attempt.
"When you're playing a team of that caliber, you can't have as many mistakes as we had," head coach Earthwind Moreland said. "I think we would have had a great chance at winning that game if we would've executed better, eliminated the penalties and just done the things that we are capable of doing."
Faddis, also a linebacker on defense,  recovered another Thomson fumble a few minutes into the final quarter, but the Bulldogs quickly regained possession after an interception and added another touchdown a few plays later. Newton found Herron once more for Grady's third and final touchdown. The Knights attempted an unsuccessful onside kick held onto the ball for the remaining 3 minutes of the game.
The previous Friday, Oct. 13, the Knights traveled to Tunnel Hill, to defeat Northwest Whitfield 28-27 in the first round of the playoffs. Moreland prepared the team as he would have for any game, but had the players watch extra film in order to get to know their opponents. The meeting was the first between the Grey Knights and Bruins.
"Our main focus in every game we play is that we do exactly what we're supposed to do," Moreland said. "Obviously, they are a very good team. They are a higher seed, so, obviously, they've been doing some things correctly, but I think if we do what we're supposed to do, I like our chances."
The Knights started the game strong with a fumble recovery on the Bruins' first possession, which led to a quick Newton touchdown pass to Herron. After the quick score,  Grady fell behind  21-7 with 8 minutes left in the second quarter. On the Knights'  next possession, Newton completed long pass to Averett. The two connected later in the drive for a touchdown. With less than 2 minutes left in the first half, Newton tied the game 21-21 on a keeper.  The Knights lost junior Jacquez Sloan for the playoffs with a broken wrist in the first half. Grady's momentum continued in the second half, and with 7 remaining in the third quarter, Averett blocked a Northwest Whitfield punt, returning it for a touchdown. Senior kicker Christian Peterson added his fourth extra point of the night, putting the Knights head 28-21.
Northwest Whitfield closed the period, intercepting Newton and completing a string of short passes to score in the first few seconds of the fourth quarter. The Bruins missed the extra point wide right, setting the final Grady margin of victory.
"We probably knew we'd secured the game in the last 3 minutes when we had the ball and knew we'd be able to run the clock out," senior Vernon Colton said. "Afterwards everyone had their heads held high and looked good and happy."
In the Oct. 5 Senior Night game, Grady stopped winless Stone Mountain  47-6 with Sloan, Averett, junior Tyreeze Alford, junior Chrysten Gibson, and Herron all finding the end zone.
Newton said losing the seniors will be hard but thinks success next year depends on the juniors.
"They (the seniors) were leaders," Newton said. "But you know Grady still goes on without the seniors, so, it's got to be us, the juniors, to step up in their place, and try to learn from them to do a better job — well it's gonna be hard to."
Grady secured the third seed from Region 6-AAAA with a 15-3 win over Arabia Mountain on Oct. 31, finishing the regular season 6-4. This game was a crucial win, giving the Knights an easier playoff road by avoiding state finalist Cartersville in the first round.
"The last touchdown gave us a comfortable lead, but our interception on our drive right after our touchdown pretty much secured the game for us," Peterson said.
Moreland is happy with the outcome of the Knight's season, despite an abundance of injuries, and is ready to begin training for next fall.
"We're looking forward to the possibilities of next year," Moreland said. "The thing we really need to focus on is getting stronger, not just physically but mentally stronger because football is a tough game."