Riptide carries Knights into California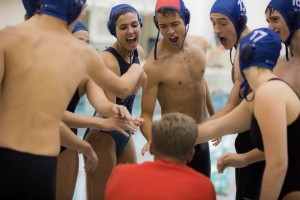 Over the summer, seniors Jesse Hume and Sloan Hodges competed in the Olympic Development Program (ODP) and played in the USA Water Polo Junior Olympics in Orange County, Ca. for the Miami Riptides Swim Club for the second year in a row. Traveling
across the country, they competed on the national level against the best teams in the nation.
"We trained with the Riptides for three days then we went to the tournament in California, which was a really good learning experience,"
Hodges said.
Both Hume and Hodges made the development team when they traveled to Miami to compete with the best water polo players in the southeast. Carl Vaughn, their coach and winner of back-to-back Florida state championships in boys' and girls' water polo, brought them to their club team, the Miami Riptides.
The Riptides are a nationally-ranked club team based out of Miami, Fla. After making the team, the girls played with athletes from all around the southeast for the first time. The team then competed at the Junior Olympics tournament in July. After four days of play, the girls' team took sixth out of 72 teams in the gold bracket. Hume was recruited by the University of Toronto after her team's success, and Hodges also received numerous offers from different programs.
Both girls started their water polo careers at Grady as freshman, and continued on to play spring water polo on an Atlanta-based club team, Dynamo. Since then, the club team has grown significantly
and continues to get better every year.
The APS Knights, the team Hodges and Hume play on during the school year, consists of players from Grady and North Atlanta. The team competes in Division II and Division III and of the Georgia High School Water Association.
"I hope that a lot of people from Grady will follow what Jesse and I did," Hodges said.
Hodges and Hume play on both the co-ed A team, the higher level team, and the girls team. They sometimes compete in up to four games a day. Hodges plays center defense and utility while Hume serves as the heart of the team's offense.
"What I like the most is the physical aspect of the game," Hume said.
Hodges and Hume also compete on the Grady swim team, and at the Georgia State Swimming Championships last year. Hodges, one of the swim team captains, was the APS champion in the 50 meter freestyle.
Hodges and Hume said they are looking forward to a promising season with the Grady water polo team. Last year, the girls team took 3rd place in the girls' division. This year, the team started off with a 2-0 record after beating Collins Hill, 9-7 and Lakeside, 11-8, last year's first and second place finishers. The team is currently ranked first in the girls' division and is looking forward to a great season.