Inspirational film celebrates former Grady coach 'Erk'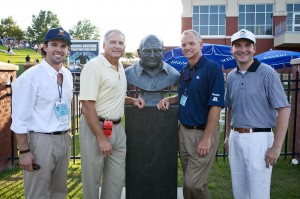 The Southerner
November 7, 2012
Hang on for a minute...we're trying to find some more stories you might like.
Winner of three NCAA Division I-AA national championships, Florida-Georgia Hall of Fame member and American Football Coaches  Association Coach of the Year. What do all of these have in common? They are accolades earned by Erksine "Erk" Russell, the late former Grady head football coach who went on to serve as University of Georgia defensive coordinator and Georgia Southern head coach.
Two Georgia Southern University graduates, James Kicklighter and Beau Turpin, recently announced  they are directing a biographical film about Russell. Kicklighter and Turpin plan to begin production in summer of 2013 and release the film in 2014.
Turpin and Kicklighter met in college and in January, drew up the plan for the film.
"Beau and I were catching up with a big film producer at Starbucks in Beverly Hills this past February when we both mentioned that we would like to do a film about Erk Russell," Kicklighter said.
Kicklighter said he has wanted to make the film for six years now, but he wanted to do it when "the time was right and the proper resources were in place to do it correctly."
The movie will be a full-length biopic of Russell that focuses on the later years of Russell's career. The film will span from the end of his tenure as the defensive coordinator at the University of Georgia into the mid-1980s, culminating in the three NCAA I-AA championships he won with the GSU Eagles before retiring in 1989. Turpin said the movie will be similiar to The Blind Side and We are Marshall.
"This film is meant to inspire people, to prove that it is possible for the underdog to succeed with the right attitude, to show that no matter the situation," Turpin said. "If you work extremely hard you can turn something poor or average into something great."
Turpin and Kicklighter are collaborating with a wide range of people who knew Russell well,  such as the GSU and UGA alumni networks, the Russell family, other coaches and members of the Statesboro, Athens, Atlanta and Savannah communities. They are collecting memorable anecdotes to incorporate into their script.
"Between our time at Auburn and Georgia, we were together some 20 years," former UGA head coach Vince Dooley told the GSU Office of Marketing and Communications on Sept. 3. "His incredible record as a coach speaks for itself. Equally as important is his splendid reputation as a great human being. I am pleased to learn of a film about the late, one-and-only Erk Russell. It is a fitting tribute to a longtime friend and coaching associate."
Turpin also explained the impact that Russell had on the town of Statesboro.
"Four years upon his arrival, the population doubled," Turpin said. "He put Statesboro on the map. Erk was one of a kind and everyone that knew him will say the same. If Erk had not come to GSU, the football team, the town, school, and community would have had no where near the growth it has seen in the past 31 years."
In addition to the accomplishments mentioned above, Russell was also inducted into the Georgia Sports Hall of Fame in 1987 and the Alabama Sports Hall of Fame in 1991. In 1989, he was named USA Today's Georgia Coach of the Year and Coach of the Decade, the Chevrolet-CBS Sports I-AA Coach of the Year, and Eddie Robinson Award recipient. He also carried a torch in the 1996 Summer Olympics.
Alumni and coaches alike are eagerly anticipating the release of the film. Don Baxter, Grady class of 1961 and former football player under Russell, fondly remembers the days of Russell's career when he would chase the players back to the old gym from Piedmont Park after practice, sprinkle Atlanta creek water on each of the fields before playing an away game and dress up as Santa Claus each year at Christmas. He hopes Russell's career at Grady can be included in the film as well.
"I think it is an honor for a former Grady coach to have a movie made about him," Baxter said. "I mean, he started at Grady. I think it will be refreshing for people in sports to see a coach of that caliber. It's very rare."
Baxter also recalled when Russell came to his house in his freshman year to recruit him to play football. Russell dubbed him "Bones" due to his skinny stature, and would oftentimes play catch in the classroom or one-on-one basketball pickup games. Baxter said that because Russell pays homage to the State Championship he won at Grady in 1953 in his book Erk: Football, Friends, and Fans, including his accomplishments at Grady in the film is important.
Because the film is in the early stages of development, however, Turpin is uncertain whether he and Kicklighter have time to include Russell's Grady years in the film but said they would love to somehow incorporate Grady or use the stadium for filming.
Kicklighter said he has always been drawn to these kinds of tales, especially Russell's.
"Erk's life is a classic underdog story," Kicklighter said. "Every time someone thought they could count him out, he always triumphed."
Kicklighter is now in Rajasthan, India directing Desires of the Heart, a film that stars Val Lauren, Alicia Minshew and Gulshen Grover, while Turpin just finished filming Devil's Knot, starring Colin Firth and Reese Witherspoon. In 2013, Lionsgate will distribute Turpin's film Counterpunch, which stars Danny Trejo and Steven Bauer.
Both Turpin and Kicklighter expressed similar sentiments of the late Russell and are excited to capture his legacy on film.
"Erk is a legend in the South, and we are excited to expose his story to millions of people across the country," Kicklighter said.