REPLACING LEGENDARY COACH A TALL ORDER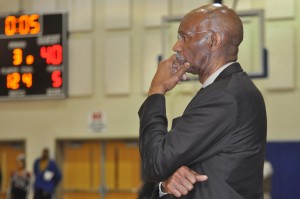 By Nally Kinnane
The buzzer sounded, marking the end of the season—the end of an era. The Grady boys basketball game against Carrollton ended its most successful season since the '84-'85 season and marked the close of coach Douglas Slade's legendary coaching career at Grady. After being a part of the Grady community for more than three decades, Slade plans to retire in May.
Slade graduated from David T. Howard High School in Atlanta and played professional basketball for the Philadelphia 76ers for only six months. After hurting his knee, Slade came to Grady in 1979. His high school basketball coach and principal of Grady at the time, Thomas Adger, offered Slade a position as the physical education teacher.
"My first day was strange because I really wasn't that much older than the students," Slade said. "It was different for me, but Grady has always been a place that really makes you feel welcome, the faculty and the students."
Slade coached football as an assistant coach for eight years alongside current head football coach Ronnie Millen, then began coaching girls basketball in 1984.
"His biggest success was girls basketball," Millen said.  "They were top of the region on numerous occasions."
Slade began coaching the boys in 1992.
Current and former players on the boys basketball team agree that Slade is a great coach who always gives his all.
"Some coaches I've had either praise you too much or criticize you too much," said Daniel Wilco, who graduated in 2011 and played varsity basketball his junior and senior years. "Either one doesn't help you grow as a player, but Coach Slade found a good balance between yelling at us when we screwed up and telling us when we were doing something right, which really helped me grow throughout high school."
Wilco described Slade as an intense coach.
"He loved to give out suicides," Wilco said. "Whether it was for talking in practice or walking, he would always say 'Baseline. I'm going to make you run until you don't remember your own name.'"
Junior basketball player Kivan Taylor described Slade as a trustworthy coach.
"He really puts the game in our hands and lets us play," Taylor said. "I really couldn't ask for a better coach. It's really been a dream come true to play for Coach Slade."
Despite his tough-love mentality, Slade said he always tried to treat the team as family.
"Coach Slade really created an environment that was rewarding, challenging, fun and, most of all, memorable," Wilco said. "I only started three games in high school, but riding the bench for Coach Slade was one of the best experiences I've ever had."
When Slade became Grady athletic director in 1990, he continued to stay involved in every team. Grady graduate Ella Miller, who played varsity soccer, said Slade always tried to be at the team's games. She still remembers his halftime speeches.
"Even though he wasn't part of the coaching staff, his speeches and presence motivated all of us," Miller said. "He emphasized the importance of teamwork and determination, plus his tone of voice brought fire to his words. He truly brought out the best player in each of us."
It is moments like the one Miller described that Slade said he is going to miss most.
"I don't know why they would look forward to my boring soccer speeches," Slade said. "They would come to up to me and say, 'Coach, now we are looking forward to your speech tonight, so you gotta be there.' They made me feel a part of the team, and I always enjoyed giving them a little added motivation."
Millen said it is going to be tough next year without Slade.
"I don't know Grady athletics without Coach Slade," Millen said. "A lot of our success has been from the stability that Coach Slade has given to the athletic program. You can always consult him about anything, no matter what sport it was. He was just like a sport library for us."