ATLiens ultimate team abducts national title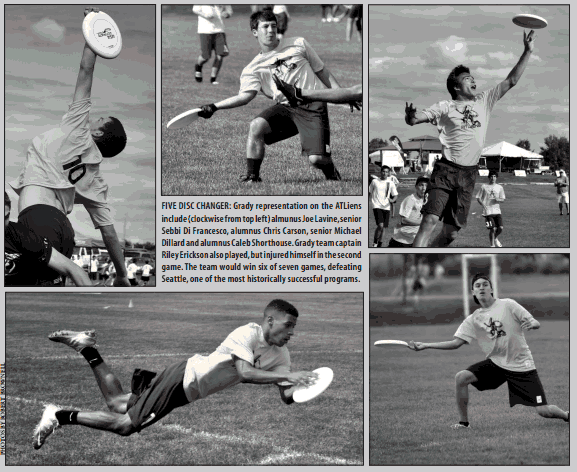 Hang on for a minute...we're trying to find some more stories you might like.
While the "ultimate" goal of any team is to win a championship, for a recently-formed, Atlanta-based ultimate Frisbee team it is very much a reality. On the weekend of Aug. 11-12, the ATLiens, a coalition of Grady students, alumni and students from other intown high schools, seized the title of national champions at the USA Ultimate Youth Club Championship.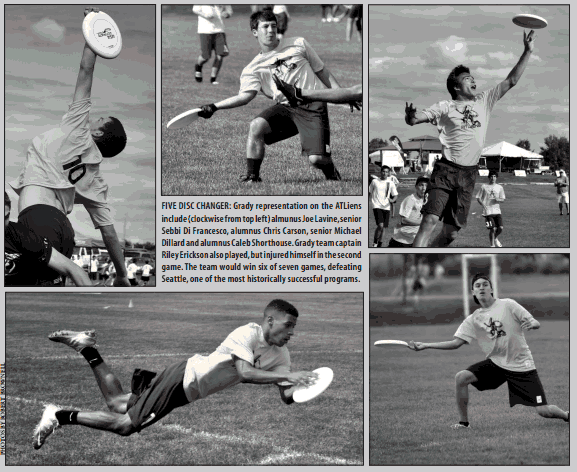 Seniors Sebastian Di Francesco, Michael Dillard and Riley Erickson, along with alumni Joe Lavine, Felix Jaffin, Chris Carson and Caleb Shorthouse, represented Grady in an all boys, U-19 division team. They formed a 23-member squad with the Atlanta Flying Disc Club that represented Atlanta in Minneapolis. Before the tournament, however, DiFrancesco played a vital role in finding a coach for the team.
"We recruited basically like the best coach in the world," Di Francesco said.
Coach Michael Baccarini has been teaching elementary school and coaching ultimate at The Paideia School for the past 21 years. Jonathan Manforti, an elite player from Atlanta's top adult club team, Chain Lightning, assisted Baccarini in coaching the ATLiens. Together they assembled the players from eight different schools in the area, such as Parkview, Paideia, Grady and Lakeside.
"They had a clear vision of what they wanted out of the team this summer, and the results were evident," Baccarini said.
To start the tournament, the ATLiens were placed in a pool with four other teams from around the country. Their first game against a Minneapolis team was a confidence boost. The team cruised again in its second game, shutting out a Missouri team, 11-0. They then easily won their third game, against Cincinnati, by a score of 11-3. It wasn't until their game against Pittsburgh, 9-7 loss, that they realized the tournament wasn't going to be that easy.
"The first day, our first three games, we just kind of destroyed," Di Francesco said.
They didn't expect to lose to Pittsburgh, who had been defeated by the same team from Cincinnati that they had previously beaten.
"That was kind of a wake-up call," DiFrancesco said. "We had to focus and play smart. And then the next day we just pretty much did that, and just dominated."
USA Ultimate, a national governing body of ultimate Frisbee, started the Youth Club Championships in 2005. There are now six divisions at the youth club championships: a boys, girls and co-ed division for both the under-19 and under-16 age groups. Out of the eight years of the event, the AFDC has only sent a team four of the years.The first year, in 2005, the team lost in the semifinals, and in 2007, they won the coed division title.
While past teams have been competitive, the ATLiens' success is a first for the AFDC. Another first was Atlanta sending a U-16 open (boys) team, which placed fourth. The U-16 team was a coalition of Paidiea, Grady and Galloway players. The Grady constituent comprised of six Grady underclassmen: Noah Li, Drew Di Francesco, Hank Persons, Brandon Kleber, Mack Hodges, John Roorbach and Kiran Potula. They had three coaches, one of whom was Grady alumni Gracie White's mother Paddi White. They were seeded to place second to last, but after recovering from their first two, close losses, they won their third game on the first day of the tournament. This was enough to place them in the finals bracket.
They won their quarterfinal game against the home team, but suffered a close loss in the semifinals against the team they played in their first game.
"We were a little disappointed about losing some of the games that we could've won, the ones that were really close, but I think we did pretty well overall, considering we were a new team," Li said.
Like many of his older comrades, Li said he enjoyed playing with new people and having new coaches.
"I think [playing with new people] was really helpful because you learn a lot from playing different people from different schools," Li said. "They use different techniques in their game, and also we learned a lot from the coaches, who are a lot different from the coaches at Grady."
On the final day of the tournament, the ATLiens battled their way into the championship bracket because of their 3-1 record. They won their first playoff game against Chicago 13-9 and beat Delaware Valley 13-5. The ATLiens ground out a win against Seattle in the final game to clinch the national championship.
As for next year, the team is planning to participate again in the Youth Club Championship. They have 13 possible returners and are looking to pick up some new players. Many, however, will be in college, but they will still be eligible for the U-19 age group, so the team plans to train next summer with the hopes of clenching consecutive championships.