Six new members have been appointed to the senior leadership team by Atlanta Public Schools interim Superintendent Dr. Danielle Battle.
The following appointments were made: Dr. Timothy Gadson as deputy superintendent, Erica Long as chief of staff, Sherri Forrest as special assistant to the superintendent, Lyndsay Evans as executive director of federal programs, Dr. Isaac Sparks as executive director of the office of the deputy superintendent and Sandra Murray as the senior administrative manager. 
Dr. Battle said she made the changes because of her desire to improve the education for all students in the district.
"My primary goal as superintendent is to cultivate an environment where every child, irrespective of their background, has access to quality education and the tools to achieve their highest potential," Dr. Battle said. "Our district's challenges are constantly evolving, and to address them most effectively, it was clear that certain expertise and skills were required at the helm. These changes are a strategic move to ensure our district remains forward-looking and continuously improves in serving our community."
Hiring From the District
All of the individuals Dr. Battle appointed have previously served positions in the district, which Dr. Battle believes is an important factor. 
"My approach to leadership appointments stems from a foundational belief: there is immense value in leveraging the experience and knowledge of those who have deep-rooted familiarity with our district," Dr. Battle said. "Internal individuals to the district have spent years, if not decades, understanding the unique challenges and opportunities our schools face. This intimate understanding can be invaluable when it comes to effective decision-making and smooth implementation of initiatives."
Dr. Battle believes promoting internal individuals to senior leadership positions, as she did, sets a powerful precedent for all staff members.
"[Promoting from within the district] underscores the idea that dedication, hard work, and a commitment to our district's mission can lead to growth and advancement," Dr. Battle said. "It fosters a sense of loyalty and motivation among employees, as they see tangible pathways to leadership right within our community. In essence, my motive is to harness the rich reservoir of talent and insight we already possess within our district to ensure we're best positioned for success."
My primary goal as superintendent is to cultivate an environment where every child, irrespective of their background, has access to quality education and the tools to achieve their highest potential.
— Dr. Danielle Battle
New Roles and Goals of Student Achievement
School board member Erika Mitchell said she is relieved at the appointments of the new staff members because of their focus on student achievement.
"I'm learning [about] some of the staff members myself," Mitchell said. "I was not [in APS] when Dr. Timothy Gadson was, but he seems like he's a sharp person so far, just from seeing how he engaged in his expectations for education. I think he has a passion and a willingness to want to get it right for our students. This is also my first opportunity of meeting Sherri Forrest, and she has a heart of gold; she wants the best for all of our students, and it shows with every decision she makes."
Under his new role, Dr. Gadson will provide strategic guidance to schools by working with associate superintendents and school leaders.
"Teachers will be continually empowered through targeted professional development, while community engagement will be prioritized to foster a holistic educational environment," Dr. Gadson said. "A cyclical review process will be implemented, ensuring our strategies remain relevant and impactful. This direction ensures that we're not only addressing immediate educational needs but are also poised to navigate and adapt to future challenges."
Dr. Gadson said he is prepared for his new role because of his array of prior experiences in the district, including previously serving as an APS associate superintendent.
"My experience prepares me for the role in [five key ways]: deep understanding of high schools, stakeholder collaboration, strategic planning and implementation, data-driven decision making and leadership and mentoring," Dr. Gadson said. "In transitioning to the role of deputy superintendent, I am eager to leverage these competencies to support our entire district's mission [and] to foster excellence at every educational level."
Dr. Gadson says he hopes to create a supportive learning environment where every student can thrive. 
"First, I want to make our curriculum more engaging, relevant and current," Dr. Gadson said. "I believe learning should be fun and practical. Second, I aim to support our teachers more, giving them the training and resources they need to shine in their roles. And finally, I want to foster a stronger connection between schools, parents and the community because education is a team effort."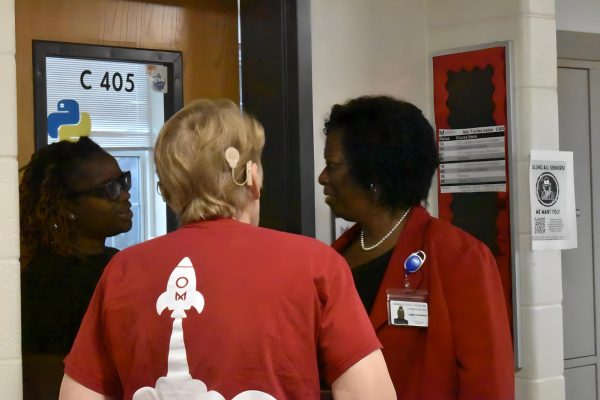 Dr. Gadson said his ultimate vision for the district is an atmosphere with a holistic focus on student achievement.
"My vision for the district is clear. I want every student, no matter where they come from or their personal circumstances, to have the opportunity to get the best education possible," Dr. Gadson said. "I see our schools as places where students aren't just memorizing facts, but are genuinely excited about learning; they are actively engaged as we prepare them for the real world and life beyond high school."
Similarly, Dr. Battle said she hopes a senior leadership team comprised of individuals familiar with APS will allow the district to better focus on nurturing the whole student. 
"At the heart of my aspiration for our district lies a foundational belief – every student, irrespective of their background or circumstances, deserves an education that is not only of high caliber but also tailored to their unique needs and dreams," Dr. Battle said. "Each decision, be it reintroducing a beloved program or challenging outdated practices, is underpinned by an unwavering dedication to our students' future."