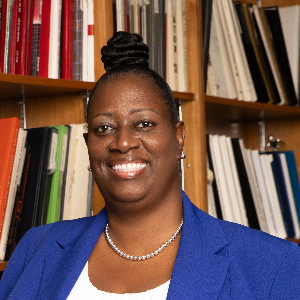 Dr. Danielle Battle will serve as Atlanta Public Schools' interim superintendent starting late August, the Atlanta Board of Education said in a statement released Aug. 3. 
The decision follows a report from this past June that the contract of current Superintendent Dr. Lisa Herring was not renewed.
"We appreciate Dr. Herring for her leadership, vision and service to APS, especially during an unprecedented time that impacted us all," School Board Chair Eshé Collins said in a statement. "We look forward to working closely with her, in this new role, and Dr. Battle to ensure a seamless transition as we continue our work to advance educational outcomes for our students."
Collins said Herring will remain as a consultant with APS through the end of 2023 to assist with the transition, although Herring's contract does not officially end until June 30, 2024. In its meeting on Aug. 7, the board will confirm the selection of Battle and approve Herring's transition to district consultant starting on Aug. 31 and ending Dec. 31.
"The board worked with the superintendent to find a mutual ground where we all felt comfortable about where we're headed," APS parent and District 3 board representative Michelle Olympiadis said. "That's why you got the dual statement today [from Collins and Herring]."
While the announcement may be surprising to the community, Midtown teacher and parent Kate Carter said the decision is beneficial for the district.
"As both a teacher and a parent, I had major issues with how Superintendent Herring was managing the district," Carter said. "There were far too many resources being spent on central office personnel who seemed out of touch with the work being done in the schools."
Despite this, Carter believes that overall, APS has done well with superintendents' tenures.
"If you look around the country, superintendents have very short tenures because it's probably one of the hardest jobs in existence," Carter said. "So, Atlanta Public Schools has done a great job. I'm not at all concerned about our ability to attract the next great superintendent that will outlast the national average and certainly our neighboring districts like DeKalb County."
Even with these leadership changes, Herring said in a statement that student achievement will remain a focus for the district. 
"The spirit of APS is one driven by continued excellence, where over the course of the last three years, we have worked diligently towards our mission of advancing standards while creating a caring culture of equity, trust and collaboration," Herring said. "As we continue with a thoughtful transition in leadership, the board, incoming interim superintendent and I are keeping the needs of our scholars, families and staff members as our focus and look forward to an unbelievably amazing year ahead."
Collins said Battle, who has served various district leadership positions for over 19 years, will work with Herring this school year to ensure the district's success with new interim leadership and a nationwide search for the next permanent superintendent.
"Dr. Herring and Dr. Battle will work closely together during the transition to ensure the administration, teachers, students and all key stakeholders stay updated," Collins said. "Our main priority remains a well-functioning school district, where educators keep the focus on preparing our young scholars to achieve academic success."
Olympiadis said she believes Battle will work well in moving the district forward.
"She needs to hold the ship," Olympiadis said. "However, if she feels as though we need to make some strategic organizational changes, I'm willing to listen to what that would be, as well, because she's got this experience."
For this school year, Olympiadis hopes Battle will use her expertise to solve problems in the district, specifically in the Maynard Jackson Cluster.
"Where I think Dr. Battle can help us is with respect to the Jackson Cluster because the high school and the middle school are at capacity," Olympiadis said. "The [cluster] has facilities, and we need to start talking as a community in the Jackson Cluster and on the east side of the city to say, 'Hey, here's where we need to go; here's what we learned from Midtown.'"