District celebrates history, impact with 150th anniversary
One hundred fifty years ago, the city opened its doors to its first major school district with the founding of Atlanta Public Schools. Beginning as only five schools, APS has produced trailblazing alumni and reflected the city's mantra of progression. 
Established by ordinance of the Atlanta City Council in 1872, APS initially opened three grammar schools – Crew Street School, Ivy Street School and Walker Street School – and two high schools – Boys High School and Girls High School – that were white-only with the goal to educate the youth of the city. In that same year, the district also absorbed two African-American grammar schools: the Summerhill School established by the Freedmen's Bureau in 1867, and Storr's School established by the American Missionary Association (AMA) in 1865. 
"From day one, schools were beyond capacity because there were zero public schools in a city, but now there's a public school system," APS Museum Historian Archivist Erika Collier said. "[The system] definitely spurred us forward to what we would think of as city or urban life today. Education provided a way for us to become more industrial [and] help the average citizen engage in politics."
APS eventually desegregated on Aug. 30, 1961, following close to a century of growth in the number of schools in the district. A number of notable schools were created in that century, including Booker T. Washington High School – APS' first African-American high school.
"I think [Washington] was built where it was built because of the pre-existing momentum of historically black colleges and universities (HBCUs) starting right there at that time," Collier said. "It was one of the more significant [high schools] in the South, and I also think that it borrowed from the momentum of HBCUs in being publicized or being known. Just imagine how monumental [Washington] was for a city that has a very high black population."
Since 1872, the number of APS schools has grown by nearly 100, with there now being 103 total school sites serving the Atlanta youth. APS parent and District 3 Representative Michelle Olympiadis said APS' gradual evolution has been impressive and speaks volume for the future of the school district.
"When you take a look at what the timeline is, you can see a strong evolution of the city just becoming open-minded and progressive, and realizing that we can all go to school together," Olympiadis said. "Especially for a school system in the South, understanding that timeline and then seeing the evolution of what occurred during how we've gotten to where we are now will help us continue to grow and embrace our diversity."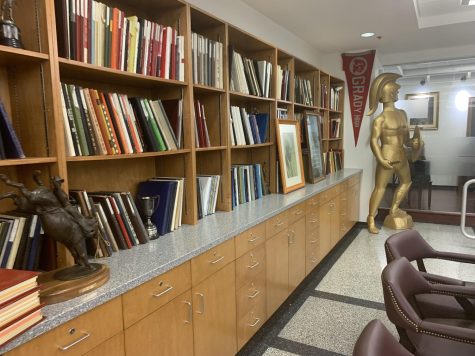 District's Legacy
Olympiadis thinks APS is a unique school district compared to others around the country, regardless of size discrepancies and commonplace issues such as food deserts, due to the alumni which it has produced over its historic 150 years.
"APS has educated some of the most talented leaders locally, throughout the state, throughout the Southeast and throughout the nation," Olympiadis said. "We're well known for doing our best to embrace the diverse makeup of the city. Overall, I think a lot of people just look at Atlanta because we are a very international and progressive city, and I think that the school system does its best to create opportunities for its students."
English and theater teacher Lisa Willoughby, who has worked in APS for 40 years and is retiring this month, agrees with Olympiadis' sentiment. She interviewed APS alumni in celebration of the 50th anniversary of Grady High School in 1997.
"I got the opportunity to interview some really remarkable alums, [including] Stuart Eizenstat, who graduated in the early 1960s and went on to become an Under Secretary of State," Willoughby said. "At the time in 1997, when we were interviewing him, he had just helped to negotiate the Kyoto Protocol under the Clinton administration. I [also] got the opportunity to interview Yolanda King (daughter of Martin Luther King Jr.), who had been student body president when she was a senior. So, I got to learn a whole lot of the history of the [district] in that process."
Junior Class President Vadym Nahornyi also thinks the district is especially progressive and active in social reform.
"Not a lot of school districts have that history and involvement in the Civil Rights Movement," Nahornyni said. "Studying in an APS school feels as though not only are you learning about the Civil Rights Movement, but you're actually standing in the places where it occurred. It really just makes you appreciate everything you have and really makes you proud of where you're learning and what school you're going to."
Nahornyi, who previously attended school in Ukraine and Tampa, Florida, believes that APS offers more opportunities for students to explore their interests, including student advisory and insight into district decision-making, which he, as class president, said is very unique.
"Seeing how APS operates from within and how our student feedback is able to impact APS really showed me that when we come together as one group, we're able to make a real change at our school and district level," Nahornyi said. "I feel like in pretty much any other district, it is run all by adults, but [here] we have an actual voice. Going back to our history, we saw that real change was made, and now we [as students] can make real change."
Anniversary Celebrations
In commemoration of its 150th anniversary, APS recognized its legacy and influence on the city through several events geared toward community engagement. On April 22, the district hosted an anniversary parade, which included the district's marching bands, community organizations and city residents. 
Video producer Jiwann Dixon works for the APS Communications Department and attended the event to help livestream the parade.
"[The parade] was lively and energetic – just very inspirational to see everybody in APS come together for one exclusive event," Dixon said. "Of course, the bands provided the soundtrack to [energize] everyone up through music, and everybody [teachers and departments] had their shine."
Dixon said he especially appreciates how the parade recognized APS departments that he said don't typically receive a lot of mainstream attention.
"Other departments, like the HR Department, that don't get recognized, did get a chance [at the parade]," Dixon said. "I think it was great to celebrate and have this moment because there's so much that APS does on the backend; it's not just teachers working hard every day for the students, and not just the students working hard every day to graduate from kindergarten to high school. So, for some of the positions that don't get recognized, this was their day to celebrate."
Nahornyi did not attend the parade himself, but feels that celebrating the 150th anniversary of the district was important to not represent APS as a whole, but to also remind the community of the origins of the district.
"Because we have such a rich history, remembering the history and not forgetting about where we came from is very important," Nahornyi said. "What drives us forward is looking back, knowing that we came from the roots of breaking through the norm [and] establishing something at the time of segregation to help the minorities. Celebrating that and remembering that is key."
District's Future
Nahornyi hopes that in the upcoming years, the district can become even stronger and continue to establish its legacy as a trailblazer by ensuring that every APS school has equal educational opportunities.
"Some schools have much fewer AP classes [and] much fewer educational opportunities compared to more well-funded schools and more-developed schools," Nahornyi said. "So, really focusing on making sure each school has the same level of development and has the same opportunities for all of its students will take APS to the next level."
Willoughby hopes that for the future, APS is able to not only reevaluate its role but also continue to grow in its reflection of the city's mantra of progressiveness.
"I think that APS has a desire to keep being better," Willoughby said. "There are so many different challenges this city – and indirectly the schools – has faced, and I think that APS has always had a philosophy about we can make the city better by helping the young people of the city get the education that they need to contribute. I do think that that sense of mission of trying to make things better is something that makes us good."